Orgasmic Meditation: It's The Answer To Your Low Libido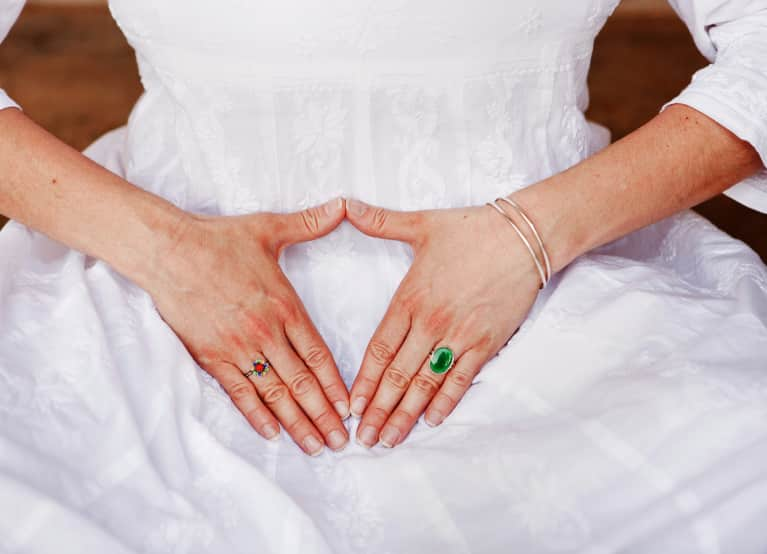 As a woman's sexual health expert and longtime OB-GYN, I've worked with thousands of women, and their partners, to help them experience greater intimacy in their relationship. Did you know that a high number of women never have a climax? It's true. But it doesn't have to be this way. I've helped many women overcome this inability, enabling them to experience more orgasm and pleasure.
Previously I've written about emotional barriers preventing a woman from orgasm, such as not feeling emotionally safe. I also talked about vaginal dryness and a weak pelvic floor, which are other factors preventing many women from enjoying sex. Now it's time to talk about the science of libido and why communication with your partner is key to achieving orgasm.
The basics of the female orgasm and sexual pleasure for women.
The first thing I like to tell my patients is that the female orgasm is very different from the male orgasm. Female orgasm is like a game of Candyland: It's a winding path with curves, not a straight line with a directed goal. It's important to realize that many women don't really respond well to a "quickie." And while you might decide to have one anyway, it's important to know that it takes a little longer for the feminine engine to rev up!
We can feel a lot of pleasure, we can feel bonded with our mate, and we may not reach the so-called ecstasy of climax, and still be quite fulfilled. We will ooze oxytocin (our hormone of bonding and connectedness) even without climax. Oxytocin, like all hormones, is part of our evolutionary design. Its release enables us to create a stronger partnership and an increased feeling of love and acceptance, bonding, trust, and intimacy with our partner. Sounds pretty great, doesn't it?
Why your libido may have left the building.
As we age, natural hormone decline can cause vaginal dryness, pain during intercourse, urinary leakage—which get a lot of attention when it comes to women not enjoying sex. But there are so many other ways that our hormones can defeat our libido, and medications are a big one. Many women are often surprised to find out that birth control pills and antihistamines are big libido-busting culprits! These medications (and many others) can interfere with our hormones, causing side effects that impact our energy level, mood, libido, and ability to orgasm. So if you take meds and are suffering from a lack of libido, tell your doctor! It could be a side effect. Or it could be a sign of a hormone imbalance caused by something that hasn't been diagnosed yet.
Too much stress can also pump up your body's cortisol and burn out the adrenals. This "fight-or-flight" mechanism literally turns off your libido! You and your partner may need to take a few supplements to nourish those adrenal imbalances. Maca is one of my favorite adaptogens because it works to restore adrenal health, balance hormones, and detoxify the body. That's why I've used maca and other adrenal-supporting ingredients in my Mighty Maca® Plus superfoods drink; studies have suggested that maca can directly improve libido.
Communication is the most important thing.
I always tell couples that I work with that they both need to practice being present with their feelings, emotions, touch, and connection. Put the electronics and other distractions away (at least the cellphones...the vibrator and sensual music can stay). Forget your to-do list and "honey-do" list, and focus on the moment at hand.
Part of getting more connected with your partner is communicating what one likes and doesn't like. And in fact, the "dislike" list may even be more important when it comes to arousal and orgasm. For example, some women do not feel pleasure with nipple stimulation. Sometimes this is true just during certain times of our menstrual cycles, and for others, it just never feels pleasurable.
Your partner won't know that if you don't share it and communicate your needs openly. If you haven't communicated that nipple stimulation is irritating to you, then that's a distraction that will take you completely out of the pleasure zone and out of the trajectory toward orgasm. We are all very highly vulnerable in this area of our life. We need to be encouraging coaches to each other. Discussing the positive experience in that time of cuddling, intimacy, and bonding is really very important, and you can continue to experience more and more pleasure.
Orgasmic meditation and your sex life.
Wherever a couple is working to improve the communication and intimacy in their relationship, a wonderful practice I often suggest is called orgasmic meditation (OM), which is a mindfulness practice that you do with another person—yes, there is touching involved—that combines power of meditation with the human experience of orgasm. OM can really be helpful if a man is having issues with erectile function or a woman is having vaginal discomfort or loss of pleasurable sensation. It also helps a couple develop better communication when it comes to sex.
You can take a online course, an in-person introductory class, or even sign up for private coaching. In OM, you create an environment of incredible intimacy and open communication with your partner. OM is a sexual activity but not sex or penetration. OM can help partners learn to communicate sexual needs and also remove the "performance" criteria from intimacy. If a woman has "turned off sex" due to vaginal pain and other issues, this can reintroduce pleasure back into what may have been painful.
Want to orgasm harder? Here's how to do the perfect Kegel exercise.