If You're Struggling To Become A Mother, This Is For You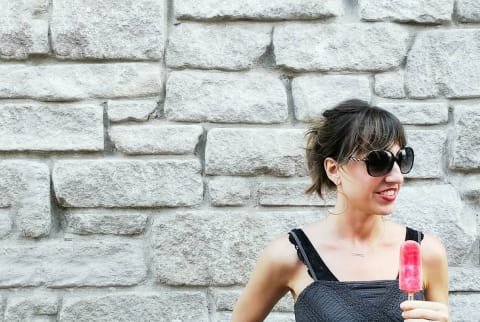 May 13, 2018
I first started my journey to become a mother about six years ago, and from the beginning I knew the process would be a complicated one. I had been diagnosed with a rare form of cancer, chronic myeloid leukemia (CML), and it was what my doctor called the "good" kind of cancer—meaning I could take a pill that would keep my cancer under control, and I wouldn't have to go through chemo.
While I was overjoyed to be spared so many of the side effects that often come with a cancer diagnosis, my CML presented a unique problem if I wanted to have a baby: I couldn't be on this pill and try to conceive at the same time. So when my husband Alex and I were ready to start a family, my doctor allowed me to temporarily stop taking my cancer meds. Alex and I tried for several months and nothing happened, and because of my situation, my doctor suggested trying fertility treatment to hurry things along. I ended up getting pregnant, but at our eight-week appointment, we found out our baby had no heartbeat. It was devastating.
Advertisement
This ad is displayed using third party content and we do not control its accessibility features.
Mother's Day after loss.
I wasn't expecting to have a hard time my first Mother's Day after the pregnancy loss. I'm typically not sentimental about Mother's Day, so I thought I'd be fine. But I remember suddenly erupting in tears, not really understanding why it was a trigger. Having that day to meditate on motherhood and all I wanted for my future family was extremely difficult.
I'm blessed to have an incredible support system. While my husband Alex processes emotions differently than I do, I could always talk to him. Even if he wasn't as emotional on the outside as I was, I knew internally he was feeling similar to me. I'm grateful to have dear friends who, unfortunately, know the pain of pregnancy loss and fertility struggles like I do. Our support of one another has uplifted me, especially on that first mother's day.
The unique pain of wanting to be a mother.
Sadly, that Mother's Day wasn't the only difficult one for me. Because my cancer started to come back while I was off the pill I needed to be on, Alex and I decided to go the adoption route instead. But that was the opposite of easy. After we made that decision, we went into the adoption process and ended up having three different failed adoptions. Each was just as devastating as a pregnancy loss. This was a very difficult season as well, and those Mother's Days were also so hard. To have someone say, "This is your baby" only to find out it's not is so painful. And Mother's Day only compounds that pain.
Advertisement
This ad is displayed using third party content and we do not control its accessibility features.
Liminal space and healing.
The one thing that finally helped me start shifting my perspective was the phrase "liminal space." It's a term used in literature and psychology to describe a time when nothing is happening. Liminality is the in-between moments, the space between an inciting incident in a story and a resolution. It is often a period of discomfort, of waiting, and of transformation.
So I finally got to the place where I realized, I WILL find a family. By entering the adoption process, there will be a child at the end. But right now, I'm in this liminal space. Embracing the idea of liminal space was what helped me get through the subsequent Mother's Days before we finally adopted our son in February 2017. And on that day, all the waiting and uncertainty was absolutely worth it.
For anyone who's going through something even slightly similar to my own experience: You are not alone. My encouragement to you is to find your support system. Maybe that's someone who's gone through something similar, or maybe it's a dear friend or family member. But lean on each other, and listen. Reflect on liminal space. Instead of trying to fix, identify emotions and sit in them together. Even though it can be hard to take initiative when you're hurting, it can be life-saving.
There are so many different journeys to motherhood, with their many twists and turns. Each one of them is unique and beautiful. My heart is with you today, wherever you are in your story.
Touched by Sonja's story? Read this essay on what it's like to not have a mom on Mother's Day.
Advertisement
This ad is displayed using third party content and we do not control its accessibility features.

Sonja Overhiser
Sonja Overhiser is author of Pretty Simple Cooking, named one of the"best vegetarian cookbooks" by Epicurious at A Couple Cooks. Sonja and her husband Alex have garnered a worldwide following for their delicious vegetarian recipes and sustainable approach to cooking and eating well. Their popular blog and cookbook have been featured in numerous national print and online publications, including the Washington Post and Bon Appetit. Alex andSonja develop recipes and photograph food for major national brands, and have cooked on live television including the TODAY Show. Together, they advocate for healthy and sustainable eating and getting in the kitchen together. Sonja is a contributor to Brit Co, Parents, andEatingWell.