55 Real Moms Share Their Best Pieces Of Life Advice

By Leigh Weingus
mbg Contributor
Leigh Weingus is a New York City based freelance journalist writing about health, wellness, feminism, entertainment, personal finance, and more. She received her bachelor's in English and Communication from the University of California, Davis.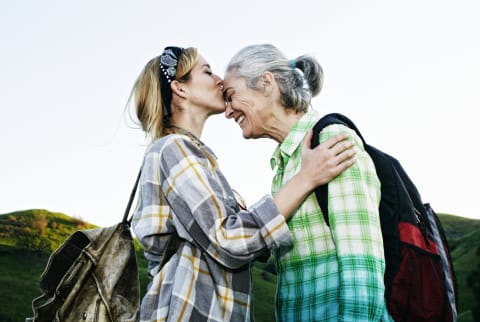 May 13, 2018
There's nothing like the priceless pearls of wisdom that mother figures share with us. From advice about sticking up for ourselves to lessons on how to be compassionate when it's the last thing you want to do, a little lesson from mom can go a long way—and sometimes it can even make you laugh in the moment when you need it the most.
Here are 59 pieces of invaluable advice from moms in the mbg community. You'll want to bookmark this one!
Advertisement
This ad is displayed using third party content and we do not control its accessibility features.
"Always tell the truth; you'll have less to remember." —JoAnn, 55
"Live a life of gratitude. That is the only way to have happiness." —Kooim, 70
"Don't be afraid to go out on a limb; that's where the fruit is." —Kathy, 60
"Just go. Study abroad in Italy? Just go. Go to school for fashion design? Just go. Move to New York? Just go. Go and experience everything that your life, right at this moment, has to offer." —Ginger, 57
"Listen to your inner sirens. It cannot be mistaken for anything else—we just choose to ignore it when it goes off." —Sarah, 56
"One day at a time, one thing at a time." —Kathy, 55
"Work hard, play hard, and always do your best." —Elaine, 65
"When making life decisions, ask yourself: Will this allow me to live my life on my own terms?" —Lisa, 55
"Always ask yourself: What's the worst thing that could happen? It's usually not as bad as you think." —Joy, 59
"Stay patient and positive." —Margaret, 97
"When you're hosting a dinner party, take out all your serving dishes ahead of time and use Post-its for what goes in each dish to make sure you have enough serving dishes for all of the food you are cooking." —Ellen, 60
"The most important decision you will ever make is the choice of your life partner. Do not compromise; do not hurry in making your decision. Choose the best possible person who makes you the best person you can be. Someone who shares and supports your dreams." —Marilyn, 68
"Always see the glass half full." —Jackie, 70
"Eat!" —Theresa, 88
"Never pass anything sharp between friends. It'll cut your friendship." —Helen, 103
"Stay open and listen." —Mary, 62
"Remember, you're driving the bus." —Vanessa, 60
"Accessorize and moisturize." —Merrie, 100
"Only pack what you can carry yourself." —Tessa, 34
"Feel strongly about something, and do something about it." —Carmen, 70
"Give love freely and often. You will be rewarded in ways you have never known." —Denese, 67
"When you feel overwhelmed, just remember that love is all you need." —Haley, 32
"No matter where you go, the season, or the temperature, take a sweater." —Nancy, 54
"Create wonderful memories with your children, and create them often." —Aviva, 51
"Trust your gut. People are full of advice, but deep down you always know best." —Kristin, 44
"Love unconditionally and go for the gold. You may get the bronze, but at least you went for it." —Karen, 68
"Listen. The art of listening is a lifesaver." —Tara, 37
"Sleep. It will do wonders for your sanity." —Bee, 37
"Trust yourself. Don't compare your situation, your baby, or your parenting to anyone else—whether that be people you know or those online." —Lyndsay, 35
"It's easy to have faith when things are good. It's a lot tougher when things are not." —Elinore, 68
"You'll feel better after a good sleep." —Alyse, 72
"If you can't be good, be careful." —Marie, 58
"The best-laid plans often backfire, so all you can do is take things one day at a time." —Reika, 30
"Have a positive attitude, and things will work out. And if you choose to get married, have patience and fortitude." —Doris, 90
"Say I love you. Thinking it is not enough. The words need to be spoken and heard for them to work their magic." —Kathy, 50
"People tell you to cherish each and every moment. I say, feel what you're really feeling in each moment." —Kaely, 30
"Reconnect with your intuition and trust it; drop any judgment of yourself or others; recognize that we're all out there treading water and barely surviving half the time. Outsource wherever possible to keep your sanity!" —Ellen, 36
"Don't waste time comparing yourself to others: what they do, how they do it, what they look like, or what they have. You are unlike anyone else, and comparison takes all of the fun out of being yourself." —Lauren, 31
"Do what creates calm in your home and in yourself—that love, sense of security, and peace will last a lifetime." —Bobbi, 39
"Our kids need to see us model healthy habits because that's how they learn. And joy is a healthy habit just as much as exercise, eating vegetables, limiting screen time, and getting enough sleep." —Kaia, 42
"Be honest. Be kind. Be useful. Be responsible. Work hard. Treat everyone with respect." —Edith, 67
"As mothers, we tend to put ourselves last, but we must love ourselves first. Only after you love yourself can you love others." —Sotonye, 55
"See everyone with love." —Sianna, 50
"Take mistakes as learning opportunities. All of life is a chance to grow and learn. I enjoy learning something new, no matter how small every day." —Andrea, 64
"Don't forget to have fun!" —Madelyn, 72
"Do not look for affirmation from people who do not care about you. No one should have permission to ask you to compromise your integrity." —Sonja, 55
"If you want respect from another person, treat them as you'd like to be treated. Don't swear, don't put them down, and don't yell. Be patient and listen." —Shirley, 80
"We all see things through our own past experiences. Take nothing for granted. Every day that you wake up and you and your loved ones are healthy is a blessing." —Rebecca, 42
"Have the courage to open the doors of opportunity. Behind it may lie life's greatest adventure." —Rachel, 34
"Spoiling a child is regularly treating it as an infant and not encouraging initiative. But it is important to support, instruct, and help a child as they adventure to accomplish their own aims. They will tell you, 'please, Mom, I can do it myself!'" —Susan, 66
"Always choose the road less traveled and listen to your gut." —Pam, 63
"Choose wisely when it comes to anything you put between you and the Earth. Your shoes, your tires, and your bed." —Maggie, 64
"The worst they can say is no." —Darlene, 72
"Have fun with your kids. Laugh together as much as possible." —Melissa, 39
"Create a sweet morning ritual to start the day. We always talk about tucking in a child at night, but rarely do we talk about setting the vibration for a new day." —Demetria, 61
Love great advice? Here's the best relationship advice from 2017.
Advertisement
This ad is displayed using third party content and we do not control its accessibility features.
Sleep Like Before You Had Kids.
Receive your FREE Parents' Guide to Getting a Good Night's Sleep

Leigh Weingus
Leigh Weingus is a New York City based freelance journalist and former Senior Relationships Editor at mindbodygreen where she analyzed new research on human behavior, looked at the intersection of wellness and women's empowerment, and took deep dives into the latest sex and relationship trends. She received her bachelor's in English and Communication from the University of California, Davis. She has written for HuffPost, Glamour, and NBC News, among others, and is a certified yoga instructor.