What It's Like Being A New Mom Having My First Mother's Day During A Pandemic
Registered Yoga Teacher
By Sarah Ezrin
Registered Yoga Teacher
Sarah Ezrin is a motivator, writer, E-RYT 500 yoga teacher, and teacher trainer based in San Fransisco.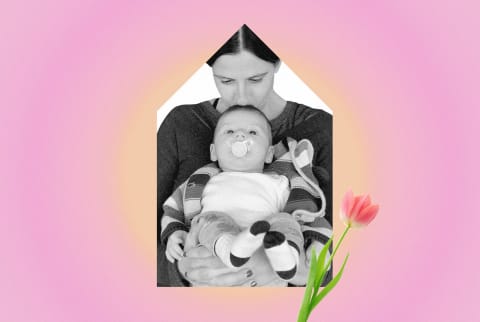 Image by mbg Creative x Daniel Vapnik / Contributor
May 10, 2020
I am a new mom, and I almost forgot my first Mother's Day.
Honestly, I did not even realize it was May. The days have blurred together since the world took a collective pause to slow the spread of the coronavirus. Many of us have been quarantined at home since early March. New parents, in particular, are stuck in a maternity-leave-like Groundhog Day. Life is monotonous enough with a newborn. Add in social distancing and isolation, and it can feel like you are on a never-ending hamster wheel of naps, diapers, and sleeplessness.
If not for my husband, I probably would have forgotten Mother's Day altogether.
"Can we talk?" he asked the other day. He seemed serious.
My mind raced through all the things he could need to discuss. Was it about the baby? Was I was not doing enough around the apartment? Maybe quarantine was finally getting to him, and he was sick of us. Of me.
Since becoming a mother, it is amazing how quickly my brain can imagine the absolute worst scenarios, and it seems to be doing so doubly fast during the pandemic.
"I want to talk to you about Mother's Day," he said.
In an instant, relief washed over me, but then, just as quickly, sadness started to creep in.
Mother's Day has always been a day of both joy and pain. This dichotomy of emotions is not special to me, nor is it specific to this year.
Last year at this time, I was nine weeks pregnant with our baby and already looking forward to celebrating this very day. Today, I have a 5-month-old and am so exhausted from lack of sleep and the general state of the world that I probably would have blown past it thinking it was just another Sunday. What a difference a year makes.
My husband asked if there was anything specific I hoped to do. Because of COVID-19, a lot of what I envisioned doing we would not be able to do. I joked that all I wanted to do was sleep, but he emphasized that it is my first one and that means we should make it special.
Then it hit me. My first Mother's Day is also my last first Mother's Day. And suddenly, what is meant to be a day of celebration began to feel like a day of loss, too.
I would like to blame COVID-19 for the tinge of grief that will now color the holiday, but when I look back, I see it has always brought up mixed feelings for me. Ever since losing my mom in my mid-20s, Mother's Day has come to represent both what can be and that which no longer is.
Mother's Day has always been a day of both joy and pain. This dichotomy of emotions is not special to me because I lost a parent. Nor is it specific to this year, as we all try to celebrate amid a pandemic. It is the hard reality of parenthood—the first of something is also always going to be the last.
The first time the baby sleeps in the crib is the last time they will sleep in their bassinet. The first tooth is the last first tooth. The first time the baby really walks will be one of the last they will crawl.
If anything, COVID-19 has reminded the world that even the most seemingly permanent things are actually impermanent. We new parents get to see this truth with our very own eyes as we watch our babies change daily.
Knowing there will never be another first Mother's Day, we can (and should) make it a day we never forget, even if it may not look exactly how we originally envisioned. New moms and longtime moms alike shouldn't take for granted this day of celebration—in spite of and perhaps specifically because of the uncertainty that's taken hold of our lives.
Sure, we may not be able to physically get together with our family for brunch, but we can still dress up, order in from our favorite local restaurant, and do a Zoom call with loved ones. No, we may not be able to go get a massage, but we can create an in-home spa experience by lighting some yummy candles and taking a long bath. Plus, I'm sure if we ask our partners nicely for a back rub, they will oblige.
It may feel macabre at first to acknowledge that every first could be your last, but by honoring this reality, we can start to appreciate everything that much more. When we view life from this lens, we see that each moment is special—because there has never been another like it, and there will never be again.
Sarah Ezrin
Registered Yoga Teacher
Sarah Ezrin is a motivator, writer, yoga teacher, and teacher trainer. Bringing a background of psychology and life coaching, she uses yoga to connect people to their brightest and most authentic self. Based in San Francisco, where she lives with her husband and their dog, Sarah leads trainings, workshops, and retreats at home and across the globe. Her fun and popular classes are infused with humor and positivity. Sarah is changing the world, teaching self-love one person at a time. For more information on Sarah, please visit her website or connect with her on Facebook, Instagram, and Twitter.