A Mom & CEO's Advice For Home-Schooling Kids — In Case You Need Tips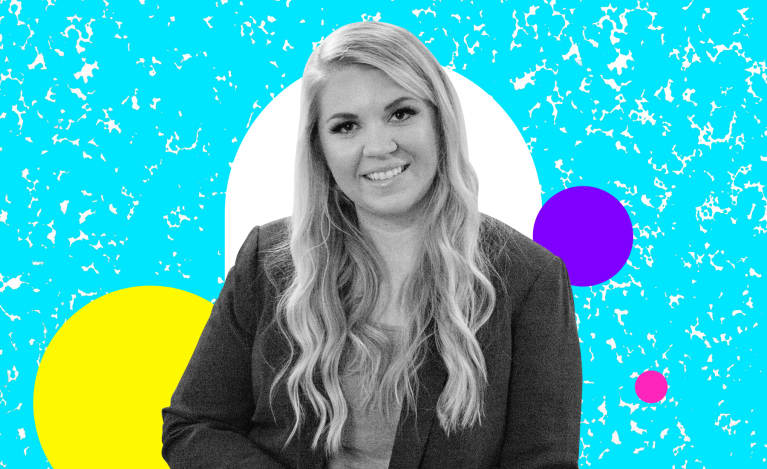 With the school year in question for many families and school districts, parents are coming to terms with the reality they may need to adapt to home-schooling measures, at least on a partial-time basis. (Some, of course, are going full-time home school.) With this comes a lot of understandable stress. Not only do many parents have full-time jobs, but many do not feel up to the task of operating as their child's formal educator.
If this sounds similar to the situation you've found yourself in, we've got the person to introduce you to: Katie Wells, CTNC, MCHC, founder of Wellness Mama (a well-being-focused website and resource for parents). Not only does she act as the CEO of the company, but she also home-schools her six children—and has been doing so long before COVID-19.
Here, we learned her best advice, no matter how your family is dealing with back-to-school this year:
1.
It's OK to re-imagine what "school" is and should be.
The first thing Wells said she had to understand is that you don't have to go by traditional school rules when you are home—and this, she's found, is a good thing.
"The biggest challenge I faced was breaking my own mental model of what a school environment should be. Even though we were clear on our goals and the skills we wanted to foster in our kids, I found myself slipping into the patterns of traditional school that were so familiar. I had to consciously break these patterns and constantly evaluate whether there might be a better way," says Wells. "I realized that most classes at school are created to fill a certain time period each week and a certain amount of classes throughout the semester or year. With home schooling, we weren't bound by these constraints and could focus on mastery instead of completing a book."
2.
Begin with an end in mind.
This step will really require you to think about what is important information you want your kids to understand. "It's easy to fall into the trap of beginning with the syllabus in mind and following the knowledge outline for each grade, but begin with the real end result in mind," says Wells. "Think through the most important skills and values you want to pass on to your child and that will best prepare him or her for future success, and work backward from there. You'll likely find that it makes your job in home schooling much easier and their experience much more fun!"
3.
Use family interests as educational tools.
Think about your family's habits and hobbies: What sort of lessons can your kid glean from the activities you do together, and how can they work toward your greater educational goals? "Home schooling allowed us the most flexibility and control in moving toward these goals," says Wells. "We really value travel, and home schooling allowed us to work and school from anywhere in the world. Travel also offered some great teaching opportunities." But, of course, this can be applied to almost anything: watching sports, playing cards, being outside in nature, and so on.
4.
On that note, use your work as an educational tool, too.
This tip came directly from Wells' own experience forging her career: "We realized that our kids were facing an uncertain and increasingly technological future. Both of us have careers that didn't even exist when we were children, so there was no way to directly prepare for our current jobs," says Wells. "Instead, we'd learned most of what we do now in a hands-on way and constantly needed to adapt and learn new skills."
So how does this apply to her teaching, day to day? "We identified skills that would benefit our children no matter what they decided to pursue in the future: critical thinking, creativity, love of learning, embracing the lessons of failure, and the ability to evaluate information," she says. "As entrepreneurs, we also hoped our children might pursue their own business endeavors and wanted to give them the foundation to do so by teaching them to problem solve, help others, and think outside the box."
5.
Rethink grading scales.
Grades, while important for practical reasons, don't necessarily add up to real-life value, says Wells. "In many learning environments, scores start with 100, and students lose points for 'wrong' answers. I understand the convenience this offers in grading but don't feel that it is an accurate representation of life or learning. It subtly reinforces the idea that there is only one correct answer to a problem and that you lose points for failure," says Wells. "In life, the creative solution is often the most beneficial. A 'wrong' answer can lead to a big pivot that produces great results. And often, some of the biggest and most important lessons come from failure."
6.
Run family matters like a family business.
Of course, one of the main challenges of home schooling isn't necessarily the schooling itself. But how you are to balance school life, home life, as well as your career. "I realized that I was running the business with focus, intentionality, and defined systems and trying to manage much of my home life in my head. I started building and applying systems at home, getting the team (family) on board, and letting each member be autonomous, and it changed my life," says Wells.
"In my experience, much of the stress parents face, especially when adding new variables like home schooling, stems from the stress of open loops or from trying to manage the emotional responsibility of everything that needs to get done," she says. "It's important to get all family members actively involved at an age-appropriate level and hand off tasks so not only are you not doing them, but you aren't emotionally responsible for making sure they get done at all."
7.
Teach them that actions have outcomes.
Part of raising a responsible adult is to teach kids that actions, or inactions, have consequences. They, of course, learn this in school (bad behavior lands them in detention; not completing homework results in poor grades) but also at home.
"Do the kids clearly understand what their roles and responsibilities are in school and in the home? Do they understand why these things are important and the goals they help accomplish? And have you shifted the responsibility to them for completing these things?" she says. "In other words, household responsibilities need to happen for the household to run smoothly. The children aren't 'helping' me by doing these things; they are contributing to the family in a meaningful way. If dishes are not cleaned and available, I can't use them to cook dinner, and everyone gets hungry. We build in natural consequences and make sure the children know them so that we don't have to motivate, cajole, or incentivize them to get things done."
This, too, can serve as a motivator for school and homework. It pushes the idea of intrinsic motivation rather than external motivation.
"There are, of course, many times that kids don't want to work. There are also many times I don't want to work. But kids don't stop being hungry, and the household doesn't stop needing certain tasks done just because I don't want to work," she says. "We've established a clear expectation that household responsibilities and school responsibilities are required and made sure the kids have the tools to get these things done without frustration. We have if/then charts to remind them of these things and answer the potential questions: 'If I finish my morning responsibilities, then I can go out and play.' This way, they have clear motivation, and it reduces the questions and decisions I have to make.