Mindfulness Isn't Just for Adults: Teaching Your Kids To Reset Is Essential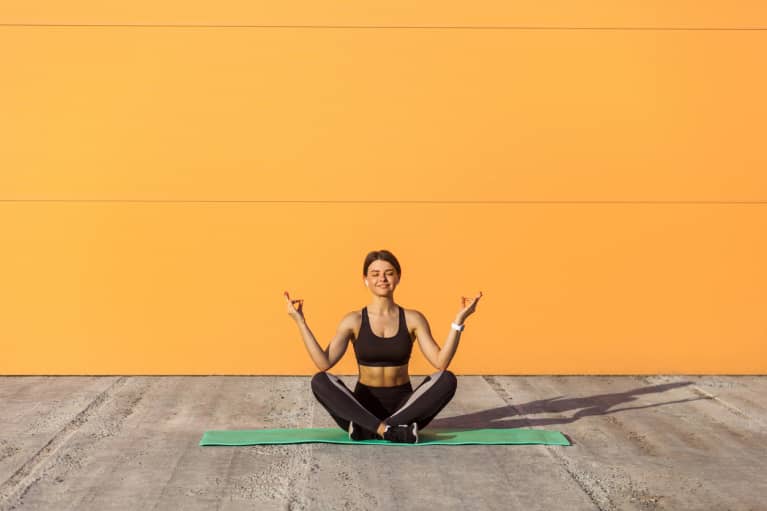 Our editors have independently chosen the products listed on this page. If you purchase something mentioned in this article, we may
earn a small commission
.
Today's teenagers are more stressed and anxious than young people of that age group have ever been before. Somehow, all of the struggles of adolescence have become more stressful since we were their age. It's now essential to help them with mindfulness.
How can mindfulness benefit teens?
Teenagers are at the perfect phase in life to start developing mindfulness. Mindfulness is part of a skill category called metacognition, which is the act of thinking about thinking. It's how we talk ourselves out of negative thought patterns and recognize when we're being irrational. Metacognitive ability increases significantly during the teenage years, so it's important that we teach teens how to manage their thoughts in healthy ways.
The effects of mindfulness and meditation practices on adolescents have been studied in many settings, from outpatient clinics to high schools. In 2011, a mindfulness program for adolescents, called Learning to BREATHE, was studied in a pilot program involving 120 female high school seniors. The girls who participated showed a decrease in negative experiences like fatigue, physical aches and pains, and unpleasant emotions in general. Instead, they enjoyed more positive feelings like relaxation, calmness, and self-acceptance.
Similar results came out of a 2009 study of 14- to 18-year-olds participating in outpatient mental health treatment. By the end of the study, they were showing lower levels of anxiety, depression, and other symptoms, and their overall functioning had improved. Three years later, researchers from the Benson-Henry Institute for Mind-Body Medicine found that teaching the relaxation response to teenagers could help them to reduce stress and anxiety.
As a recap, here's the science-backed benefits of mindfulness for teens:
Reduced stress and anxiety
Less fatigue
Reduced physical aches and pains
Increased feelings of relaxation and calmness
More self-acceptance
We know that teens need to be able to regulate emotions to feel good about themselves and to be well-adjusted psychologically. And we know that mindfulness can help stressed teens to do just that. The next question is how we present it to them so they'll give it a chance.
4 tips to make mindfulness teen-friendly.
Mindfulness will only help anxious teens to relax if they take it in, own it, and understand how, why, and when to use it.
1. Teach them them the why.
Teaching teens why mindfulness helps them can help motivate them to start a daily practice of mindfulness. That means helping them connect with the benefits of mindfulness in their daily struggles and teaching them exercises that can be most helpful. The most important thing is that they experience a positive change for themselves.
2. Provide them with in-the-moment game-plans.
For example, if your teenage daughter gets nervous every time she sits down for a test, teach her some calming and focusing exercises. Some of my favorites, which I included in my book Mindfulness for Teens in 10 Minutes a Day, are the "butterfly hug" relaxation exercise and the "If you see it, you can create it" visualization exercise.
One of the ways I found that works with teens is to give them a challenge. Teens these days are into various 30-day challenges that float around on social media. Challenge your teen to try an exercise for 30 days and, at the end, provide some reward. While the initial reward might be the incentive, sticking with mindfulness because of the results will be the overall reward.
Finally, we have to convince them that it's not an onerous and time-intensive task. Kids are extremely busy, as we've discussed earlier, and they won't do something that they think takes forever. We need to give them exercises that they can do in five or 10 minutes, in the privacy of their rooms. Better yet, we need to teach them exercises that they can do when they're sitting in school or standing on an athletic field, feeling anxious and worrying if they're going to do okay.
So how are teens coping otherwise? They're not.
Today's teens don't seem to have enough healthy coping mechanisms for all of the stresses they're facing. Teenagers are accustomed to looking for answers to life's problems on the internet, but that can be a dangerous route to take when it comes to managing mental health—too many sites advocate destructive behaviors.
Meanwhile, teens are spending a lot of time on social media. Teens are neurologically less able to resist temptation than adults, and they're wired to care deeply what their peers think. Snapchat and Instagram are siren songs. In fact, according to a poll cited by the American Academy of Pediatrics, 22% of teenagers go on social media at least twice a day.
We can't expect teenagers to have their own coping strategies in place, nor can we solve all their problems for them. It is our responsibility to acknowledge the difficulties of what they're facing and teach them the skills that will help them cope. One of the best and most universally helpful skills out there is mindfulness.
Yes, the rise of adolescent depression and anxiety is on the rise, and it's having a negative impact on families. But no matter what's going on, with friends or at school or anywhere else, there are mindfulness exercises to help stressed teens with almost any problem they might be facing. As teenagers engage with the idea of mindfulness and use the exercises when they need them, they will notice the improvement in their daily life. They will quickly learn that this is a tool that will benefit them for the rest of their lives.