Hooray! Another Reason To Masturbate
mbg Relationships Contributor
By Wendy Strgar
mbg Relationships Contributor
Wendy Strgar is a social entrepreneur, author, and the founder and CEO of Good Clean Love. She received both her bachelor's in french and literature, and her master's in organizational development, from the University of Minnesota.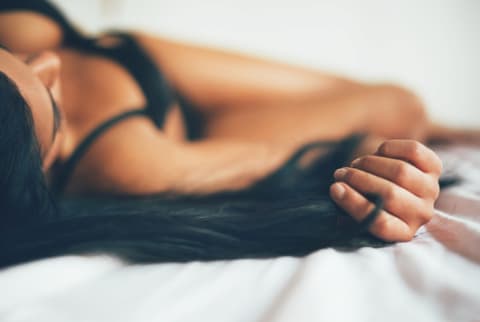 June 3, 2017
Self-pleasure is essential to moving toward a healthy relationship with pleasure itself. In fact, sex educators the world over call masturbation the cornerstone of sexuality. The more attention you give to your own sexual response, the more sexually competent you become in partnered relationships. Of all the sexual acts on the planet, masturbation is not only the most commonly practiced and safest but also the one that most frequently and reliably ends in orgasm. But then, who knows better than you do the secrets to unlocking your own pleasure?
Surveys have shown that people of all ages masturbate both in and out of relationships. Kinsey's data reports that almost 40 percent of men and 30 percent of women in relationships masturbate. A study of Playboy readers found that 72 percent of married men masturbated, and a study of Redbook readers found that 68 percent of married women masturbated. Freud once wrote, "The only thing about masturbation to be ashamed of is doing it badly." Yet sadly, self-pleasure stubbornly remains a behavior cloaked in shame.
If you're still on the fence about ramping up your own self-pleasure practice, here are three reasons to rethink your approach to cultivating a self-pleasure practice. It will make you a more empowered and sexier partner.
1. Masturbation facilitates sexier sex.
As you become more comfortable exploring your own body and more familiar with the kinds of touch that make you light up, you become a more interesting and articulate lover. Women who lie in bed waiting for their partner to magically wake up their arousal transmit that passive helplessness into their partnerships.
Sadly, they often end up defaulting to the tragically outdated and unsatisfactory pleasure response of, "My partner had fun, and that has to be good enough for me." Learning how to please yourself makes you a much more engaging and exciting sexual partner.
2. Mutual masturbation opens all kinds of erotic doors.
Among the most exciting prospects of becoming an accomplished self-lover is the potential for all kinds of fantastical mutual masturbating techniques. Blurring the lines of erotic touch in any number of positions creates a playground for a fledgling fantasy life. Taking turns with sex toys, hands, or other body parts becomes less and less daunting the more comfortable and knowledgeable you become with your own sexual response.
I've found that mutual masturbation ignites sexual desire like nothing else. Eye contact and sexual conversation turns intimacy into something indescribably intense. Sharing glimpses of your fantasy world in these fiery moments of mutual stimulation and letting your partner know what you want to do—well, try it and see if it isn't explosive.
The boldness that comes from giving yourself permission to pleasure yourself replaces fear and shame with authentic curiosity and freedom. These are the key ingredients to a vital orgasmic response. Discovering and owning your own orgasmic capacity liberates you. You don't need your partner to get you there. Instead, you've tapped into the potential for a passionate exchange that unfolds anew every time. Shared sexual discovery is magnetic.
3. Masturbation makes you physically and emotionally healthier, which leads to greater intimacy and satisfaction.
I often say that you can't be fully well without being sexually well. Sexual health is an inextricable element of overall health. We often don't realize how closely correlated sexual satisfaction is with pain relief, but the cascade of hormones released in orgasm can diminish discomfort1 caused by everything from sore joints to menstrual cramps to headaches.
Make the most of your orgasmic potential by embracing the truest love of all—self-love.
Wendy Strgar
mbg Relationships Contributor
Wendy Strgar is the founder and CEO of Good Clean Love. Their all organic sexual intimacy and feminine hygiene products are sold nationwide and endorsed by physicians. Strgar is author of Love That Works and Sex That Works, and writes on the topics of love, sexual health, and positivity on her blog Making Love Sustainable. She is a sought-after speaker and workshop leader, where she shares the skills of sustainable love and positivity consciousness. She received both her bachelor's in french and literature, and her master's in organizational development, from the University of Minnesota.