Close Banner
Advertisement
This ad is displayed using third party content and we do not control its accessibility features.
Living Apart Together: The Sleep Trick That Could Save Your Marriage

Contributing Wellness & Beauty Editor
By Lindsay Kellner
Contributing Wellness & Beauty Editor
Lindsay is a freelance writer and certified yoga instructor based in Brooklyn, NY. She holds a journalism and psychology degree from New York University. Kellner is the co-author of "The Spirit Almanac: A Modern Guide to Ancient Self Care," with mbg Sustainability Editor Emma Loewe.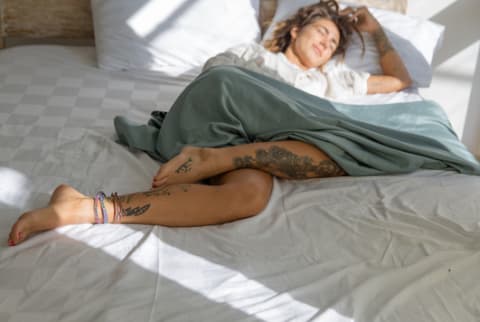 Google "sleeping in separate beds," and you'll be presented with a heap of personal essays on why married or cohabitating couples have decided, usually for better—not for worse—to arrange separate sleeping quarters. Using the internet as a barometer, the reason isn't because divorce or separation is looming, although it may feel that way when the side effects of sleep deprivation start to ruin your life. Sleeping in separate beds has become an effective remedy for the perpetually sleep-deprived among us, especially parents, to catch up.
To the outside world, it looks like marital defeat, but according to the National Sleep Foundation, one in four couples already sleep in different beds. Sleeping in separate beds is a version of LAT, an acronym that stands for Living Apart Together. Living Apart Together is exactly what it sounds like, when couples decide to maintain separate homes while remaining committed to each other. It's not to be confused with Living Together Apart1, which is usually a temporary phase while a partnership is ending wherein the couple continues to cohabitate to keep up appearances, to maintain finances, or for the well-being of children.
Before casting any judgment on this counter-normative lifestyle, consider the science that validates LAT. Recent research shows that it's becoming more common in older adults transitioning into new relationships following divorce or death of a spouse. In the study, older people cite a desire to stay independent, keep their own homes, and maintain family boundaries and financial independence as reasons for LAT. In other instances, LAT is appealing because the richness individuals have in their own lives simply adds to their romance. The New York Times profiled a few couples living in New York City who subscribe to an LAT lifestyle. One such couple, Robert Fontanelli and Rolf Sjogren, a pair of art directors who have been together for six years, reflect on what it's like. "Sometimes I wonder, what's wrong with me that I don't live with my partner. Plus, the schlepping back and forth between apartments can tire me out a little. But if it preserves the relationship and makes us happy, why should we change? People say it's not real if you don't live together, but I can't imagine it being any realer than this," Mr. Sjogren told the Times.
Yet, until the stigma against living apart is broken, it'll be a long while before LAT is socially understood and accepted. Jacquelyn Benson, a professor at the University of Missouri who's studied LAT specifically, advocates for normalization of alternative companionships. "It needs to be more of a change in mindset in a societal level," Benson told Rewire. "We need to rethink how people can construct their relationships and maintain relationships not generally thought as normative." The backbone of Living Apart Together is trust and communication—with a strong foundation, anything is possible.