Parenting As An Introvert Can Be Uniquely Exhausting — Here's How To Deal

By Dina Cheney
mbg Contributor
Dina Cheney is an author and food and health content expert living in Cos Cob, Connecticut. She's written six books and has appeared in Every Day with Rachael Ray, Cooking Light, Dr. Oz The Good Life, Men's Journal, and more. She received her bachelor's in english and anthropology from Columbia College, Columbia University and attended The Institute of Culinary Education.
Time alone is a precious commodity for parents. Since I'm an introvert—that is, someone who derives energy from solitude—I used to worry that I wouldn't be up to the task. Anywhere from 16 to 50 percent of the population share my temperament, and for those of us who also have kids, the inherent conflict between the need for solo time and the social demands of parenting could prove problematic.
"Parenting can be particularly challenging for introverts because we lose so much of the alone time we had before our children were born," Carla Naumburg, Ph.D., a Massachusetts-based clinical social worker and author of the forthcoming How To Stop Losing Your Sh*t With Your Kids, tells mbg. "The free time we once may have used to go for a walk alone or read a book or just sit and stare at the wall is now taken up by these little people who, as much as we love them, can be tremendously demanding, both emotionally and physically."
For coping tips, I reached out to parenting experts and therapists. Here's how introverts can raise their kids in a loving fashion without becoming depleted and, possibly, resentful.
Know yourself and skip the guilt.
"The first and most important thing any introverted parent can do is recognize and accept her nature," Erica Layne, California-based founder of The Life On Purpose Movement and creator of a course for introverted moms called Talked Out, Touched Out: Learn To Thrive as an Introverted Mom, tells mbg. "When you accept that your introversion is not a character flaw—that it's a challenge, yes, but also a gift—that's when things begin to change… Once you accept your nature, you can let go of the guilt for needing time away and start designing a life around your needs."
After all, the adage about putting your oxygen mask on first before helping others is particularly true of raising kids, says Merriam Sarcia Saunders, a licensed marriage and family therapist. "Parenting is a marathon, not a sprint, so it is as important to attend to a parent's needs as it is to a child's… Make sure you have the quiet time you need, or you could face long-term physical and mental health consequences from chronic stress."
Since introversion occurs on a spectrum, "recognize your limits and try your best to stick to them," advises Kayce Hodos, a North Carolina–based licensed professional counselor specializing in maternal mental health. "Pay attention to how you feel in different settings. You may be able to cope more effectively on a playground with plenty of space than at a loud birthday party," she says. "If you tune into your energy level during and after various activities, you'll be able to identify your tolerance level for each and what you need to do to refuel. For example, I would much prefer to volunteer to chaperone my son's first grade field trip to the rock quarry over taking him to his friend's birthday party at the bowling alley."
Carve out alone time.
Once you recognize your need for ample solitude, you can put in place ways to secure it. Particularly when the demands of parenthood feel acute, it's easy to forget that alone time can often be found—beyond your children's nap times.
"I suggest taking a good look at your daily schedule and weekly calendar and analyzing them for places where you can carve out moments of white space," Layne suggests. "Maybe you want to get up before your kids for even 15 minutes alone with a cup of coffee. Maybe you can read for half an hour while the kids watch a PBS show or play outside. Maybe you can turn off the radio and purposefully be alone with your thoughts on your drive home from work every day."
"Give yourself permission to sit in the car for a few minutes at soccer practice instead of forcing yourself to interact with everyone at the ball field," adds Yolanda Harper, a Florida-based licensed clinical social worker, of Harper Therapy.
If you need more alone time, ask for help. "Seek out, and accept, as much support as you can get (from babysitters, mother's helpers, playdate swaps, grandparents, and more) to get the downtime you need," Naumburg says. "As long as your kiddo is with someone safe and loving, you don't have anything to worry about. This isn't you shirking your parenting duties; this is you making skillful choices so you can be present and calm with your child when you're with them." For instance, join a gym or community center with a day-care room for a workout that doesn't include your toddler pulling on your leg. Or, ask your partner to pick your son up from the trampoline party.
However you manage to schedule it in, "use your downtime wisely," Naumburg says. "It can be tempting to use your precious kid-free/work-free time to pay bills or empty the dishwasher. If you can really, honestly, pinky-swear say that getting these chores done will help you feel calmer and happier, then go for it. Otherwise, get some exercise or take a nap or read a good book. Do whatever you need to do to recharge." In particular, "moving your body will help release the tension that builds up over time, which can happen more than usual for introverts who are always with people."
Set social limits.
Parenthood requires socializing with other caregivers and children, as well as with your own kids. To minimize the former, "remember that it's OK to say no," Naumburg says, especially if you're an introvert for whom endless social events can be seriously taxing. "You don't have to agree to be on every committee or attend every mom's night out. You don't even have to agree to most of them. As fun as all of it may be, the time with others may deplete you, and it will also deprive you of the time you could have otherwise used to rest and recharge."
"You don't have to say yes to everything a child asks, especially if the request to be somewhere is going to make you miserable," agrees Susan Newman, Ph.D., social psychologist and author of The Book of No: 365 Ways To Say It and Mean It―and Stop People-Pleasing Forever. To reduce the social burden while also making sure your kid has access to exciting experiences, you can ask a friend to take your child to a social gathering, drop your child off and run, or make only a brief appearance, she adds.
Especially as your child gets older, Newman recommends letting them take the reins on their own social life as much as possible. "Follow their lead, meaning let them do the 'work' of being outgoing and connecting," she tells mbg. "Instead of feeling guilty for cutting back on your social engagements, realize that if your child attends an event with someone else or alone or alone part of the time, you are encouraging that child to be independent and responsible."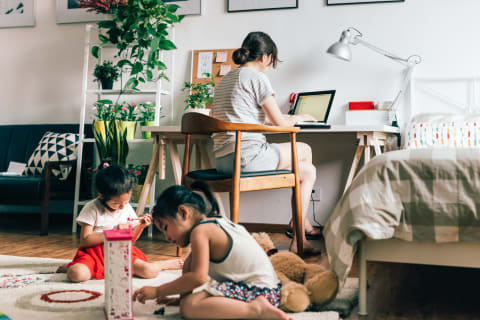 Image by MaaHoo Studio / Stocksy
Create boundaries with your child.
Yes, really! You can set boundaries with your kids from the beginning, and Saunders even advises it. This can be done in a way that isn't cold or unloving; it's simply the routine your child grows up with. "Although your child might be terrific at voicing his immediate needs, check if your immediate reaction is essential or simply knee-jerk. Can he wait? Can you teach him that certain times of the day are quiet time for mom or dad, and interruptions may happen only if the house is on fire? Schedules and routines are also an important part of getting your introverted needs met," Saunders says. "If your child knows what is coming and when in a structured fashion, it may be easier to avoid the chaos that drives an introvert to exhaustion."
Especially if your child is older, be honest with them about your introversion. "If your child happens to be an extrovert, help them understand your need for quiet time in order to recharge," Harper says. "When they're young, give them quiet activities to engage with, such as coloring, that they get access to specifically during those times. And be thankful that your chatty teen is willing to open up to you, but balance that with a bubble bath or some journaling time afterward."
Don't catastrophize the social demands of parenting.
Before having children, I feared that motherhood would be an endless loop of a toddler tugging on my pants, whining "Mommy, Mommy..." Yet, during my children's younger years, I did experience times of solitude. Now that my sons are older and usually want to be on their own anyway, I'm finding alone time an even more widely available resource.
Still, there are occasions when the introvert in me cringes. Here's Hodos' advice for those moments: "Even when you do have to participate in an event that isn't your cup of tea, know that you can do it… You may not enjoy it (or you may surprise yourself and enjoy parts of it), but push through, and then reward yourself with some kind of 'me-time' afterward. It isn't all or nothing. Parenting is about stretching yourself but not too much. Get out of your comfort zone, and you set a good example for your kid while also growing as a person."

Dina Cheney
Dina Cheney is an author and food and health content expert living in Cos Cob, Connecticut. She has written six books, including The New Milks. Additionally, she writes about food, nutrition, health, and wellness and creates recipes for numerous outlets. Cheney's work has appeared in Every Day with Rachael Ray, Parents, Clean Eating, Cooking Light, Prevention.com, Fine Cooking, Dr. Oz The Good Life, Men's Journal, and more. She graduated from Columbia College, Columbia University, with her bachelor's in english and anthropology, and also attended the Institute of Culinary Education.