This Simple Practice Can Increase Sexual Intimacy With Your Partner
mbg Contributor
By Jenni Gritters, M.S.
mbg Contributor
Jenni Gritters is a health journalist and certified yoga teacher from Seattle, WA. She has a degree in psychology from Bucknell University and a master's degree in journalism from Boston University.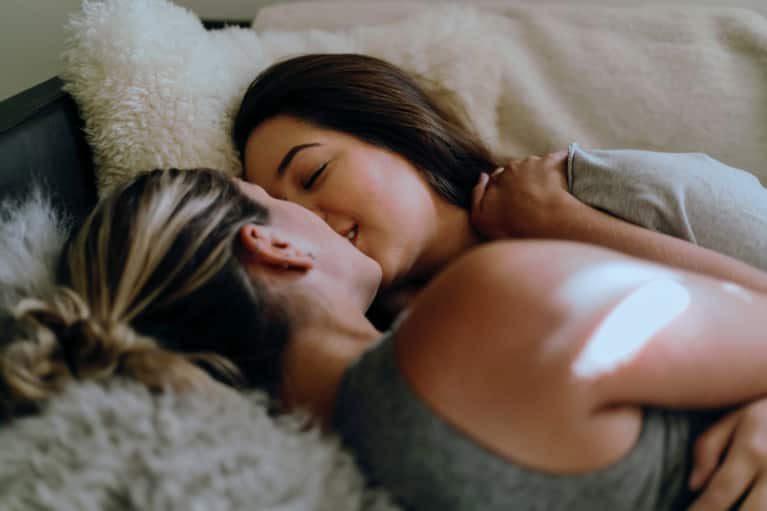 November 25, 2018 — 6:00 AM
When you're moving next to someone, you might begin to unintentionally coordinate your movements with that person's. For example, studies show that a mother's and infant's heart rates often sync up during free play, and people who walk side-by-side often coordinate their footsteps without knowing, even if they're strangers.
This seemingly random if sweet physical phenomenon might actually be worth turning into a conscious practice if you're in a romantic relationship: A new study published in the Journal of Social and Personal Relationships found that coordinating your movements can actually increase intimacy between partners. Couples who do actions in sync, like breathing or even walking together, experience heightened feelings of closeness and sexual desire.
Scientists conducted this research in four different experiments. First, same-sex people who'd never met were put on stationary bicycles that shared a front wheel; then one person was asked to share a story with the other while they both pedaled. After the cycling session, each person reported back about their feelings of empathy and closeness for the other person. In the second experiment, participants were purposely made to peddle in sync or out of sync while listening to each other's stories. In the third experiment, romantically involved couples listened to the sound of coordinated or uncoordinated footfalls while imagining their partner. In the final experiment, people were assigned to several different conditions that involved breathing in sync or out of sync with their romantic partner.
The results found that moving in sync with someone else led to higher intimacy ratings compared to out-of-sync actions. Even for people who were paired up with strangers, peddling in sync was correlated with higher intimacy and empathy rankings. For romantically involved couples in particular, moving in sync in any way, planned or unplanned, was correlated with "profound interpersonal feelings indicative of intimacy" like heightened sexual desire and increased feelings of closeness.
"Not only can synchrony affect the development of closeness between strangers, but it may also boost levels of intimacy in ongoing romantic relationships. Within this context, synchrony can signify unity between partners, thereby generating an atmosphere ripe for reciprocal exchanges of intimacy that may further intensify the emotional bond between them," writes Gurit Birnbaum, Ph.D., a professor at the Interdisciplinary Center Herzliya's Baruch Ivcher School of Psychology in Israel and one of the study authors, at PsyPost. "Even nonverbal displays of synchrony during ordinary activities in everyday lives can deepen the experience of closeness and sexual desire between partners."
If you're looking to develop a deeper connection with your partner, activities or practices that involve synchronizing your physical movements as a couple—no verbal exchange required—might be a good place to start. Try signing up for a cycling, yoga, or a meditation class with your partner, or on a simpler level, simply take a long walk together.
A couples-oriented breathing exercise can also be an extremely fulfilling and intimate way to sync up with your partner. Shelly Bullard, a marriage and family therapist, love coach, and spiritual teacher, suggests trying this kind of tantra-inspired exercise before sex:
Set a timer for five minutes and then sit in front of your partner, looking into their eyes.
Match their breath: When your partner inhales, so do you. When your partner exhales, so do you. When your partner moves, so do you.
When the timer goes off, switch places now and allow them to match your breath this time.
Once you've both had a turn, you can move onto other tantric practices—or just do whatever comes naturally.