I'm A Life Coach Who Got Postpartum Anxiety. Here's What That's Really Like

By Ashley Cebulka
mbg Contributor
Ashley Cebulka is a life coach, motivational speaker, and writer based in Charleston, South Carolina.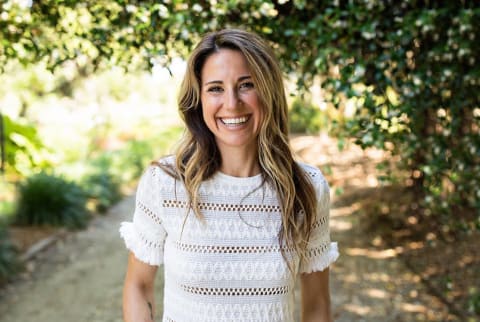 April 27, 2018
I haven't shared many (if any) of the details from my experience with postpartum anxiety for several reasons. First, I didn't even realize I'd had it until my daughter was approaching 2 years old. I was "out of the woods" at that point, and one morning I woke up realizing that I didn't feel like my heart was beating a million miles a minute—and that I hadn't felt like that in what felt like forever.
Then there was my pride. I'm a lifestyle coach who gives women tools to help them listen to and trust their intuition so they can transform their relationships with themselves—including how to overcome anxiety. Yet for the first year and a half of motherhood, I was blindsided by the intense anxiety and doubt I felt. How ironic is that?
I've always wanted to be a mom, and in many ways it felt like I was a natural. At the same time, this looming feeling of jittery anxiety followed me everywhere I went. I started to heavily doubt my intuition. What the heck was going on with me? I didn't feel depressed, and at that point I'd mostly only heard about postpartum depression—so I didn't really know what I was experiencing. Did I want to hurt my baby or feel a lack of connection with her? No, I felt the opposite. I wanted to be with her every waking moment.
That's what's tricky about postpartum anxiety: In many cases, the lines are blurred. Is it anxiety? Is this simply all the emotions that come with being a new mom? Is it just hormonal changes? I asked myself these questions daily. I wondered if most new moms felt the way I did. I was terrified of losing my daughter. I'd never felt more in love, more protective, or more terrified in my life.
I had a tough time sleeping because of my racing thoughts, and some days I was paralyzed with fear. On a daily basis, I saw visions out of nowhere of my daughter dying or having some kind of severe accident. I was terrified that those images were showing me a future event I needed to prepare for or that it would manifest something awful happening.
Of course, I was also more joyful, in love, and over the moon than I'd ever been before. Being a mother to my sweet girl fulfilled me on levels I didn't know were possible. Which is why I felt so confused.
Learning to trust again.
After a year and a few changes, I started talking about my experience with friends and family. I started getting as vulnerable as possible in hopes that someone could shed light on what was happening. Maybe, just maybe, someone could help me find peace of mind, which at the time felt so out of reach. Deep down, I knew that hope had to come from within—and I realized on a much deeper level that anxiety stems from lack of trust.
Over time, I remembered how to trust again. Trust myself, trust my daughter, and trust that I was exactly where I needed to be. I would focus on what I trusted several times throughout the day, and it helped me stay present. I'd gone from being an entrepreneur and woman who loved to work and loved her lifestyle to a totally smitten and utterly overwhelmed new mama.
Allowing myself to be vulnerable.
I'd never felt so vulnerable in my entire life. That feeling, like my chest had burst wide open, and that at any time something bad could happen was such an uncomfortable feeling for me. I was reading Brené Brown's book, Daring Greatly, a few weeks ago, and she explains the way I felt so perfectly: It's all about vulnerability. When we reach a new level of vulnerability, we try to avoid it by distracting ourselves with fear.
She even used the example of being with her kids, feeling how deeply she loved them. When her husband mentioned taking them on a trip, all of a sudden she saw a vision of a car accident, and—boom—just like that, it snapped her out of the moment and into fear. She stopped the "crazy making," as she called it, by saying "vulnerability, vulnerability." And it reminded her of what was really happening.
Anxiety and vulnerability can go hand in hand. When you think about it, it makes sense. Whenever we're expanding outside of our comfort zone, we get a little shaken up. We want to protect ourselves from fear of the unknown: How exposed will I feel if I really let myself be seen? What I realized was being grateful for the moment I was in, over and over again, as cliché as that may sound, is what helped me get comfortable with the vulnerability of motherhood.
Over time, the anxiety slipped away. Since then, I've realized that vulnerability is an invitation to love more deeply, to let ourselves be seen, and to trust ourselves in any moment regardless of the circumstance. The anxiety I felt has transformed into gratitude for my sweet little girl, who keeps guiding me home to the real me.
Want to learn more about postpartum anxiety? Start here.

Ashley Cebulka
Ashley Cebulka is a life coach, motivational speaker, and writer based in Charleston, South Carolina. Her passion is to inspire others to rediscover their life purpose and trust their intuition, while encouraging them to get out of their comfort zone and empower themselves to create a life they love.