I Am Not A Conventional Mom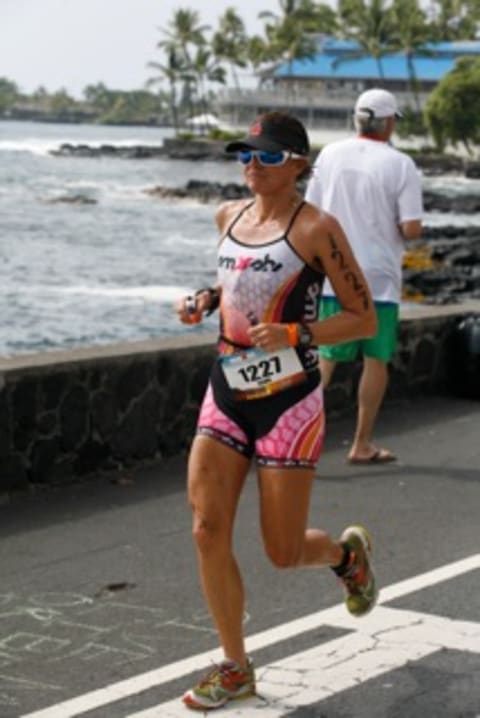 I am not conventional. I haven't ever really "fit" in. When I was growing up, I was always just left of center. I also spent many of those years wanting to fit in.
I wanted to be part of those that were in the "center." I tried on many hats. I tried on the team sports hat and it was too big. I tried on the academic hat and it was too small. I tried on the troublemaker hat and it got close but was just not right.
As I got older, I realized there were more "hats" to try on and some fit, but left just a bit of room. The wife and mom hat were made for me and helped me get comfortable enough in my own skin to realize that those hats just wouldn't be enough. I needed to pay attention to the space under the hat.
That is where the dream insisted that it become a goal.
See, when I was in the midst of being left of center, I saw the Ironman on TV one weekend while watching Wide World of Sports with my dad.
Somewhere deep in my soul a seed was planted. Over time, I realized that what really made sense to me was physical challenge as a method of self-discovery and before I knew it, that seed had taken root and was blossoming.
Being a triathlete is yet another hat. It also comes with a lot of Lycra, fancy bikes, computers, swim gear, bottles of nutrition, and things that look really different than what the other moms carry.
Those moms looked put together, made gourmet meals every night, volunteered at every event and seemed to always know when and where to sit at the games or concerts. I barely made dinner, sometimes still had my Lycra on, didn't always know what events to be at, and often brought my bike to the games or logged workouts during concerts. I wasn't up on what or who was "in" at the moment. I was usually late to meetings or leaving early.
I did always share what I had learned with my kids, however. They knew my fears and doubts as well as when I felt successful. They saw me "just miss the mark" over and over. Then came the day when I reached my goal and qualified for the World Championships in Kona.
My two sons and daughter may not have had a mom that looked like or did the things the other moms did, but they got something better. They got a sideline seat to perseverance. They saw mom sacrifice.
They experienced what it's like to own a dream even when others didn't. They also learned to take responsibility for their own goals and dreams. They learned that while it is wonderful to have someone cheer you on, the real motivation must come from within.
There isn't always someone to say good job and that they needed to know what a good job really is. They learned that failure is temporary and as long as you get up, you get where you are going. They learned that sometimes you have to be unconventional to be, do, or have what you want. They learned that whatever the outside hat is, the inside job is what is really important.
Finally, my children learned that anything is possible. They didn't learn this from a Disney movie or a fairytale. They learned this from their Mom.
That makes being a triathlete Mom one of my best looking hats ever!

Dawn Elder
Dawn Elder is a mother of three and wife to Jesse and lives in San Antonio, Texas. She is an 8-time Ironman finisher, World Championship qualifier for both the 70.3 half Ironman distance and the Ironman distance, as well as a two-time Boston Marathon qualifier. Dawn is also a personal trainer and USAT Level 1 triathlon coach.