This May Be The Best Way To Help Kids Who've Been Through Trauma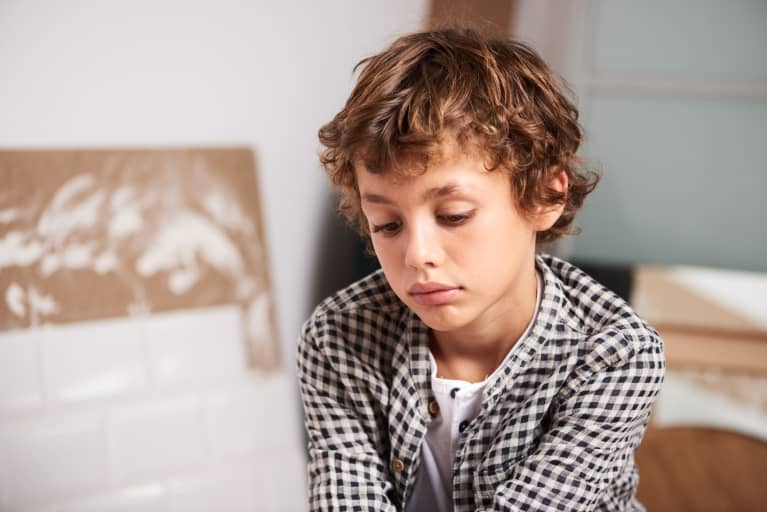 March 27, 2019 — 21:07 PM
Why do some children who experience trauma seem to recover naturally over time whereas others develop symptoms of post-traumatic stress disorder and even depression? A new study published in the Journal of Child Psychology and Psychiatry has identified one key factor: seeing their own emotional reaction as "not normal."
Researchers assessed over 200 kids between ages 8 and 17 who'd experienced a traumatic event, such as a car crash, assault, or medical emergency. They interviewed the kids twice, once two to four weeks after the event and again two months after the event, asking them questions about how they've been coping with what happened. The kids also completed a survey about what their general emotional well-being and cognitive skills were like before the event had ever happened.
What does a "normal" healing process look like?
The study found PTSD symptoms were actually pretty common earlier in the recovery process, at the two- to four-week mark. "Symptoms of PTSD can be a common reaction to trauma in children and teenagers," said Richard Meiser-Stedman, a clinical psychology professor at the University of East Anglia in England who led the study, in a news release. "These can include distressing symptoms like intrusive memories, nightmares and flashbacks. Health professionals steer away from diagnosing it in the first month after a trauma because, rather than being a disorder, it's a completely normal response. … These initial reactions are driven by high levels of fear and confusion during the trauma."
Generally speaking, though, the majority of the kids healed naturally over the course of the two months without any professional help or interventions.
How much social support they had in their lives and the presence of other life stressors didn't actually affect their likelihood of having lingering PTSD symptoms. What did? It was the tendency to view their own response to the trauma as being abnormal, a sign of weakness, or a sign that they were "permanently damaged." That self-judgment was the key predictor of PTSD.
"The young people who didn't recover well, and who were heading down a chronic PTSD track two months after their trauma, were much more likely to be thinking negatively about their trauma and their reactions—they were ruminating about what happened to them," Meiser-Stedman explained. "They perceived their symptoms as being a sign that something was seriously and permanently wrong with them, they didn't trust other people as much, and they thought they couldn't cope."
That means one of the biggest ways we can support young people who are recovering from trauma is to normalize their pain. It's vital to make sure they know that there is nothing wrong with feeling deeply distressed by what's happened to them and that it will likely take some time before those emotions settle. Trauma certainly can change you, but it by no means "permanently damages" you.
The difference between ruminating and grieving.
Importantly, the study also found that "overthinking" the trauma was also linked to worse PTSD: "The children who didn't recover well were those that reported spending a lot of time trying to make sense of their trauma. While some efforts to make sense of trauma might make sense, it seems that it is also possible for children to get 'stuck' and spend too long focusing on what happened and why," Meiser-Stedman explained.
Past research has shown our minds generally have a tendency to ruminate on negative events, and that rumination can be disastrous for our mental health. The researchers were hesitant to give any recommendations related to how to process trauma since the risk of "overthinking" can lead to worse outcomes, but at the same time, not processing your pain at all is generally a ticket to growing up with unresolved emotional issues that lead to more reactivity, relationship problems, and poorer health as an adult.
Transformation coach Sheryl Paul offers a good way to understand the difference: Replaying scenes over and over from the negative events in our lives and thinking about why they happened isn't necessarily the same as emotionally processing your trauma.
"Ruminating isn't grieving. Thinking isn't grieving," she writes at mindbodygreen. "Grieving is an embodied experience that moves the pain out and through, whereas ruminating is a 'head' experience that keeps the pain stuck. Ruminating—that is, obsessively going around and around in your mind on one particular storyline, like thinking about what you or the other person did 'wrong'—creates mental stagnation and prevents the grief from moving through you, thus preventing you from moving on."
To help kids (or anyone) heal from trauma, make sure they know it's OK to sit with their pain and feel it. They shouldn't spend all their time dwelling on what happened—it's important to be able to also resume life's activities to be able to access a brighter mood again and reconnect with their other emotions—but normalizing the grieving process is absolutely necessary.