This Simple Shift Will Immediately Spark Intimacy In Your Conversations
Doctor of Psychology
By Danielle Dowling, Psy.D.
Doctor of Psychology
Danielle Dowling, Psy.D. is a doctor of psychology and life coach, helping ambitious, driven women achieve the financial, spiritual, and lifestyle abundance they desire and deserve. She holds a bachelor's in business from American University, and her master's and doctor of psychology degree from Ryokan College.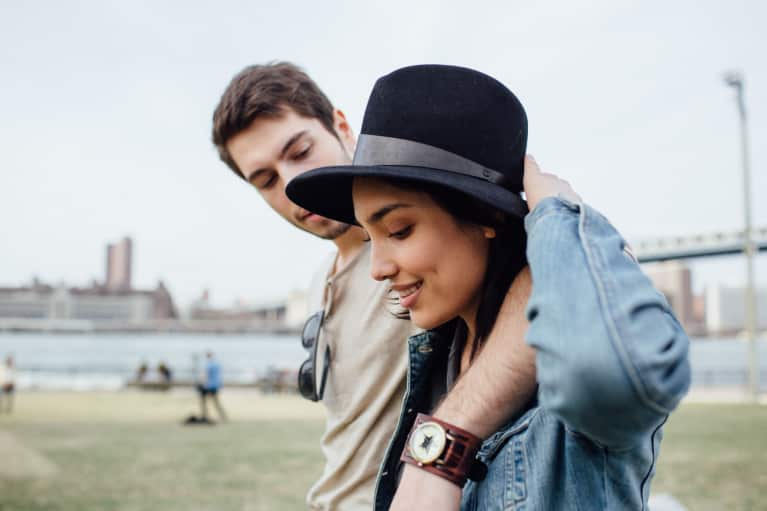 We've all been in a situation where we're uncomfortably asking questions of the person we want to impress or connect with, only to find ourselves running the conversation into a brick wall.
Connecting through conversation is an integral part of any healthy relationship. But while we all talk with other people nearly every single day, that doesn't mean each and every one of our conversations is a quality, connective, engaging experience. Far from it. We all have conversations with people who are not gifted in connecting—and we all at times struggle ourselves to create that intimacy.
You'd think the proliferation of social media technologies and seemingly more and more ways to communicate with anyone at any time would help alleviate this issue, but instead the opposite is true. With research showing that only 7 percent of communication is based on the written word (and 93 percent on nonverbal body language), social media actually makes us less social and likely to truly connect. Without that true communication and intimate connection, it's no wonder that feelings of loneliness have reached epidemic levels in America (and no doubt, throughout the rest of the world too)—with at least 46 percent of Americans reporting they always feel alone and 43 percent feeling like their relationships are not meaningful.
With communication being so closely correlated to relationship satisfaction (and to long-term compatibility in romantic relationships), this is one relational concern you won't want to let slip. But don't worry! Connecting through conversation doesn't have to be hard. There's one simple shift you can make to immediately pique your partner's (or anybody's!) interest and have meaningful conversations that build deeper connection and intimacy:
Here's the thing: "Did you have a good day?" just isn't going to cut it anymore. While it's always valuable to check in with your partner and indicate your interest in their lives and well-being, not asking the right questions can shut down a conversation before it even starts. The questions you ask (and field) in conversation often determine the quality of your engagement.
So, what sorts of questions should you ask—and how should you handle the answers?
The straightforward strategy that will enhance your ability to create better, more intimate conversations—especially with your partner—is to ask open-ended questions.
What exactly does that mean?
Start with no end in mind.
You should begin your conversations with no end in mind—don't presume you know how your partner's day went or how they're feeling or even what they want for dinner. That's where open-ended questions come in: They're the types of questions that can't be answered with a simple "yes" or "no," so they open up the conversation and welcome in any number of possible answers from you or your partner. They're your best bet for sparking truly inviting conversation.
Open-ended questions usually begin with words or phrases like:
How did you...?
Why...?
Can you share...?
Tell me about...?
...or some variation thereof.
They open the door for your partner, giving them the opportunity to truly think about their response and share with you on a deeper, more honest level.
Offer them that invitation—and ask for it in return if need be—and witness the added intimacy and connection that comes from holding space for their true thoughts.
Importantly, you'll also have to hold space for any answer.
When you open up your conversations with open-ended questions, you create space for answers and topics you might not have anticipated—and may not even like.
While you don't have to agree with everything your partner says, does, or believes, it's important to hold space for them to respond to your question with openness, honesty, and authenticity (and for them to offer you space to do the same). That means their response may not always be pretty, it may not always be happy, and it may even trigger something deep in you.
That's OK. Intimacy springs from this vulnerability—from your partner's ability to share openly and honestly with you, and from your ability to witness that.
It can feel safer to have more surface-level conversations—those conversations where you ask, "Did you have a good day?" and leave out the deeper, tougher answers that you may not want to hear. But true connection—the intimacy we seek to spark in our relationships if we want them to be truly meaningful—can only be found in this more engaging and honest way of communicating.
Struggling to connect through conversation is natural (very few of us are ever taught to do it well!), but it doesn't have to be your reality forever. Expand your relationship by expanding the content of your conversations and deepening your connection through your communication. You'll be so glad you did.