3 Tips For Getting Back Into Dating After A Hiatus + How To Enjoy It
mbg Contributor
By Caroline Muggia
mbg Contributor
Caroline Muggia is a writer, environmental advocate, and registered yoga teacher (E-RYT) with a B.A. in Environmental Studies & Psychology from Middlebury College.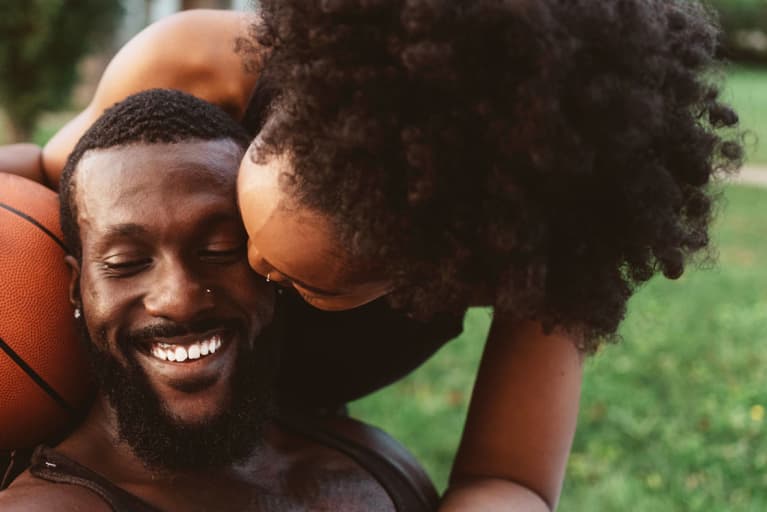 Can't remember the last time you went on a date? It can be daunting to think about putting yourself out there after some time being single. These challenges will be different for everyone depending on things like your dating history, the opportunity to make time for dating, and overall comfort with the thought of it.
Giordana Toccaceli, international dating, relationship, and intimacy expert, says one of the primary challenges people face when starting to date again is being cynical and guarded about love if their past experiences have been less than ideal. These fears and insecurities can make it difficult to open up to possibilities that are in front of us. She recommends working through these barriers by engaging in practices that help build self-love and confidence.
For some, feeling ready will be like an "ah-ha" moment, where for others ready will be an ongoing process. Wherever you may be in the process, Toccaceli shared some of her top tips for getting out there and enjoying it along the way:
1.
Look at your social calendar.
It's easy to get stuck in a rut of doing the same things over and over again, and oftentimes we don't even notice it. Going to the same places all the time or always doing things that others want to do can make it difficult for us to meet new people and especially those with similar interests.
Spend some time investigating your calendar and consider doing one thing a week that's different. It could be as simple as walking to a different coffee shop in the morning or shopping at a new grocery store. Even if you think it's unlikely you'll meet someone at one of these spots, Toccaceli explained it can happen at the most unexpected times.
It's also helpful to take inventory of how much time you're spending doing things your friends want to do. If it feels like you're always heading to the concerts your friends love, now's the perfect time to brainstorm on how to do the things you love or would like to try out. Maybe there's a weekend farmers market you've been meaning to go to or an exercise class that intrigues you; whatever the case, you'll feel good making choices that align with your values, and chances are, others at the event will have similar ones.
2.
Make time for what's important to you.
Let's be real, we're busy, and this busyness can get in the way of many things that are important to us, like building new relationships.
If you feel like this part of your life may have fallen to the wayside, think about how you can reallocate your time so that this can move up on your priority list. You may be thinking, With my job, dog, friends, and family, I don't have the time, and that's understandable. A great first step is noticing that this part of your life deserves more attention.
From there, think about some activities you've been meaning to work into your calendar, and put them on. Putting your plans on paper makes it more likely that you'll actually do these activities because you are blocking out time to do it. Besides planning ahead for the things you want to do, think about the spaces you inhabit during the day. Perhaps standing in line for coffee or waiting for your lunch is a prime time you could use to strike up a conversation.
3.
Consider different options for meeting people.
Whether you feel like dating apps are up your alley or totally out there, it's important to try to stay open to the modern dating world, she explained. If you're trying out the apps, Toccaceli recommends signing up for at least three apps to increase your chances of success. Using the apps is just another form of getting yourself out there and could be what works for you.
If this all sounds like your to-do list is just getting longer, remember that much of dating comes down to being in the right place at the right time. That being said, these strategies for stepping out and being open may increase the chances that you make that connection when the time comes.