Beyond Small Talk: How To Deepen Adult Friendships, From Intimacy Experts

mbg Nutrition & Health Writer
By Abby Moore
mbg Nutrition & Health Writer
Abby Moore is an editorial operations manager at mindbodygreen. She earned a B.A. in Journalism from The University of Texas at Austin and has previously written for Tribeza magazine.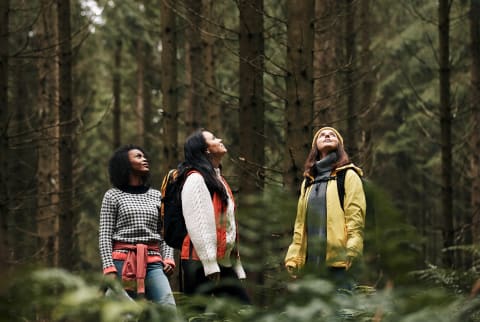 Image by FLAMINGO IMAGES / Stocksy
January 14, 2021
If you've felt some of your friendships quieting down over the course of the last year, you wouldn't be alone. For many people, the pandemic has put a strain on friendships. Between social distancing, Zoom fatigue, and ongoing attacks on our mental health, COVID life has made it harder than ever to meaningfully connect with friends—despite the fact that intimate friendships have never been more important.
But in 2021, many of us are looking for ways to find more joy. It's a great time to reinvest in and lean into our friendships in a renewed way. If you've got friendships you want to nurture, now might be the perfect time to reach out.
Think about who you currently have deep intimate friendships with and who you want to have deep intimate friendships with. Then, extend an invite.
"Take the first bold step," Mattenson says. "What would change in your life if you become really vulnerable and asked to become friends with someone you really want to become friends with?"
Here is an example message for reaching out that Mattenson has successfully used, if you're not sure where to start:
"Happy 2021! [emoji] I miss you. And I want you to know that I have a desire to deepen my friendship with you. Is that something you're currently available to explore together? You are such an inspiration to me, and I know I also inspire you. I'd like to get to know you more. Would you like to grow in friendship with me? [emojis], your name"
The message you choose to send doesn't have to be word-for-word, but Mattenson recommends following a similar formula:
Introduction/celebration
Vulnerability
A clear request
2.
Be open to vulnerability.
If you reach out to someone, be prepared to receive a no, a yes, a partial yes, or to be ghosted altogether. "That's the vulnerability that burns up our ego to say we're not good enough," Mattenson says.
Instead of dwelling on those seemingly negative responses, Mattenson recommends celebrating the no. "The truth is, you should celebrate the fact that you had the vulnerability and the courage to reach out, whether you heard from them or not."
If you don't receive an answer straight away, give that person the benefit of the doubt. Perhaps your letter of invitation got lost in the mail. (This actually happened to Colker once, only to have the person reach out months later after finding it.)
The benefit of the doubt provides the assumption that the person wasn't intentionally trying to hurt or harm you, Colker says. This is another way to deepen intimacy in a friendship. "You never know what the truth is. If you feel so inclined to, go ahead and reach out again. Be brave," he says.
On the other hand, if the person says no, accept that and move forward. Mattenson says she'd "rather have someone tell [her] an honest no than a lie of a yes." True intimacy stems from honesty and trust, not people-pleasing.
3.
Explore shared values together.
The word "intimacy" in terms of friendship might bring a bit of discomfort. That's likely because most people view intimacy through the lens of physical or sexual connection. In reality, there are so many types of intimacy beyond the sexual kind—including the equally important emotional intimacy.
"It's about building trust and having shared experiences based on shared value systems," Mattenson explains. Value systems could include growth, adventure, or deep philosophical thought. If you're not sure where to start, consider borrowing some of these deep conversation starters or the infamous 36 questions to fall in love, which are really at core about creating feelings of intimacy, to spark some connection and dialogue.
In order to foster a deep friendship, figure out how you and this other person can then share those values together. Maybe it's a book club reading some thoughtful nonfiction together, setting up a biweekly accountability meetup to chase your goals together, or finding ways to spend time in nature together.
(Need some COVID-safe options? Here are quarantine date ideas and fun things to do on Zoom with friends.)
4.
Be willing to set boundaries.
When you come from the perspective that each of you is wanting to grow in your friendship together, you should also be willing to navigate potentially awkward conversations, Mattenson says. This ensures both of you are having your needs met, and not just one person. In other words, be open to setting boundaries. (Here: six types of boundaries and how to set them.)
"When you find people who show kindness when you're being vulnerable, those are your people," Mattenson says. "If somebody is harsh with you when you're sharing, opt out."
The bottom line.
Deepening existing friendships that, up until now, have only scratched the surface can be intimidating, but deciding what you want and going after it is the best way to get there. Extend an invite, be open to being vulnerable, and open the door for conversations about shared values and your own needs.

Abby Moore
mbg Nutrition & Health Writer
Abby Moore is an editorial operations manager at mindbodygreen. She earned a B.A. in Journalism from The University of Texas at Austin and has previously written for Tribeza magazine. She has covered topics ranging from regenerative agriculture to celebrity entrepreneurship. Moore worked on the copywriting and marketing team at Siete Family Foods before moving to New York.