9 Extremely Creative & Fun Ways Families Are Staying Spooky This Year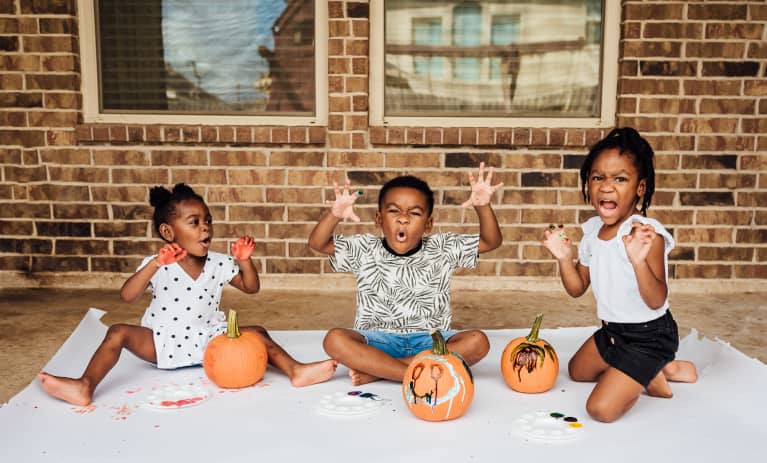 So much has changed this year in ways big and small; that much is certain. What hasn't changed is that families and friends will find ways to stay connected and celebrate traditions—even if they're not identical to years past. And while Halloween is likely not top of mind for holidays this year, it is still a day that many kids (and teens and adults!) look forward to enjoying.
So, to hopefully provide a bit of inspiration if you're still looking for family plans—or perhaps to spark new things to incorporate into yours, here's what a few mbg staffers and contributors are up to this weekend:
1.
Spend extra time decorating and on costumes.
Even if you're not doing any standard activities, per se, you can still get in the Halloween spirit with proper home décor—and maybe even put a bit more time into this year, to make up for lost trick-or-treat adventures. "For my 3-year-old, they do Halloween at school, and we got her an extra good outfit—and now, since school is indoors, it opened up the options to what we could choose," one mbg staffer says. (As those of us in colder climates know, you often have to pick costumes based on how warm they are or how well you can layer under them.) "Also, we hit several pumpkin patches and arranged pumpkins—plus, the occasional corn—on our doorsteps. Frankly, I am kind of relieved there is no traditional trick-or-treating since good luck keeping a 3-year-old from this amount of sugar!"
Consider this reverse trick-or-treating: Instead of visiting homes and asking for candy, create your own little care package of goodies and drop them off at your friend's doorsteps (with a note, of course, so they know it's from you.) "[Try] making 'boo bags' filled with candy and treats—then deliver them to friends' doorsteps," says an mbg staffer. "A cute activity for giving out candy this year, and hopefully you'll get some boo bags in return!"
Some neighborhoods are designating a pickup spot for sweets—so families aren't traveling door-to-door all evening. "We're doing an in-house holiday, but around our neighborhood some of our neighbors are planning on dressing up and having a candy table around the complex where the kids can come to collect treats in a socially distanced manner," notes mbg contributor Erica Lasan. See if your community is doing the same, or chat with a few trusted neighbors to see if you can agree to do a small socially distant candy pick-up table.
4.
Combine autumn activities.
Along with Halloween plans being downsized or canceled, plenty of standard fall-themed activities were skipped. Use this weekend as an activity to combine them all in one festive day. This fun—and practical—tip comes from Lasan: "My siblings are planning something we're calling 'Fall Fiesta,'" she says. "There will be a concentration on 'Fall-y Things.' Think cider doughnuts, pumpkin pie, pumpkin-flavored sweets, and potentially some Halloween-y costume-themed treats. All of this excitement culminates in a movie night!"
For some, the main event is the costumes—or if not the main event, at least a very big part of the fun. Even if you don't get to show off your handiwork to a big party or loads of tricker-or-treaters, you can still show off via video chat. "We've decided to skip trick or treating and do a home Halloween party instead. We will all be dressing up, eating our traditional Halloween snacks of pizza, doughnuts, cider, and popcorn, and playing games," says licensed psychologist and mbg contributor Nicole Beurkens, Ph.D. "We plan to Zoom with my brother and sisters to show off costumes and see what all the cousins are wearing. My kids are older so they aren't feeling too disappointed about the change in plans. They did still want to celebrate in some way, so we all decided on a different fun way to spend time together!"
Outdoor events, we know, are safer than indoors. If you have the space, and the weather allows, try using this to your advantage. "My sister is taking my nephew to a little outdoor yard party where they're decorating the lawn, pumpkins, and each of the kids will get a bag of candy," says one mbg staffer, noting that if the kids are old enough, you can even try a haunted maze or scavenger hunt.
7.
Allow for responsible trick-or-treating, if possible.
Every community and area has been hit differently by COVID-19. If you live in a neighborhood where you trust your neighbors to be responsible, respectful, and safe, small-scale trick-or-treating isn't out of the question if you live in a low-risk area.
"I would say we are doing something low-key. We are going to one specific neighborhood that has a COVID-safe plan (think space wide and numbers low) with specific people who are taking the pandemic seriously—plus, everyone in masks. I am trying to balance being safe and also giving kids something to look forward to in a time when we have taken away so much of what kids find fun," says mbg contributor Caroline McGuire, M.Ed.
She also notes that you can turn it into a learning opportunity for kids on self-accountability. "My 6-year-old son is happy with only a few houses and then to come home and watch It's the Great Pumpkin, Charlie Brown. My daughter is a tween, and she is going to a few houses with two girls. I have aligned with the girls' mothers, and they will be in masks," she says. "Some of this is also an opportunity to talk about choices. Ask them: What do you do when someone is making unsafe choices? And come up with a game plan."
To get through the realities of these trying times, many of us have started to create safe pods for ourselves. For families with young kids, this has been especially helpful for social development—not to mention it helps parents cope. "We luckily have a pod. What was once a Friday-morning zoom Mommy and Me class during my mat leave evolved into meeting in parks (distantly). Now it is a solid pod of families we trust all with kids around the same age as my son," says an mbg staffer. "One family is hosting a backyard pumpkin patch on Saturday morning, where she's got a ton of pumpkins and hay, and we'll bring our costumed babies—some parents, too!"
9.
If all else fails, get creative.
Why not make up a totally new, random tradition this year? There's no stopping you from letting your imagination soar. "My family's town is banning trick-or-treating this year, so my brother told his kid there is a special Halloween bunny that comes every 100 years and hides candy in your house instead of trick-or-treating," says one mbg staffer.