How My Marriage Changed After My Son Died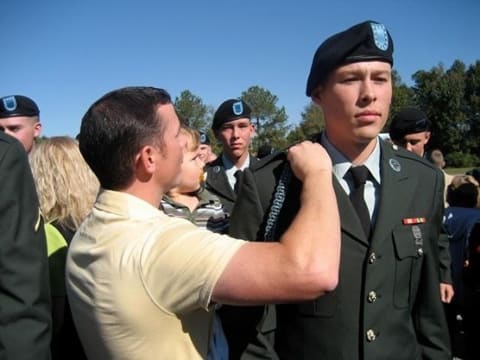 I raised three rowdy boys. They were adventurous, nature-loving, and a bit rebellious, and all of these characteristics were amplified into their teen years.
Most of their indiscretions were minor. Boy things like throwing M-80s in a pond, crashing through a window, or swimming in the community pool after it was closed.
But there were also more serious things, like underage drinking and speeding tickets. (OK, there might have been some drug rehab in there, too.)
Their dad and I had divorced a few years before the onset of the teen years. So maybe I was subconsciously calling for back-up or maybe the universe just has a funny sense of humor, but marrying a police officer was the last thing I had in mind, and it was certainly not what the boys were hoping for in a step-father.
After getting pushed into the dating scene, one rule I established was that I would not date cops. I'd had my own run-in with the police as a kid. Lucky for me, that record was expunged when I turned 18, but it left me suspicious of all police officers.
Scott wasn't a police officer when we first started dating. We were co-workers in cardiac rehab, where we both worked as exercise physiologists. I was attracted to the kindness he showed the patients, many of whom were frail, older adults. I knew he had been in the Army and had been deployed to Iraq in early 2003.
I also liked his playful sense of humor and the fact that many of his pictures from his time in Iraq were of the children — I liked that the children were what he wanted to remember.
I've often wondered if Scott decided to become an officer of the law due to how horrible my boys were to him. They were never outright mean, but they went out of their way to ignore him and barely recognized any kind gesture he showed them. It was, in my own house, a Cold War.
By the time we were engaged, Scott was well on his path of becoming a police officer, and this is when the boys started to really distrust him. This created even more awkward silence around the dinner table and made me feel like the host of an international peace summit.
Each boy had his own reaction to feeling like he was now under 24/7 surveillance. One resented me for bringing the enemy under our roof. Another tried to use his step-dad's authority to get out of trouble; when he was arrested for underage drinking, he asked the arresting officer to call his step-dad. (Scott wasn't on duty at the time.)
It wasn't that the house rules had changed; it was that the boys felt like everything they said and did was being judged by someone with a different set of values.
The pressure finally exploded in a screaming match between the boys and their step-dad, which left me wanting a divorce simply because I could no longer play referee or feel stuck in the middle between the two factions.
Miraculously, we remained together. I credit Scott and his sense of loyalty for staying during those early years. He spent a lot of time biting his tongue and looking the other way, even when I knew he wanted to be involved with parenting decisions. The boys' relationship with him became a topic we didn't discuss.
Things began to turn the corner when my oldest, Brandon, joined the Army and the middle son moved away for college. By then, the boys were older and a little more mature, and Scott had a release from feeling like he had to parent the boys.
When Brandon left for boot camp, my husband gave him the good-luck charm he had carried with him during his tour in Iraq. Brandon was proud to be carrying on this tradition.
When Brandon graduated from infantry training, he asked Scott to put his blue infantry cord over his shoulder during the graduation. I believe he was grateful for Scott's influence in his choice to serve his country, and that he loved the Army bond they shared. Scott was tearful and proud as he fulfilled this honor.
Shortly after that, Brandon died while home on leave. All of us fell apart in our own way, grieving the loss of a son, step-son and fellow soldier and older brother.
Perhaps it was because Scott was the only one who could shoulder our grief and keep us afloat, but whatever the case — ironically, the man who represented everything the boys were trying not to become — had what it took to hold us together.
The process of loss and grief tore each of us down into unrecognizable shadows of our former selves. As the boys rebuilt themselves into older, wiser versions of themselves, they were able to see their step-dad as a fellow soldier who had witnessed the same battle.
I have no doubt that the boys would've come around had Brandon not died, but it would've taken much longer and it wouldn't have resulted in the deep connections I see today.
My sons probably can't articulate all that has happened in the last four years (or maybe they can and I'm not giving them enough credit), but one thing is for sure: they are slow to judge a person by his career and quick to give someone a second chance.
I learned that my desire to "serve and protect" my boys brought us some much-needed stability in the most unusual form. I also learned that the best things in life can't be predicted or forced, and it's the worst things that not only show our true colors, but allow others to see them as well.
Photo of Scott and Brandon courtesy of the author

Paula Stephens, M.A., RYT-200
Founder of Crazy Good Grief
Paula Stephens, M.A., the founder of Crazy Good Grief, author, speaker, and 200 hour RYT Yoga Instructor. Crazy Good Grief supports the courage to use healthy habits and radical self-care to empower us through grief recovery. Paula is an adjunct professor in Human Performance & Sport in Denver, CO. Paula has presented at the national level for the American College of Sports Medicine, The Compassionate Friends National Conference and Now I Lay Me Down To Sleep. She hosted the a world wide online summit for grief recovery – The Healthy Grief Revolution: A Survivor's Summit. As the mother of four adventuresome boys (yes, including Brandon), you can find her on the trails running, biking or doing yoga and recovering with a tasty craft beer.