This Communication Tactic Could Be The Key To Saving Your Marriage. Here's What You Need To Know
By Erin Rachel Doppelt, M.A.
mbg Contributor
Erin Rachel Doppelt, M.A., is an international wellness consultant, spiritual teacher, and retreat leader. She earned a master's in clinical psychology and education from Columbia University and is a certified functional medicine health coach.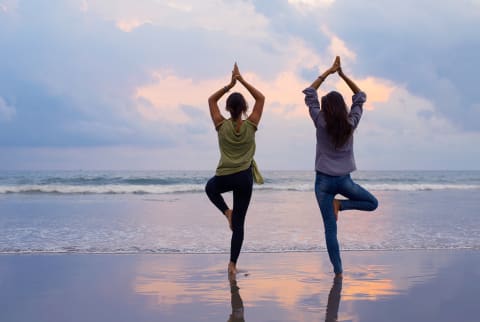 June 9, 2018
The relationship-boosting properties of mindfulness and meditation are hard to argue with, and here's why: One of the side effects of having a regular mindfulness practice is the ability to communicate with your partner at a higher level thanks to your ability to be present. Undivided attention is one of the most important elements of a romantic partnership, and the ability to be truly present is the greatest gift you can give your partner.
For example, positive psychologist Shelly Gable, Ph.D., studied the human response to good news. She found that there are four different levels of response when someone is communicating. Let's use fictional romantic partners Leah and Joe as an example to help demonstrate this. In this scenario, Leah just came home from work and excitedly tells Joe she got a promotion.
His response has the potential to play out in four different ways:
1. Passive constructive
Joe says, "Good job" without taking his eyes off the TV, ignoring eye contact and continuing to enjoy the television program.
Response rank: This is the most destructive, least mindful response, as it exemplifies marginal acknowledgment.
2. Passive destructive
Joe says, "Good job" and then excitedly tells Leah that he also received a huge job promotion.
Response rank: This is the second-most destructive response, as Joe's response overshadows Leah's accomplishment.
3. Active destructive
Joe says, "Good job," speaks about all the change that will happen in her life, and asks how will she manage her new staff, commute, and job tasks. He questions whether she really thinks the promotion is a good thing.
Response rank: This is the second-most mindful action. Even though critical and constructive feedback is necessary at times, focusing on the negative during "good news" sentiments can lead to feelings of doubt.
4. Active constructive
Joe says, "Good job," offers Leah his attention and eye contact, and continues to show interest through active listening as Leah shares the details of her new job.
Response rank: This is the healthiest, most mindful way to converse and respond to your partner. The fully engaged response and attentive interest lead to stronger and healthier relationships.
Whenever possible, it's best to connect to the active constructive response when communicating with your partner—but when you're not tapped into your own mindfulness, that's easier said than done. Here is a mindfulness practice to increase healthier communication and better mindfulness in your relationship:
Watch your partner's lips when he or she speaks.
Make conscious eye contact.
Hold space for your partner to fully express.
Listen without planning a response.
Ask for more details.
An active mindfulness practice to share with your partner.
Note: It's best to practice this first thing in the morning or before going to sleep at night.
Partner one will start by sitting on a chair or on a bed while partner two sits in partner one's lap, stomach to stomach, in a straddle position. Partner one will wrap their arms around partner two's waist, while partner two relaxes into partner one's holding posture.
Slowly, partner one will begin rocking partner two back and forth while partner one inhales and exhales at a steady pace. The breaths will sync up naturally. Hold this practice for three minutes or more, and switch rocking roles once completed.
When humans hold each other, they release oxytocin, a feel-good neurotransmitter that increases the level of trust and understanding we feel in a relationship. This meditation will release oxytocin, increasing the level of connection between you and your partner, making for a stronger, more mindful relationship.
Erin Rachel Doppelt, M.A.
Erin Rachel Doppelt is a business coach, meditation expert, and sought-after new-age wellness & business speaker. Erin spent her early 20's living in Israel & India studying yoga, Ayurveda, nutrition, mediation, and how the East connects to spirituality.
After receiving a little bit of wifi while living in a mostly silent ashram in India, Erin received her acceptance letter to Columbia University.
Organically after building her own successful spiritual coaching, retreat & wellness business she became a business coach. Erin works with purpose-driven and ambitious women in launching and scaling their heart-led business in alignment. Erin's work has been featured in Healthline, SXSW, NBC, and TZR.
Erin holds a Masters in Clinical Psychology & Education from Columbia University. She currently lives nomadically with her husband and is working on her first book. Message her on IG to connect @erinrdoppelt.