What Kind Of Gift To Get Your Partner, Based On Their Love Language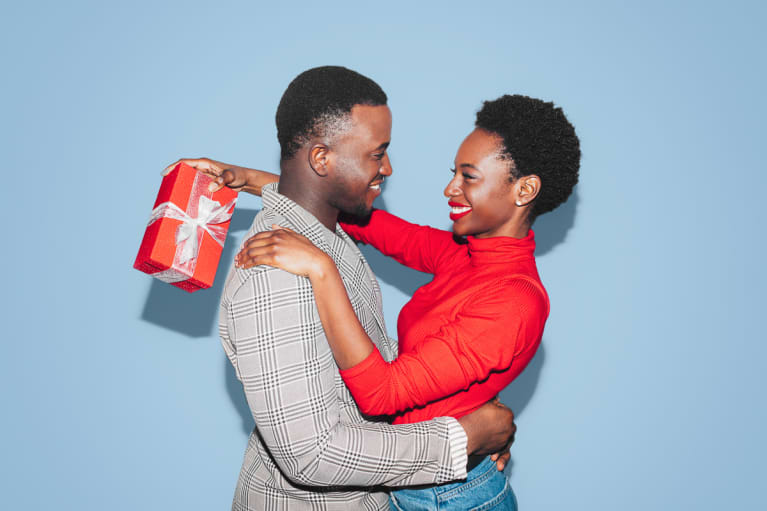 If you've got no clue what to get your partner for a gift this year, consider asking them their love language for a little inspiration. The five love languages are five unique methods of giving and receiving love, and most people have a specific one that they prefer. For example, some people love hearing "I love you" from their partners (i.e., the "words of affirmation" love language), whereas others prefer for their partners to show affection by spending a lot of time with them (i.e., the "quality time" love language).
Here are some gift ideas for people with each of the five love languages.
People who have words of affirmation as their love language like to receive verbal expressions of affection, whether that's frequent compliments, words of encouragement, or declarations of love. A person with this love language will appreciate a gift that's tied to a heartfelt description of what you love about them.
Some gift ideas:
A long, handwritten card describing what you love about them
A mix tape or playlist of songs that remind you of them
A notebook with a personalized note in the front
A book you've read and left notes for them throughout the pages
Something that represents a specific positive trait about them (for example, a glittery shirt that's perfect for them because they light up every room)
People whose love language is quality time feel loved when someone chooses to spend a lot of dedicated time with them and gives them their undivided attention. These folks will appreciate any gift that will allow the two of you to spend time together.
Some gift ideas:
A fully paid vacation for the two of you
A scrapbook filled with memories of your shared adventures from the past
Two copies of a book, one for each of you, so you can read it together (here's mbg's pick!)
Tickets to a concert for the two of you
A class you can take together, such as a cooking class, exercise class, or painting class
People whose love language is acts of service feel most loved when their partner goes out of their way to do something for them, whether it's taking something off their plate, lending a helping hand in an emergency, or a simple thoughtful gesture. These folks will appreciate gifts that make their lives easier.
Some gift ideas:
Secretly complete a large task that's been on your partner's to-do list for a while (for example, repainting the kitchen cabinets)
Something that automates a part of your partner's daily life (for example, a robot vacuum cleaner, or a coffeemaker you can set to automatically brew a fresh pot before they get up)
Something that solves a pesky problem in your partner's life (for example, a portable charger if their phone tends to die a lot, an easy solution for finding lost items like Tile, or a purse-organizing insert)
Buy yourself a class that'll help your partner in the long run (for example, a cooking class so you can handle dinners more often—and you can still put the receipt in a gift box to unwrap)
A gift card that covers the cost of a few months of a laundry service, cleaning service, or their favorite office lunch spot
A person whose love language is physical touch loves receiving affection in physical form: hugs, kisses, holding hands, sex, cuddling, and more. They'll enjoy gifts that are similarly hands-on or involve bodily contact.
Some gift ideas:
Sexual gifts (for example, a voucher for particularly long or passionate oral sex or an offer to fulfill one of their sexual fantasies)
A sex toy to use together
A gift card for a professional massage
Massage lotions, oils, and scents for a DIY massage at home
A couples' dance class you can take together, like ballroom dancing or salsa
Something soft to cuddle in together, like fancy new sheets, a fuzzy blankets, or warm matching sweats
A person whose love language is gifts feels most loved when their partner gives them actual visual tokens of love. This isn't about just spending a ton of money on fancy stuff, although that can be part of it for some people. But a person with this love language also wants thoughtful, personalized presents that show you get them. Your best bet is to write down the things they like or want any time they mention this stuff throughout the year so that, when it's time to give gifts, you have a whole list of ideas.
Some gift ideas:
A "splurge" gift (for example, a beautiful piece of jewelry, a record player, or a nice pair of kicks)
A bunch of little gifts to open over the course of several days
A subscription box that'll keep delivering new goodies each month (think makeup boxes, cheese boxes, or beer boxes)
Something they mentioned they wanted several months ago that you thoughtfully remembered
Remember, love languages are just about being tuned in to someone's preferred way of receiving love—so paying close attention to the types of interactions that light your partner up will help give you clues about what to give them.