Raise Mindful Kids By "Banning The Bedroom": A Family Doctor Explains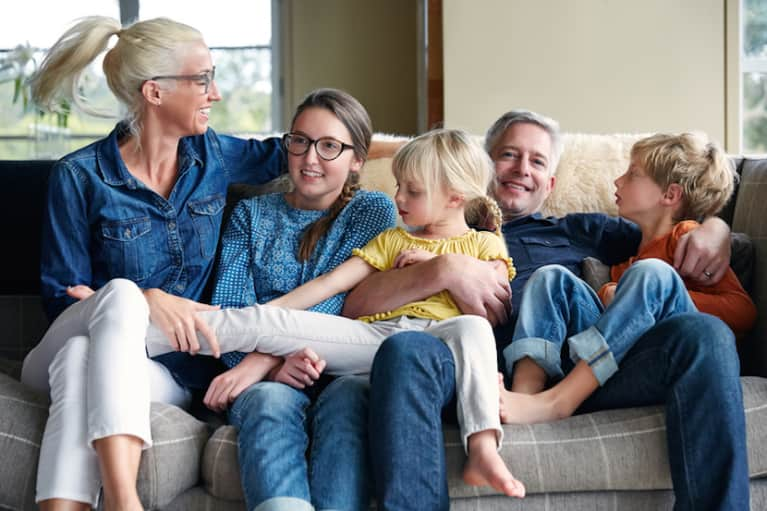 Our editors have independently chosen the products listed on this page. If you purchase something mentioned in this article, we may
earn a small commission
.
As a family doctor for 27 years and a Ph.D. psychologist, I often hear parents complain that their family time is limited, and their kids don't seem to value that time together. When those parents give their children the choice of spending time with family or spending time with same-age peers, the kids often choose the latter. And even when everybody is home together, mom, dad, son and daughter are often each sitting in a different room of the house, looking at their own screen: a cellphone, an iPad, or a TV.
Parents often tell me they feel helpless to change this dynamic. But they must. And they can.
Here's one of the easiest, most effective tips I recommend: ban the bedroom. Keep the family physically together by insisting that your child do her homework or other activities at the kitchen table or in the family room, around everyone else. Make your children's bedrooms only a place for sleep.
When family is the top priority, kids are much less likely to be anxious or depressed.
A family can't be a family if the kids spend more time alone in their bedroom than with their family members. Everyone should help clean up the kitchen table. Then everyone can sit around the same table and do their stuff, in the same room. It's a little distracting, but believe me, it pays off in other ways.
For example, on a Saturday afternoon a few weekends ago, I noticed this scene in our living room: my daughter Sarah was on the floor working on a craft; my wife Katie was on the couch taking a nap; my father-in-law Bill was sitting with his back to the fire reading the newspaper, and his wife Joan, Sarah's grandmother, was next to him in a chair. In an earlier era, this was the default.
But today, especially in families in which each child has their own bedroom, the family doesn't automatically spend free time together. You have to create this option, mindfully and thoughtfully. You have to stick to it even when your child says that they would rather play a video game or watch a show on TV.
Here's the good news: when this becomes your family's default, then everybody comes to feel in their gut that the family really is the top priority. More important than how many likes your photo got on Instagram. More important than finishing all the missions in Grand Theft Auto. More important than the latest episode of some show on TV. And as I explain in my new book, The Collapse of Parenting, when family is the top priority, kids are much less likely to be anxious or depressed, and much more likely to be satisfied with life.
Banning the bedroom is the first step for helping your kids prioritize family. Here are a few others:
No screens at the dinner table. Teach the art of face-to-face conversation.
No earbuds in the car. When your child is in the car with you, you should be listening to her and she should be listening to you—not to Justin Bieber.
When you go on vacation, your child is not allowed to bring a friend along. If she does, then it will be her and her friend going up the chairlift together, and all you have done is subsidize an expensive play date. The point of the vacation should be to strengthen the connection between you and your child. It needs to be you and your child in that chairlift together.
To some parents, these suggestions sound old-fashioned. But valuing family above your kids' friends sounds old-fashioned to those people as well. Don't worry about what the neighbors say. Do what's best for your children, and for your family.
Related reads:
9 Ways To Raise Kids Who Love Fruits And Veggies (According To Science)