6 Changes To Make To Your Dating Profile In 2021, According To Experts

mbg Nutrition & Health Writer
By Abby Moore
mbg Nutrition & Health Writer
Abby Moore is an editorial operations manager at mindbodygreen. She earned a B.A. in Journalism from The University of Texas at Austin and has previously written for Tribeza magazine.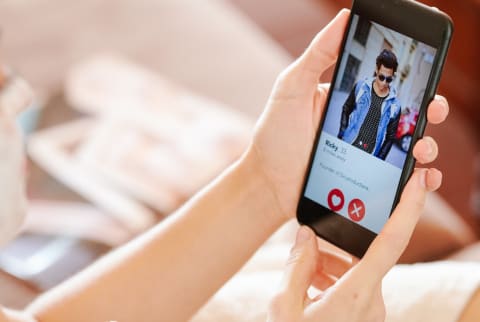 Image by Guille Faingold / Stocksy
January 14, 2021
In the wake of the pandemic, people are experiencing a shared vulnerability and have begun recognizing the fragility of life. These changes, along with the start of a new year, have encouraged some singles to become more serious about dating.
The dating app Hinge conducted a recent survey with more than 5,000 users worldwide. Among the participants, 53% of users say they're ready for a serious, long-term relationship, and 81% expect to meet "the one" this year.
A lot has changed over the last year, though, so in order to make 2021 the year of romance, it may be time to revamp your dating profile to reflect the new climate around relationships. Here are some changes experts recommend making on your dating profile this year:
1.
Before getting started, take a moment to reflect.
Before finding new pictures and writing witty prompts, spend five to 10 minutes in reflection. Envision yourself connecting with new people, then jot down how they made you feel, certified sex and dating coach Myisha Battle, M.S., suggests.
"Use this as your guide for updating your profile, as well as vetting people that you meet," Battle says. "Do they give you those feelings?" This moment of reflection will keep you from compromising on the values and qualities that are important to you. Plus, a little bit of manifesting can go a long way.
2.
Be more clear about what you want.
The Hinge survey suggests most people know what they want when joining a dating app. However, dating coach Clara Artschwager says they're not communicating those desires clearly in their profiles.
When coming across the Hinge prompt "Let's be sure we're on the same page about...," she suggests writing: Let's make sure we're on the same page about seeking a relationship or finding something meaningful.
That might also include being more upfront about your politics and worldviews, says Michael Kaye, global communications and public relations manager at OkCupid.
"My parents always said never talk politics on a first date, but that's not the case anymore," he explains. "In fact, almost 3 million OkCupid daters said they wouldn't date someone with opposing political views. The same rule applies if you're looking for a partner to have children with or someone who's also religious, or maybe it's a significant other who will march in the streets with you in support of social causes."
According to Artschwager, the most successful profiles tend to pair clarity with a real storytelling element. In other words, be honest, but don't be plain.
Rather than saying "my ideal Friday night is a cozy night in," she suggests writing "my ideal Friday night includes sinking deep into the couch and watching my latest binge (Hello, Game of Thrones!) with a bowl of ramen in hand."
Giving more details makes room for deeper conversations right off the bat, rather than endless and lackluster small talk. "More authentic, genuine, and vulnerable bits of information lead to more interesting and deeper connections," she says.
4.
Make your profile more uniquely you.
A profile shouldn't just be expertly curated images or overly thought-out responses if they don't reflect your personality. While those may attract someone, they likely won't attract the right person for you. "Include a mix of humor and vulnerability," says Logan Ury, the director of relationship science at Hinge. "Whatever it is you love about who you are, make sure other people can see it."
That also includes keeping images up to date and relevant. "I wouldn't include a photo older than one or two years, and make sure these photos tell a story," Kaye says. "Ditch the selfies, and instead show a picture of you at a climate change march or running a marathon."
5.
Expand your dating zone.
Nearly everything from work to therapy to fitness classes shifted online this past year. And of course, dating did, too. According to Ury, "64% of Hinge users have been on a video date, and the majority of them plan to incorporate video into their dating process in the future, even when it's safe to meet up in person."
Not only does virtual dating provide a safe setting to meet new people during the pandemic, but it also broadens the dating pool. Why limit yourself to the confines of your own city when there are plenty of single people around the world you may hit it off with?
Rest assured, starting a relationship long-distance might not be as unsustainable as it once seemed. Since the pandemic hit, "daters on OkCupid have become more open to dating across borders, whether that's people in other boroughs, cities, states, or even countries," Kaye says. "There's also been 1.4 million mentions of 'long-distance relationship' on OkCupid profiles over the past few years."
This past year was difficult. If the events caused you to reflect on who you are and what you want out of a partner, 2021 may be the year to go after it. Just remember, the process of dating isn't always easy.
"The first step to overcoming your nerves is to invest in your own mental health and well-being," Ury says. These pre-date meditations may help you feel more comfortable, as can journaling or other grounding exercises like breathwork and light exercise.
Finally, make sure the decision to date is coming from your own desires, not the pressure of people around you. "You may get a sense of FOMO, but you shouldn't get caught up in dating hype," Ury says. "The one for you will be there when you're ready."

Abby Moore
mbg Nutrition & Health Writer
Abby Moore is an editorial operations manager at mindbodygreen. She earned a B.A. in Journalism from The University of Texas at Austin and has previously written for Tribeza magazine. She has covered topics ranging from regenerative agriculture to celebrity entrepreneurship. Moore worked on the copywriting and marketing team at Siete Family Foods before moving to New York.