Sakara's Co-Founder On The Joy Of Pregnancy & The Secret She Wishes She Hadn't Kept
mbg Contributor
By Leigh Weingus
mbg Contributor
Leigh Weingus is a New York City based freelance journalist writing about health, wellness, feminism, entertainment, personal finance, and more. She received her bachelor's in English and Communication from the University of California, Davis.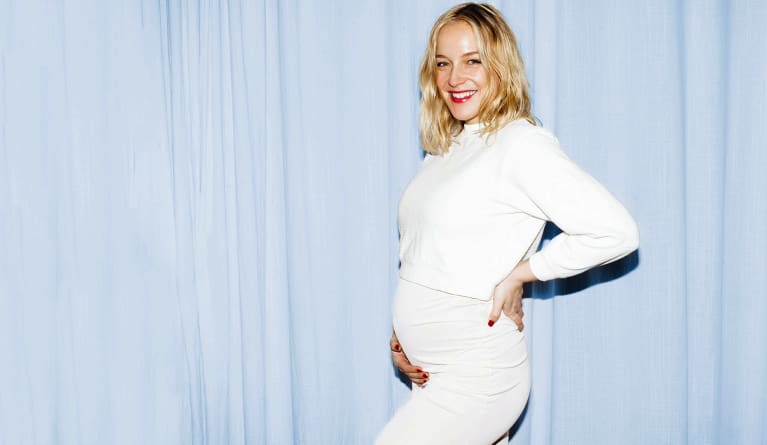 Our editors have independently chosen the products listed on this page. If you purchase something mentioned in this article, we may
earn a small commission
.
The mbg Collective is a curated group of our most trusted wellness advisers. Since 2009, we've had the brightest, most passionate, and mission-driven leaders in wellness share their intimate stories and world-class advice. Now, we're giving you unparalleled access to the people who, alongside mbg, are putting the "WE" back in wellness. Consider them your personal guides, there to support you and sustain you on your journey.
As co-founder of the plant-based, organic meal service Sakara Life, Danielle Duboise unquestionably knows a thing or two about listening to her body. But nothing could have prepared her for navigating the ups and downs of pregnancy, from the foods she craves to finding the right types of healthcare providers.
"Before getting pregnant, I didn't really understand what a midwife was versus an obstetrician, a doula, or a breastfeeding consultant," she tells mbg. "There are a lot of resources, and luckily you have nine to 10 months to navigate it all. I feel grateful to be part of communities like mbg because it's given me access to so many different types of healers. I want that for women everywhere because figuring out what's right for me has been tremendously helpful in my pregnancy journey."
But finding the right health care providers isn't all there is to it. Here's what Duboise wishes she had done differently and what she's most looking forward to about being a mother.
Taking the shame out of the first trimester.
When Duboise first got pregnant, she was afraid to tell anyone. She and her husband had previously gotten pregnant by accident only to find that the fetus was not viable. Thanks to a combination of that experience and the societal expectation that women keep their pregnancies quiet until the second trimester, Duboise told only her husband and a few close family members during the first 12 weeks.
"You're taught that the first few months are when pregnancy loss can happen, and as a result I didn't really feel connected to my pregnancy for the first four months," she explains. "In my next pregnancy, I think I'll allow myself to celebrate right away. Because no matter what, it's something to celebrate. Instead, I listened to the outside voices. I feel like that comes from this patriarchal way to shame women—I don't think it's intentional, but I think there's a lot of pressure put on women to have healthy babies and pregnancies, and if that's not happening, they have to hide it. I don't think women talk about it enough."
Required pre-pregnancy reading.
Duboise believes that feeling a connection to your pregnancy is extremely important, which is why she recommends every woman read the book Spirit Babies before getting pregnant. "It's written by a clairvoyant, and they're people who can speak to the living and angels and can also speak to souls that are about to come into the world," Duboise explains. "If you read it before you're pregnant, you can almost get to know the spirit of your baby before you're even pregnant."
How she's nourishing herself.
As the co-founder of a clean food company, Duboise has put a lot of thought into how she nourishes herself during her pregnancy—but the most important lesson she's learned is to listen to her body and keep up with her eating schedule. "It's more important than ever to make sure you're getting organic fruits and veggies every day," she says. "You don't have the option to forget to eat because if you do, you feel it right away. Even if you're just as busy, you have to be mindful of making sure you're getting enough nutrients every day. You have to prioritize getting as many organic leafy greens into your diet as possible every day. You're also growing a baby. It's taking up space, and it can really affect how you digest your food, and you have to be mindful and aware that you might not be able to eat the same way."
The most exciting part about motherhood.
In an era when women's voices are stronger than ever, Duboise couldn't be more excited about giving birth to a baby girl. "This is a time when it feels like things are really shifting to the feminine, and I'm really excited to raise an empowered female voice and hopefully help her live a life that I couldn't or my mother couldn't," she explains.
At the same time, though, Duboise admits that the prospect of having a daughter is scary to her. "I kind of wanted a boy, and I think it's because I had a fear that having a girl would be a direct reflection of me and make me face some of the things I don't want to face," she explains. "I definitely have some of those moments when I think, OK, as beautiful as I know this will be, it's also going to be one of the hardest things I ever do."
Interested in Duboise's story? Take a peek inside her apartment.