By Shannon Kaiser
mbg Contributor
Shannon Kaiser is the best-selling author of 5 books on the psychology of happiness and fulfillment including The Self-Love Experiment, Adventures for Your Soul, and Joy Seeker. She has a B.A. in Journalism and Communications from the University of Oregon.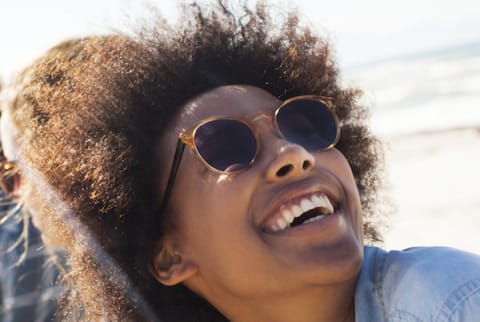 November 8, 2014
Thanksgiving is just around the corner, which inspires many of us to pause and practice gratitude.
Perhaps we could all use a little more tender love and care. Feeling gratitude is one of the most beneficial ways to feel more inner peace. We can't control what happens around us or to us, but we can always control how we react. Those folks who are grateful tend to be more easygoing, happier and more secure.
You don't have to wait for Thanksgiving to give thanks. Here are 14 creative ways to practice more gratitude.
1. Write a handwritten letter to someone you've never properly thanked. Send by mail or hand-deliver; don't email.
2. Create An Appreciation Calendar. Each day, write five things you're grateful for and put it on a calendar.
3. Turn everything into a gift. Instead of your normal morning coffee, think of that cup as the gift of coffee. The gift of laughter. The gift of a smile.
4. Focus on something you're looking forward to and be grateful.
5. Say "I'm grateful for you," to everything you touch today.
6. Enjoy the little things. With a small task you do today, such as washing your hands or texting a friend, ask yourself how your life would be without it.
7. Look in the mirror and say, "I appreciate you," or, "I'm thankful for you."
8. Reach out to an author whose book has changed your life and share your gratitude in an email or letter.
9. Share a positive post on social media about a friend, company or product you truly love.
10. Spend five minutes with your hand on your heart, appreciating you and all of your hard work.
11. Donate your time or money to an organization or charity you believe in.
12. Make a list of ways you've impressed yourself lately. Think about what the challenges in your life have taught you. Be thankful for the blessing in the lesson.
13. Call your parents or children and tell them you appreciate them.
14. Send love to a force bigger than you, and give thanks to your higher power.
Shannon Kaiser
Shannon Kaiser is the best-selling author of 5 books on the psychology of happiness and fulfillment including The Self-Love Experiment and Adventures for Your Soul, Joy Seeker, and Unshakable Inner Peace Oracle card deck, and the forthcoming book Return to You. She has a B.A. in journalism and communications from the University of Oregon. As an international life coach, speaker, and retreat leader, she helps people awaken and align with their true selves so they can live their highest potential.
She's been named top 100 Women to Watch in wellness by mindbodygreen, alongside Cameron Diaz, Gwyneth Paltrow, Kris Carr and Gabriel Bernstein, and was listed as of the freshest voices in mental health and wellness by Chicken Soup for The Women's Soul. She's been named one of Entrepreneurs Must-Follow Instagram Accounts for Inspiration and Top Facebook Accounts for Daily Motivation by Mind Body Green.
Her website Playwiththeworld.com has been names top 75 Personal development websites and top 100 self-help websites by the institute for the Psychology of Eating. She's an international life coach and author mentor, and a full time world traveler with a home base in Portland, Oregon with her best friend, her Golden Retriever Chance, who she flew to China to Rescue.