Couples Who Do THIS Together Have A Better Sex Life, Study Shows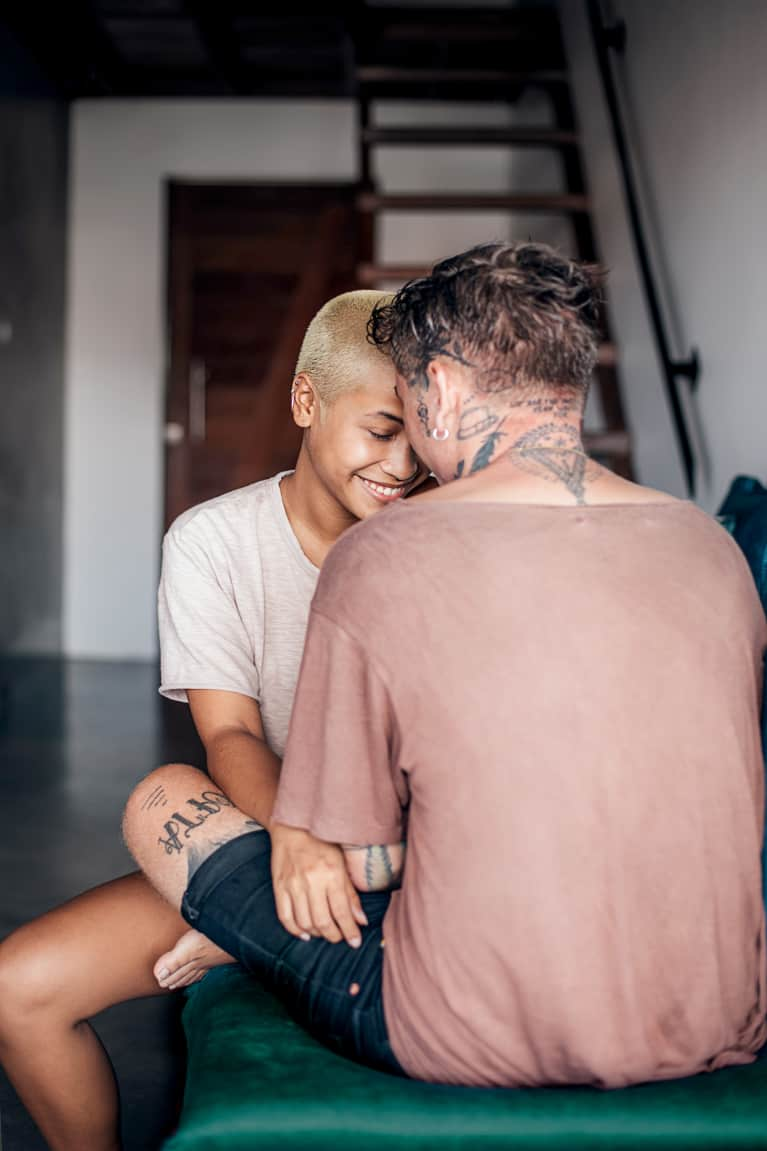 October 13, 2018 — 9:00 AM
I must confess: I'm the lazy one in my relationship. My idea of a romantic weekend is staying in, curling up on the couch with my man, and binge-watching our latest favorite television show. But my partner loves a little more substance—going to interesting talks or exhibitions being held around town, attending political protests and rallies, or even just doing some creative writing together at our neighborhood coffee shop. Striking a balance between both types of activity is key to a healthy relationship, but as it turns out, the latter may be particularly beneficial for a healthy sex life.
New research shows that couples who engage in "self-expanding" activities tend to have more sexual desire and sexual satisfaction. The study, published in the Journal of Personality and Social Psychology, defined these activities as anything that allows a person to have novel experiences, learn new perspectives, or gain new skills—basically anything that leads to feelings of excitement and personal growth.
In two separate experiments, each member of hundreds of mixed-sex, long-term couples completed a survey about their relationship every evening for three weeks. They described the extent to which their partner helped them learn or experience new things, how happy they were with the relationship that day, and whether they had sex that day (and how satisfying it was, if so). The researchers found people were more interested in sex on the days they felt like they'd experienced self-expansion thanks to their partner, and the couples were more likely to have sex on the days when even just one of the partners felt personally enriched by their experiences together. On these days, both partners felt more satisfied with both their sex life and their overall relationship. In a third experiment, couples who were told to engage in some type of self-expanding activity with their partner also had more sex and sexual desire than couples who didn't engage in such activities.
These results suggest that each member of a couple having continuing personal development and access to new experiences is incredibly important to the couple having an active and exciting sex life.
"There are several reasons why a person's self-expansion might enhance their own desire. One possibility is that self-expansion boosts sexual desire because couples are experiencing increases in intimacy during self-expanding activities, which in turn promotes desire," the authors write. Another possibility is that "partners are seeing each other more autonomously (i.e., differentiated from the self) during novel activities—that is, seeing a new side of their partner or learning something about their partner of which they were not previously aware—that can ignite intrigue and desire from the early stages of the relationship."
Notably, it's not just that you need to feel like you're experiencing new things to feel more sexually energized. Even just seeing your partner experience that growth is apparently a subconscious turn-on, the findings show. For anyone in a loving relationship, that makes a lot of sense: It is exciting to see someone you love learn, change, and grow. And if you're both helping to transform each other, it can be an extremely connective, intimate experience.
If you want to improve your sex life, the key might simply be spending more time as a couple doing things that help you both grow as individuals: visit museums, learn a new sport or hobby together, or make travel a bigger part of your lives. These self-expanding activities bring new energy into the relationship—and that alone might just stoke the flames of passion between you two.