Couples Who Do THIS Have Better Sex
mbg Contributing Writer
By Georgina Berbari
mbg Contributing Writer
Georgina Berbari is a multidisciplinary artist, Yoga Alliance RYT-200 yoga and meditation instructor, and a Master's graduate of the creative writing program at Columbia University. Her work has been featured at the Hecksher Museum of Art on Long Island, Women's Health, SHAPE, Bustle, and elsewhere.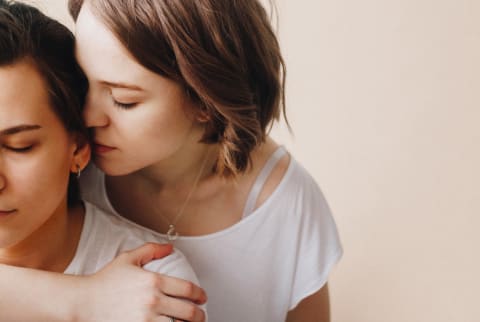 Image by Rita Savenkova / Twenty20
January 28, 2019
The study, published in the Journal of Sex & Marital Therapy, studied 244 women between ages 18 and 30, all of whom were in a committed relationship for three months or longer and sexually active within the last month. (Most of the women were white and straight.) The scientists assessed the participants' own body appreciation by asking them to rate how much they related to statements like "I respect my body" and "I feel good about my body." The women were also asked to complete the survey from their partner's perspective, to assess their perceived view of their partner's appreciation of their body (i.e., "My partner feels good about my own body").
The researchers also asked questions about the women's sexual functioning in the past four weeks, which includes how often they felt sexual desire, their level of arousal, lubrication, number of orgasms, sexual satisfaction, and pain during sex. Finally, women also reported their overall relationship satisfaction, including how pleasant, positive, satisfied, and valued they felt.
The findings showed the more you think your partner appreciates your body, the better your sex life tends to be—that is, more desire, arousal, lubrication, and orgasms—and the more satisfied with your relationship you are.
There was also a significant relationship between how much women appreciated their own body and how much they thought their partner appreciated it. In other words, having a more positive body image was associated with your partner loving your body more too. Interestingly, however, a woman's own body image was much less of a predictor of her sexual functioning than how she perceived her partner's view of her body. That suggests that there's an element of being seen as attractive that's uniquely important when it comes to having a satisfying sex life.
In the paper, the researchers theorize that this need to be seen as desirable and worthy might have to do with trust: When we're having sex, we're incredibly vulnerable—literally, we're baring it all. So when we know our partner recognizes and even takes pleasure in our bare bodies, we feel more secure, confident, and able to let loose and enjoy ourselves.
Of course, the point here isn't that we should all care a ton about what other people think about our bodies. When you're confident in your own body, you'll inevitably enjoy sex more because you feel less self-conscious and more inhibited.
"Our internal experience is mirrored back to us in our relationships," marriage and family therapist Shelly Bullard tells mbg. "Therefore, the best thing you can always do is find love within. When in doubt, love yourself." The same goes for body image—as you cultivate more and more love for your own body, there's no doubt that you'll see that body love radiating from your partner.
"As I began to feel full, beautiful, and magnificent internally, I experienced others feeling these things for me in a greater way than ever before," Bullard writes.
In short, having the sense that your partner is obsessed with your body undoubtedly leads to great sex, and treating yourself with that unconditional adoration and acceptance is a great place to start. Of course, being comfortable and accepting of all aspects of your body is a journey—that you and your partner are both likely on. So, don't be shy when it comes to being vocal about how much you're sexually attracted to each other. Neither of you are mind-readers, and creating a healthy, open dialogue will have wonderful effects on both your sex life and your overall confidence.
Georgina Berbari
mbg Contributing Writer
Georgina Berbari is a multidisciplinary artist focusing on photography and writing. Through these mediums, she creates works exploring the human body, sexuality, nature and psychology. Her work has been featured in the Hecksher Museum of Art on Long Island, ZEUM Magazine, Women's Health, Bustle, SHAPE, BuzzFeed, and elsewhere. She is a Master's graduate of the creative writing program at Columbia University and a Yoga Alliance RYT-200 yoga and meditation instructor.