24 Easy Beginner Plant-Based Recipes—For Any Time Of Day
mbg Nutrition & Health Writer
By Eliza Sullivan
mbg Nutrition & Health Writer
Eliza Sullivan is a food writer and SEO editor at mindbodygreen. She writes about food, recipes, and nutrition—among other things. She studied journalism at Boston University.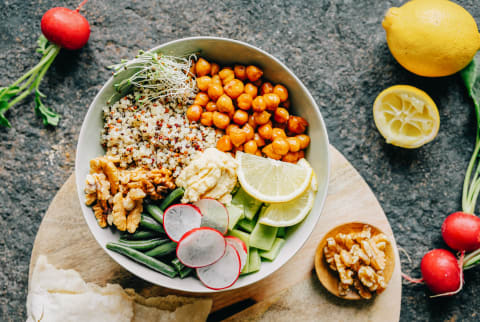 Image by Nataša Mandić / Stocksy
May 17, 2021
When you begin the transition to vegan eating, there can be a lot to learn—including everything from the difference between vegan and plant-based and how to make your old favorites without ingredients you may have been used to cooking with often. But once you get grips on where to start, the next thing is finding new favorite recipes to fit into your daily routine.
After all, starting to follow a new diet may feel restrictive, but it can guide you to finding new favorite foods and flavors, too. Even if you're more of an old hat at the whole vegan thing by now, some of these simple recipes are the perfect thing for adding to the weeknight dinner repertoire, too.
For the morning...
1.
Quick Breakfast Sandwich
Some mornings there's nothing that will satisfy other than a good breakfast sandwich, but vegan options can feel limited. This quick fix has your tossing together a vegan egg patty using chickpea flour, turmeric, and nutritional yeast. Then it's down to smart shopping: finding favorite plant-based cheese or meat to add (though we might skip both in favor of some avocado instead).
2.
Quinoa Breakfast Frittata
Made with a base of quinoa and chickpea flour, this frittata won't leave you missing eggs. From the aptly titled Self-Care Cookbook, the recipe calls for additions of mushrooms, onion, bell pepper, garlic, and leafy greens. The combination of grains and flour for the eggs mimics the texture and also provides protein. This will make the perfect weekend brunch, but it'll also lend a bit of fun to any weekday.
3.
Homemade Granola & Yogurt Bowl
If you prefer a slightly simpler breakfast, this set of three recipes is a great make-ahead option. While you could actually just purchase all the components in a shop, making it yourself is a great introduction into the world of plant-based swaps. Not only that, but you only need two ingredients to make your own coconut yogurt—it'd certainly make a fun cooking experiment, and it gets truly tasty results.
In terms of ingredients, 'simple' might be something of a misnomer here because you do need quite a few ingredients to make the batter, but the actual process is super simple. And that list is totally worth it to get proper crispy waffles like these ones, which are gluten-free as well as vegan. Serve them with fruit for a perfect weekend breakfast.
5.
10-Minute Apple Pancakes
If you don't feel you have the time to make waffles—or lack a waffle iron—there's always pancakes. These apple pancakes are super low effort and still abundantly tasty. Baking the apples brings out their natural sweetness, which is accented by cinnamon. The simple batter includes whole porridge oats, which add texture and fiber.
6.
Power Pancakes With Popped Tomatoes
If your morning tastes tend more savory, you can still enjoy pancakes. These savory pancakes are topped with pan roasted tomatoes that burst with flavor, and crumbled feta adds even more savoriness to the plate. The pancakes themselves have some surprising ingredients—namely, tofu and chickpea flour— but they provide the protein that makes these pancakes power pancakes.
For lunch or dinner...
One of the best things about plant-based eating is it can actually help you save money, if you try. This super budget-friendly soup is the ultimate easy meal, and most of the ingredients are classic pantry staples. It will take the place of even your most favorite chicken soup, and you could even try DIY'ing the vegetable broth if you want to start from the very basics.
For a heartier soup, try this simple black bean soup. While it's delicious on it's own, topping it with avocado and some fresh chives or cilantro totally makes the dish. The soup itself really couldn't be simpler, and by blending only part of the mix you get the perfect balance of creaminess and texture.
9.
Sheet Pan Provençale Vegetables
There's nothing easier than a sheet pan meal, and this simplified take on ratatouille adds white beans for some protein in the vegetable-based dish. You can serve it alone, or spoon it atop pasta or rice for a more complete meal. Bonus points if you use local produce you picked up at the market, in true French fashion.
Made from a mixture of tofu and mushrooms, these plant-based meatballs are dietitian approved and full of heart healthy benefits. You can toss them into your favorite marinara with pasta or serve them as a protein component atop a leafy salad.
Even if you're cooking for people who aren't plant-based, these cauliflower nuggets are worthy of a place on the table and so easy to make. Simply boil the cauliflower florets for a few minutes to soften, then toss them right on the baking tray with breadcrumbs and some spices. And while you can follow the recipe exactly, changing up the spice blend can be a great way to try something new.
While traditional poke has fish, this garden version is made entirely using veggies—specifically root vegetables, roasted to the perfect texture to take the fish's place. They're also offset but chopped fresh vegetables like cucumber and radish, which add freshness and punch.
13.
Quick Stewed Eggplant With Coconut
For a dish that's as forgiving as it is simple, try this rich eggplant stew. Though there's of course a proper list of ingredients, you can swap things in if you have them available. And if you leave it cooking a bit longer than it's meant to, no worries—it'll just have an even smoother texture.
14.
One-Pot Vegan Baked Ziti
Don't let the long ingredient list scare you—this one-pot meal is super simple to put together once you have the ingredients on hand, and in the end you'll have an impossibly cheesy-cheese-free dish, full of flavor and texture. Opt for extra protein by using chickpea-based pasta, or try adding vegan sausage (not that it needs it).
Plenty of pasta sauces are already vegan friendly, but if you're looking for something super simple that gives a bit of creaminess, this four ingredient pasta sauce is the perfect thing. You could serve it alone on your favorite pasta shape, or add some vegetables.
These (almost absurdly) simple tacos are inspired by none other than Sir Paul McCartney himself, the co-founder of the Meat-Free Mondays campaign. Simple spiced black beans, fresh herbs and tomato, and some avocado are the trifecta that makes these simple tacos super tasty. It's the sort of recipe you can make with only a few glances at the recipe—perfect for weeknights.
17.
Plant-Based Jackfruit Tacos
One step up from the simplicity of black bean tacos sit these jackfruit tacos—which still only take around half an hour to put together. Keeping it simple starts with using pre-packed taco seasoning, and then it's just a case of adding some toppings (including a homemade spicy lime crema).
For something sweet...
If you've got a sweet tooth, finding a few simple standbys for dessert options is a great way to avoid overspending on store-bought vegan alternatives. These two options are a great place to start, but there are actually tons of great vegan desserts—from cookies to brownies and beyond—that you can try out.
18.
Vanilla Bean Ice Cream
There's a measly five ingredients between you and truly amazing homemade vegan ice cream. Technically, this recipe is also keto and paleo-friendly, but the best part is definitely how easy it is to make (it's arguably a lot easier than any dairy ice cream recipe I've seen). Simply blend the ingredients together and put them into your freezer for a few hours.
19.
No-Bake Chocolate Almond Butter Bars
If you're a lover of chocolate peanut butter cups, allow these chocolate almond butter bars to replace the store-bought option. Five ingredients for the filling and three for the topping will give you over a dozen of these no-bake bars to enjoy, using only your microwave to melt them together and your fridge to set them in the end.
20.
Chocolate Ganache Tart
Tarts might seem like a fancy pastry shop dessert, but this super adaptable chocolate ganache tart is simple to make and still totally impressive, if you're looking for something to impress a group. To make it vegan, use plant-based milk in the ganache and vegan chocolate chips
21.
Vanilla Bean Chocolate Chip Cookies
A good chocolate chip cookie is a classic for a reason, and these add a touch of vanilla bean for a slightly unique, but still true to the original, vegan version. And because it's vegan, you could also just enjoy the cookie dough as is—or roll it into tiny balls to mix into the ice cream recipe above.
To snack on...
22.
Dill-Roasted Chickpeas
Sure, this recipe calls for serving these as part of a bowl—but they're totally snackable too. And the best part is that the basic premise for roasting the chickpeas is applicable regardless of what flavors you add, so you can store this handy method in the back of your mind for plenty of snacks.
23.
Snackable Spicy Garlic Brussels Sprouts
When you think snacks, you might not think Brussels sprouts, but these roasted sprouts are totally snackable, and really quite crave-able too. All you need are the sprouts, some olive oil and spices, and some time. The key is letting them cool before you dive into snacking—but if you sneak a few when they're still warm, we won't tell.
Put a twist on classic hummus with this bright green dip, made using frozen peas and canned chickpeas—two ingredients you might have on hand anyway. Making homemade hummus is really super simple, and totally worth learning to do if it's something you like to snack on.
Getting started with more plant-based eating can be overwhelming, but by finding vegan alternatives for all your favorites—whatever your favorites are—and some simple go-to recipes you can settle into a vegan routine pretty quickly. But it's also an awesome opportunity to learn new culinary skills and to discover new favorite ingredients, combinations, and recipes. Consider an opportunity to give some new things: I bet you'll end up with some new favorite dishes.
Eliza Sullivan
mbg Nutrition & Health Writer
Eliza Sullivan is an SEO Editor at mindbodygreen, where she writes about food, recipes, and nutrition—among other things. She received a B.S. in journalism and B.A. in english literature with honors from Boston University, and she has previously written for Boston Magazine, TheTaste.ie, and SUITCASE magazine.