7 Easy Beginner Plant-Based Recipes For Any Time Of Day
mbg SEO Editor
By Eliza Sullivan
mbg SEO Editor
Eliza Sullivan is an SEO editor at mindbodygreen. She writes about food, recipes, and nutrition—among other things. She studied journalism at Boston University.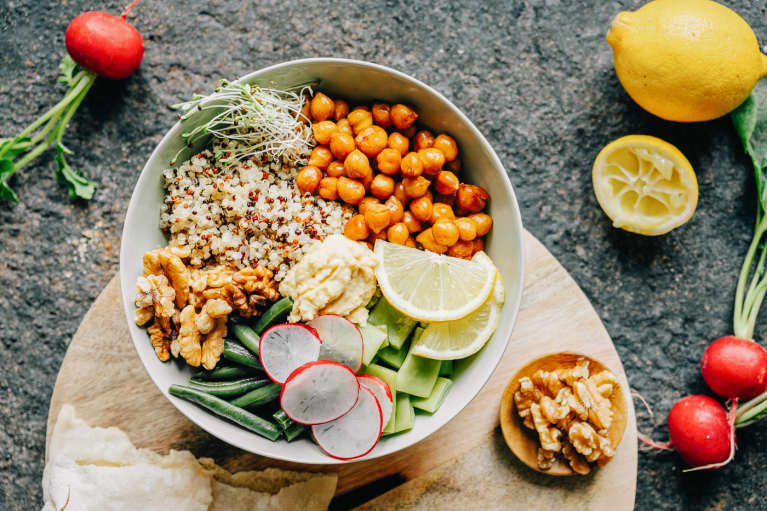 Kicking off the new year with a new diet can be overwhelming, and certainly if you've never eaten plant-based before there's a lot to learn. But the truth is, vegan cooking is just as simple as anything else once you know where to start.
The other hiccup of going plant-based might be missing those favorite foods that are now off the table. Never fear. For most of these go-to bites, there's a way to make a vegan facsimile that will satiate the craving. In fact, you'll likely find a few new favorites among the recipes you try this month, setting you up for increased plant-based eating in the future.
Breakfast is the most important meal of the day, according to some people, but for me, it's just my favorite meal of the day. Many of the morning classics, though, aren't inherently vegan-friendly. But with a little innovation (and recipes like the ones below and these other options), you'll be making new versions of breakfast favorites in no time.
Quinoa Breakfast Frittata
Made with a base of quinoa and chickpea flour, this frittata won't leave you missing eggs. From the aptly titled Self-Care Cookbook, the recipe calls for additions of mushrooms, onion, bell pepper, garlic, and leafy greens. The combination of grains and flour for the eggs mimics the texture and also provides protein. This will make the perfect weekend brunch, but it'll also lend a bit of fun to any weekday.
Get the recipe here.
Homemade Granola & Yogurt Bowl
If you prefer a slightly simpler breakfast, this set of three recipes is a great make-ahead option. While you could actually just purchase all the components in a shop, making it yourself is a great introduction into the world of plant-based swaps. Not only that, but you only need two ingredients to make your own coconut yogurt—it'd certainly make a fun cooking experiment, and it gets truly tasty results.
Get the recipe here.
In January, warming, soothing, and nutritious are the adjectives I think of for my meals—and that includes with plant-based eating. New takes on familiar flavors and simple preparations and rewarding results are the name of the game.
One of the best things about plant-based eating is it can actually help you save money, if you try. This super budget-friendly soup is the ultimate easy meal, and most of the ingredients are classic pantry staples. It will take the place of even your most favorite chicken soup, and you could even try DIY'ing the vegetable broth if you want to start from the very basics.
Get the recipe here.
Don't let the long ingredient list scare you—this one-pot meal is super simple to put together once you have the ingredients on hand, and in the end you'll have an impossibly cheesy-cheese-free dish, full of flavor and texture. Opt for extra protein by using chickpea-based pasta, or try adding vegan sausage (not that it needs it).
Get the recipe here.
These (almost absurdly) simple tacos are inspired by none other than Sir Paul McCartney himself, the co-founder of the Meat-Free Mondays campaign. Simple spiced black beans, fresh herbs and tomato, and some avocado are the trifecta that makes these simple tacos super tasty. It's the sort of recipe you can make with only a few glances at the recipe—perfect for weeknights.
Get the recipe here.
If you've got a sweet tooth, finding a few simple standbys for dessert options is a great way to avoid overspending on store-bought vegan alternatives. These two options are a great place to start, but there are actually tons of great vegan desserts—from cookies to brownies and beyond—that you can try out.
There's a measly five ingredients between you and truly amazing homemade vegan ice cream. Technically, this recipe is also keto and paleo-friendly, but the best part is definitely how easy it is to make (it's arguably a lot easier than any dairy ice cream recipe I've seen). Simply blend the ingredients together and put them into your freezer for a few hours.
Get the recipe here.
No-Bake Chocolate Almond Butter Bars
If you're a lover of chocolate peanut butter cups, allow these chocolate almond butter bars to replace the store-bought option. Five ingredients for the filling and three for the topping will give you over a dozen of these no-bake bars to enjoy, using only your microwave to melt them together and your fridge to set them in the end.
Get the recipe here.
Sticking with your Veganuary resolution starts with finding vegan alternatives for all your favorites—whatever your favorites are. But it's also an awesome opportunity to learn new culinary skills and to discover new favorite ingredients, combinations, and recipes. Consider an opportunity to give some new things: I bet you'll end up with some new go-to's.