Recall Summer Flavors With This Green Pea Hummus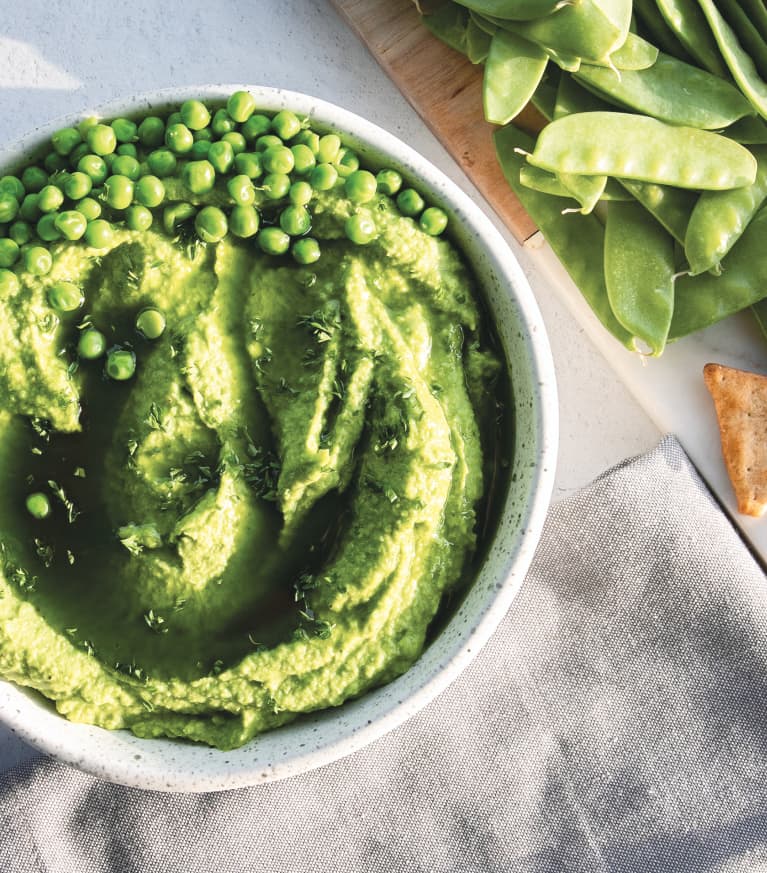 Our editors have independently chosen the products listed on this page. If you purchase something mentioned in this article, we may
earn a small commission
.
Hummus is an all-year-round superstar—for snacking and beyond—and making it yourself is a great way to personalize it to your favorite flavors. And though peas aren't in season anymore, the great thing about this recipe is that it's just as good when made with frozen sweet green peas. If you are going for fresh peas, just be sure to blanch them before adding them to the mix (for frozen, you just need to give them time to thaw).
"Sweet green peas pair perfectly with mild chickpeas in this vibrant green, flavor-packed dip that moonlights as a sandwich spread," writes Rebecca Lindamood in. The Ultimate Guide to Vegetable Side Dishes, where we fell in love with this vibrant, summery dish.
So while we're all for a fall full of pumpkins and apples, sometimes you're after something a bit fresher. The combination of green peas, parsley, and scallions make this a lighter, brighter, take on hummus that we can't wait to add to our lunch rotation.
Pea Hummus With Parsley Oil
1 pound shelled or frozen peas, blanched or thawed
1 cup packed fresh parsley leaves and stems, divided, plus extra for garnish
1 cup extra-virgin olive oil, divided
1 15-ounce can of chickpeas, drained and rinsed
2 cloves of garlic, peeled and minced
4 scallions, roots trimmed, roughly chopped
1 teaspoon kosher salt
½ teaspoon coarsely ground white pepper
Bring a pot of salted water to a boil. If you blanched your peas, you can use the same salted water. Plop three-quarters of your parsley into the boiling water for 10 seconds and then quickly transfer to an ice water bath.
Drain well, then add the parsley to the bowl of a food processor fitted with a metal blade. With the processor running, drizzle in ⅔ cup of the olive oil until you have a smooth, vibrant green puree.
Strain the puree and oil through a coffee filter set in a sieve over a bowl; cover and refrigerate overnight. Transfer the oil to a jar or a squeeze bottle with a tight-fitting lid and store the parsley oil in the refrigerator for up to a month.
Add the peas, chickpeas, garlic, scallions, the remaining parsley, salt, and pepper to the bowl of a food processor. Process for 2 minutes. Stop and scrape down the sides of the food processor. Fix the lid back in place and start the food processor again; while it's running, drizzle in the remaining olive oil and process until smooth.
To serve, transfer the hummus to a serving dish, swirl the top a little, and drizzle some of the parsley oil over the top. Garnish with a few fresh parsley leaves.