Close Banner
Advertisement
This ad is displayed using third party content and we do not control its accessibility features.
These Simple Jackfruit Tacos Are Exactly What You'll Want To Make For Dinner
mbg Nutrition & Health Writer
By Eliza Sullivan
mbg Nutrition & Health Writer
Eliza Sullivan is a food writer and SEO editor at mindbodygreen. She writes about food, recipes, and nutrition—among other things. She studied journalism at Boston University.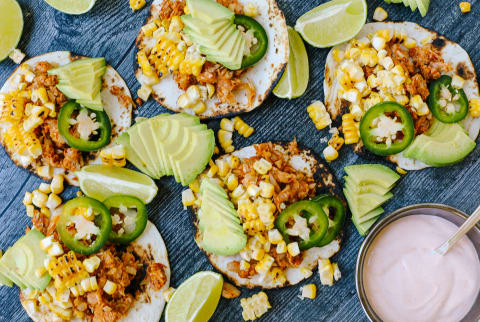 Image by Sarah Thomas-Drawbaugh / Contributor
Sometimes even your favorite recipes don't seem like the right thing to make for dinner. Enter these simple jackfruit tacos, from Sarah Thomas-Drawbaugh of Healthyish Foods. They're the perfect quick fix for when you've no idea what to make for dinner, and since they take only half an hour to come together, you won't have to wait long to eat.
The real magic of these tacos is how all the components come together at the end. "This combination is perfectly balanced," she promises, "The corn lends sweetness, the cilantro lends an herbaceous flavor, the avocado is creamy and smooth, while the jalapeño offers a touch of heat!"
How to make the most of jackfruit.
Jackfruit is a popular protein component used in vegan main dishes. The giant fruit, part of the same family as the much smaller fig, easily takes on flavor and easily takes the place of a meat-based protein. "I love cooking with jackfruit because of its meat-like texture and sweet taste," Thomas-Drawbaugh tells mindbodygreen.
If you haven't cooked with jackfruit before, it may seem a little strange. But luckily Thomas-Drawbaugh shared few essential tips for making jackfruit the best it can be:
Once you rinse and drain the jackfruit, it is important to remove the pits. You will see them, they look like little seeds but are not as hard.
Next, you need to quickly buzz the jackfruit in a food processor. This step is important because it chops the jackfruit to evenly sized pieces.
Finally, using a paper towel or clean kitchen cloth, be sure to squeeze out any excess moisture before adding the jackfruit to the pan to get lightly browned.
Don't have jackfruit on hand but craving a perfectly balanced taco (and maybe a healthy margarita to go with it?) You're in luck: "Crispy tofu cubes would be a great plant-based substitute for the jackfruit in this recipe," suggests Thomas-Drawbaugh.
Plant-Based Jackfruit Tacos
Makes 6 small street tacos
Ingredients
1 box jackfruit–about 10 ounces (I use Upton's Naturals brand)
½ large white or yellow onion diced small (about ¾ cup)
½ packet taco seasoning
½ sliced fresh jalapeño
1 avocado sliced thin
2 limes cut into wedges
1 ear of corn grilled and sliced off the cob
Fresh cilantro, rough chop
Street taco tortillas, soft tortillas, or hard shell will work too
4 tablespoons sour cream vegan
2 teaspoons hot sauce franks
2 teaspoons lime juice fresh squeezed
Method
Remove the jackfruit from the container. I use Upton's Naturals (original flavor), which comes in a box. It's lightly soaked in a small amount of liquid, so I rinse and drain it in a colander. If you use canned jackfruit, be sure to rinse it well. Canned jackfruit can be salty, so make sure it is well rinsed and all of the brine is removed.
Take the jackfruit out of the colander and remove the pits. Next, add the jackfruit to a food processor or blender. Buzz it up for a few seconds until the jackfruit is all the same size. It will resemble canned tuna or shredded crabmeat.
Remove the jackfruit from the food processor and place it on paper towel or clean kitchen towel. Squeeze out any excess moisture.
Gently spray a sauté pan with cooking spray. Add the jackfruit and the diced onion to a large sauté pan with sides and cook it over medium heat. Once the onions begin to turn translucent, add the taco seasoning. I used a ½ packet, but follow your heart. Stir until well combined.
Once the jackfruit and onions are slightly crispy, you'll remove the mixture from the heat. Set aside.
Next, heat your tortillas so they are soft and pliable. I like to quickly char mine over the stovetop, but be very careful if you do this.
Next, you will grill your corn and carefully cut it away from the cob. Set aside. Canned corn or cooked frozen corn will work fine too!
Thinly slice your fresh jalapeño and roughly chop some fresh cilantro. Cut the limes into wedges and set aside.
To make some spicy lime crema: Simply take vegan sour cream, hot sauce, and lime juice and stir until well combined. For a thinner crema, add more lime juice.
To assemble the tacos: Lay your tortilla down; add some jackfruit onion taco "meat." Top with the grilled corn, jalapeño, avocado slices, cilantro, and lime wedges. Serve with the crema on the side or on top! Serve immediately and enjoy.
Eliza Sullivan
mbg Nutrition & Health Writer
Eliza Sullivan is an SEO Editor at mindbodygreen, where she writes about food, recipes, and nutrition—among other things. She received a B.S. in journalism and B.A. in english literature with honors from Boston University, and she has previously written for Boston Magazine, TheTaste.ie, and SUITCASE magazine.