Make A Simple & Healthy Margarita Using This Easy Formula
mbg Nutrition & Health Writer
By Eliza Sullivan
mbg Nutrition & Health Writer
Eliza Sullivan is a food writer and SEO editor at mindbodygreen. She writes about food, recipes, and nutrition—among other things. She studied journalism at Boston University.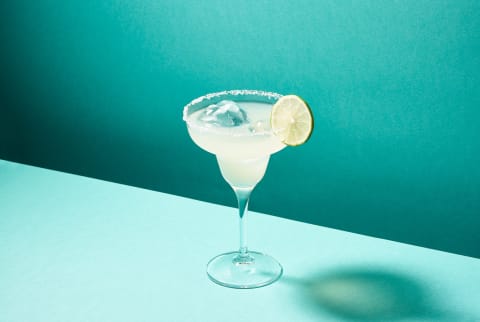 Image by Martí Sans / Stocksy
May 4, 2020
Sunny days, warm weather, and Cinco de Mayo are here, meaning we have one particular cocktail on our minds: the classic margarita. While this Cinco de Mayo is the perfect opportunity to support a local restaurant, you may want to make your own drinks.
Enter this simple formula for a perfect margarita, one that's low-calorie and will keep you in ketosis while still satisfying any craving.
Can you really make a healthy margarita?
Margaritas in any form are a pretty simple cocktail, and the majority of their ingredients are perfect keto-friendly. Tequila itself is generally considered to be a healthier option than some other liquors.
The one ingredient in a traditional margarita that isn't keto-friendly is the orange liqueur included—commonly Cointreau or sometimes triple sec, both of which contain more sugar than is allowed for keeping keto and generally make your cocktail a little less healthy. To make your margarita a bit healthier (and keto-friendly), swap out the orange liqueur for sparkling water—orange-flavored, if you miss the flavor.
"No. 1 tip for a healthier margarita is to pay attention to portion sizes," Jessica Cording, M.S., R.D., told mindbodygreen. "Mixers also matter," she noted. "If you're keto or looking to reduce sugar, replace traditional simple syrup with an alternative like allulose or monk fruit."
How to make a keto margarita.
Here's what you'll need:
How to make it:
Add the citrus juice, tequila, and sweetener (if you choose) to a cocktail shaker with ice and shake to combine.
If you like salt on your margarita, run a lime wedge around the rim of a glass and press it onto a plate covered in a thin layer of salt. Fill the glass with ice.
Strain the shaker into the glass (or glasses, if you're making more than one) and top with sparkling water and serve immediately.
Feel free to make it your own.
Another great thing about margaritas is it's easy to make them your own with some simple additions. If you're not interested in adding any sweetener, Cording offers the advice to add a little something else: "Skip the sweetener altogether and go for something spicy," she advised. A slice of jalapeño added to the cocktail shaker will add a good kick of spice to your drink.
While traditional margaritas are made using fresh lime juice (the fresher, the better), other citrus options can be great too. The aforementioned addition of some orange juice can help fill the flavor gap left by the removal of liqueur, but make sure it's not too much (oranges have 11.54 grams of carbs/half-cup).
Feel free to be creative and add other fruits too: Just make sure you keep keto guidelines in mind if staying in ketosis is the goal. Adding fruit to the cocktail shaker will allow the ice to muddle it, infusing your drink with the flavor. Watermelon margaritas, anyone?
What about a margarita-inspired mocktail?
Choosing to abstain from alcohol? That's OK—mocktails are a seriously wonderful thing, and making one inspired by a margarita is super simple.
"I'd recommend just doing a limeade with lime juice and agave," said Cording. "If you want to make it a little extra, line the rim of your glass with sea salt." She notes that while generally she isn't "a huge fan of agave syrup," using it can call back to a true margarita as tequila, too, is derived from the agave plant. She recommends using allulose or monk fruit sweetener if you'd prefer to steer clear of agave sweetener.
Overall, when it comes to cocktails Cording had one piece of advice: "It's all about having a satisfying experience and choosing a drink you love rather than trying to drink what's 'healthiest,'" she said, "and setting yourself up to feel underwhelmed and like you need to drink more."
Want to turn your passion for wellbeing into a fulfilling career? Become a Certified Health Coach! Learn more here.
Eliza Sullivan
mbg Nutrition & Health Writer
Eliza Sullivan is an SEO Editor at mindbodygreen, where she writes about food, recipes, and nutrition—among other things. She received a B.S. in journalism and B.A. in english literature with honors from Boston University, and she has previously written for Boston Magazine, TheTaste.ie, and SUITCASE magazine.