Unbelievably Vegan Vanilla Bean Chocolate Chip Cookies
This may be a new fave chocolate chip cookie recipe for you — it is for us! The flavor of the vanilla bean powder is really beautiful. Though somewhat expensive, a little vanilla bean powder goes a long way!
Vanilla Bean Chocolate Chip Cookies
Ingredients
1/2 cup coconut butter (see note)
1/2 cup pure maple syrup
1 cup plus 2 tablespoons oat flour
2 tablespoons coconut sugar
1/2–3/4 teaspoon vanilla bean powder or 1–11/2 teaspoons pure vanilla extract
1/4 rounded teaspoon sea salt
1 teaspoon baking powder
1/4 teaspoon baking soda
1/3 cup nondairy chocolate chips (mini or regular)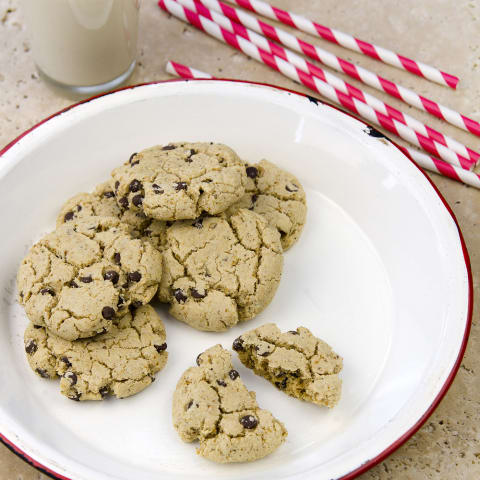 Method
In a mixer fitted with the paddle attachment, add the coconut butter and maple syrup.
Mix, slowly to start, then at a higher speed until smoothed out. Add the oat flour, coconut sugar, vanilla bean powder, and sea salt to the coconut butter mixture, and sift in the baking powder and baking soda.
Mix at slow speed (so the dry ingredients don't poof!), and then bring up to medium speed and mix until everything just comes together. Add the chocolate chips and mix to just incorporate.
The mixture should be a little sticky, not dry, but not too wet either. Scrape down the bowl with a spatula, then transfer to the fridge to chill for 1/2 hour.
Preheat oven to 325°F. Line a baking sheet with parchment paper. Place 1–1 1/2-tablespoon scoops of the batter on the prepared baking sheet. Slightly flatten each cookie with a spatula or your hand.
Bake for 11 minutes, then remove from oven and let cool for 2–3 minutes on the pan. Transfer to a cooling rack to cool completely.
Note: It can be tricky to measure coconut butter when it's very hard. Use a butter knife to work out small chunks/slivers when hard. It's better to measure in small pieces than in larger chunks, so the actual measure is more accurate.
Idea: Use this batter to make cookie dough ice cream! Save a little batter when making the cookies, maybe 1/3 cup. Roll into tiny balls and mix through a pint of softened vanilla or chocolate nondairy ice cream!

Dreena Burton
Dreena Burton has been vegan for almost 20 years, in that time writing four bestselling cookbooks charting her journey as a plant-powered cook and at-home mother of three.
Always passionate about creating nutritious recipes, she is an advocate of using the "vegan basics" to create healthy, delicious food for the whole family. Affectionately dubbed "Queen Bean" and "Vegan Cookie Queen" by her readers, Dreena is one of the pioneering vegan cookbook authors.
Her cookbooks, including her latest release, Plant-Powered Families, have garnered a loyal following, and Dreena has earned the respect and repute for reliable, wholesome recipes.
Dreena has appeared on television and radio and is a recipe contributor for well-known sites, including Forks Over Knives, KrisCarr.com, and PCRM. She has written for Yoga Journal, VegNews, ALIVE magazine, and has been featured in other publications including First for Women magazine. Dreena has won several blog awards including VegNews, VegBloggy, and Vancouver's Ultimate Mom Blog. Learn more at plantpoweredkitchen.com.