These 35 Healthy Brownie Recipes Give You Plenty Of Vegan, Gluten-Free & Keto Options
mbg Nutrition & Health Writer
By Eliza Sullivan
mbg Nutrition & Health Writer
Eliza Sullivan is a food writer and SEO editor at mindbodygreen. She writes about food, recipes, and nutrition—among other things. She studied journalism at Boston University.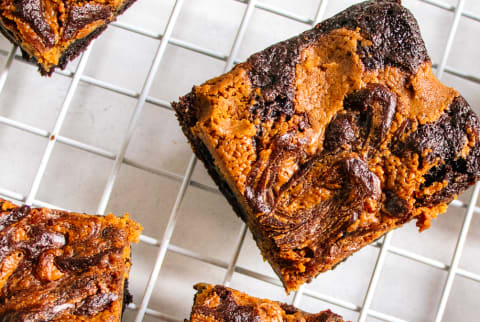 Image by Chaman Raj / Unsplash
May 22, 2020
A good go-to brownie recipe is an essential, but just because something is a classic doesn't mean it can't be updated. Finding a way to make favorite desserts healthier may not seem possible, but we uncovered over 30 ways to make brownies healthier (and in some cases even simpler) than your averaged boxed mix.
But how do you make a brownie healthier? There are plenty of ways, from embracing a raw technique to using creative ingredients for your brownie batter. Some of our favorites? Sweet potatoes, chickpeas, and black beans, to name a few of the ones you'll find here.
With a variety of flavorful additions like nut butters, spices, and fruits, you may actually find a few new favorites among this list, or even one for every season.
Keto Brownie Recipes
1. No-Bake Hazelnut Fudge Brownies
These no-bake brownies are perfect for making in advance of a busy week—they'll keep in the refrigerator for up to two weeks. Plus, the use of hazelnuts in the recipe makes them reminiscent of a certain popular chocolate spread.
2. One-Bowl Keto Brownies
The other worst part of baking? The cleanup. These one-bowl keto brownies come together with minimal dishes and minimal effort, perfect for when you want something sweet but don't want to spend all night in the kitchen.
Gluten-Free Brownie Recipes
3. Triple-Chocolate Brownies
If you're making brownies, it probably means you're hoping for chocolate, so why not go all-in with this triple-chocolate option? Cocoa, chocolate chips, and unsweetened chocolate ensure that these taste way more indulgent than they are.
4. Gluten-Free Cacao Brownies
Don't let this ingredient list scare you. Black beans and bananas may not sound like they belong in brownies, but these fudgy treats will convince you, and the extra nutrients will just seem like a bonus.
5. Sweet Potato Brownies
This is another recipe with a surprising ingredient, and the natural sweetness of the (appropriately named) sweet potato means you can cut down on the other sweeteners to make these brownies—just some honey finishes it off.
6. Chocolate and Beet Fudge Brownies
Beets lend their natural antioxidants to this brownie recipe, which goes best paired with the accompanying simple frosting recipe. Whisking the egg whites before folding them into the batter ensures a fluffy finish on these dairy-free brownies.
7. Gluten-Free Holiday Brownies
Another take on a black-bean-based brownie, this recipe is made for winter, with peppermint and crushed candy canes adding the holiday spirit to their final flavor—we won't tell if you make them out of season, too.
8. Fudgy Date Brownies
This recipe uses a popular healthy baking item: pitted Medjool dates. Their inherent sweetness makes them a perfect match for making a brownie recipe without reaching for sugar and pairs perfectly with the almond flour in this recipe.
9. Dark Chocolate Raspberry Brownies
Chocolate and raspberries are a perfect pair. This recipe folds the fruit in just before baking along with some chocolate chunks, so every bite has a burst of fruit and a piece of melted dark chocolate.
10. Protein-Packed Beetroot Brownies
Beets, prunes, and natural whey protein are the building blocks of this recipe—plus chocolate, of course. The recipe calls for 85% cocoa dark chocolate, with just a touch of cocoa powder, and the real melted chocolate really makes a difference.
11. Sweet Potato Brownies With Caramel Sauce
Not only does this recipe make a classic brownie better for you with sweet potato and coconut flour, but it does one better by also including the makings of a simple healthy caramel sauce to drizzle on top—but we think it goes great with other desserts, too.
12. Fall Fudge Brownies
Fall treats aren't limited to lattes. These brownies pair cinnamon, nutmeg, and cardamom, with dark chocolate chips and those trusty black beans to make a perfect fudgy brownie for the fall.
13. Grain-Free Nut-Butter Brownies
A different legume provides the base (and the extra protein) here: chickpeas. The dough is largely flavored by nut butter, but the brownie flavor comes from plenty of chocolate chips mixed in.
Vegan Brownie Recipes
14. Easy Raw Vegan Walnut Chocolate Brownie
The keyword here: easy. All the ingredients go into a food processor and come out as a brownie dough. The frosting, too, comes together with the ingredients in a blender before you layer them together and allow them to set in the fridge.
15. Raw, Vegan Chocolate Peppermint Brownies
Another holiday-inspired recipe, these layered brownies have a classic brownie base, topped with a peppermint layer and are finished with a chocolate ganache layer. Not only do they taste amazing, but they also look special for a holiday party.
16. Nutrition-Rich Brownies
These brownies pack in enough nutrients to be a viable option for breakfast, if you were to feel like it. Where other recipes have used beet in general, this one calls for golden beets specifically, which are often slightly sweeter and less earthy than red beets.
17. Dark French Roast Coffee Walnut Brownies With Strawberries
Another recipe that may have you thinking of mornings, these brownies use the combo of bananas and black beans as their base. Adding coffee to the mix complements and accentuates the chocolate flavor, while walnuts and strawberries add interest.
Gluten-Free & Vegan Brownie Recipes
18. Beet Rose Chocolate Brownies
These dark chocolate brownies are laced with rose damask essential oil, giving them a subtle floral flavor that pairs perfectly with the earthy sweetness of the beets and the sharpness of the dark chocolate. Aquafaba, the liquid from canned chickpeas, keeps it vegan.
19. Superfood Brownies
Chickpeas, bananas, raw cacao, dates, seeds, and nuts—this recipe's ingredient list reads like a shopping list of healthy baking essentials. They're also quick and easy to come together in a food processor. It's also a great place to start learning to make flax eggs.
20. Black Lentil Brownies and Raspberry Sprinkles
Another protein-packed treat, in this recipe lentils join the party as a brownie base. Frozen raspberries become raspberry sprinkles that dot the tops of your brownies. These come together without any flour at all—the only dry ingredient is the cocoa powder and baking soda.
21. Fig and Coconut Brownies
Here's another slight departure from the classic brownie; the addition of fig and coconut to this recipe is a welcome one for a fresh take. The end result is fudgy and flavorful without any dairy or gluten involved.
22. Almond Butter Brownies
Nut butters and chocolate make perfect sense in this simple recipe, which features chocolate chunks throughout but skips cocoa powder in the mixture so each bite is a perfect balance of nut butter and chocolate.
23. Fudgy Peanut-Butter Hemp Brownies
For another recipe using nut butter, this time peanut butter is paired with black beans and hemp seeds (among other superstar ingredients for a final brownie that's extra fudgy. We recommend following their advice and topping with Maldon sea salt.
24. 5-Ingredient Brownie Bars
What's better than an easy recipe? An easy recipe with minimal ingredients. The super-simple brownie batter features walnuts, almond, dates, maple syrup, and cacao—that's all you need to have to make perfect healthy brownies right now.
25. 6-Ingredient Black Bean Brownies
Feeling like you can do a little more than five ingredients? This recipe for black bean brownies requires the beans, almonds, dates, maple syrup, cacao, and chia eggs—a clever tool to learn to use for vegan baking in any form, not just brownies.
26. Raw Pecan Brownies
Where many of the other recipes on this list have called for walnuts and almonds, this recipe turns to pecans and shredded coconut for their bulk. If you're craving a chocolaty treat, these aren't the ones for you—but they bring flavor with cinnamon and ground ginger.
27. Ella's Sweet Potato Brownies
From the kitchen of the gluten-free plant-based wizard behind the Deliciously Ella brand, this recipe is the one that got her her very first book deal. If that's not enough of a reason to give it a whirl, they're also relatively simple to make and are naturally sweetened.
28. Red-Velvet Beet Brownies
Where many red velvet cakes and brownies get their scarlet hue from artificial dyes, this recipe turns to one of the most potent natural sources of red tones: beets. Ground flaxseed and rolled oats bring this mixture together.
29. Raw Chocolate-Raspberry Brownie Bars
Another occurrence of the raspberry and chocolate pairing to evidence their perfect harmony, this recipe gives the pair the raw and the layered treatment. A chocolate brownie layer is followed with a layer of raspberry and coconut and then topped with another layer of chocolate.
30. Easy Protein-Packed Raw Brownies
If you're not as keen on the texture of ground nuts in your healthy brownies, this recipe approaches things a bit differently by directing six hours of soaking cashews and macadamias before adding them to the mix, giving a softer texture.
Raw Brownie Bites
Sometimes, you're not looking for a whole dessert—just a bit of a treat. These raw brownie bites are perfect for those moments, or for making for a party since they won't take up oven time.
31. Coconut Brownie Bites
We've talked about many other natural partners for dark chocolate but haven't sung coconut's praises yet: Now's the time. With only six required ingredients (all of which are healthy baking pantry essentials), these bites are the perfect thing to satisfy a craving—plus, they take less than 15 minutes to come together.
32. Raw Chocolate-Cherry Brownie Bites
Another unsung pairing, chocolate and cherries aren't just for indulgent romantic desserts; they make for perfect brownie bites too, as evidenced by this recipe—which does also make a perfect surprise for your loved one if that's what you're looking for.
33. Maca-Chocolate Brownie Bites
One superfood that was yet to appear plays a key role in these maca-chocolate bites. Simply toss the ingredients into a food processor and blend them until you can form balls from the mixture—no baking required.
34. Sweet & Spicy Vegan Brownie Bites
Not for the faint of heart, these bites bring the heat with cayenne powder and ground cinnamon. The "batter" is made up of the usual suspects otherwise—dates, nuts, and cacao primary among them. Topped with cacao nibs, they offer a welcome texture.
35. No-Bake Brownie Bites
Where the other bites listed add a little something extra to the classic brownie flavor profile, this recipe is for a simple chocolate flavor and requires only five ingredients—all ones you may have in your kitchen right now—for a healthy treat.
If you are pregnant, breastfeeding, or taking medications, consult with your doctor before starting a supplement routine. It is always optimal to consult with a health care provider when considering what supplements are right for you.
And do you want to turn your passion for wellbeing into a fulfilling career? Become a Certified Health Coach! Learn more here.
Eliza Sullivan
mbg Nutrition & Health Writer
Eliza Sullivan is an SEO Editor at mindbodygreen, where she writes about food, recipes, and nutrition—among other things. She received a B.S. in journalism and B.A. in english literature with honors from Boston University, and she has previously written for Boston Magazine, TheTaste.ie, and SUITCASE magazine.