How To Make These Vegan No-Bake Hazelnut Fudge Brownies
mbg SEO Editor
By Eliza Sullivan
mbg SEO Editor
Eliza Sullivan is an SEO editor at mindbodygreen. She writes about food, recipes, and nutrition—among other things. She studied journalism at Boston University.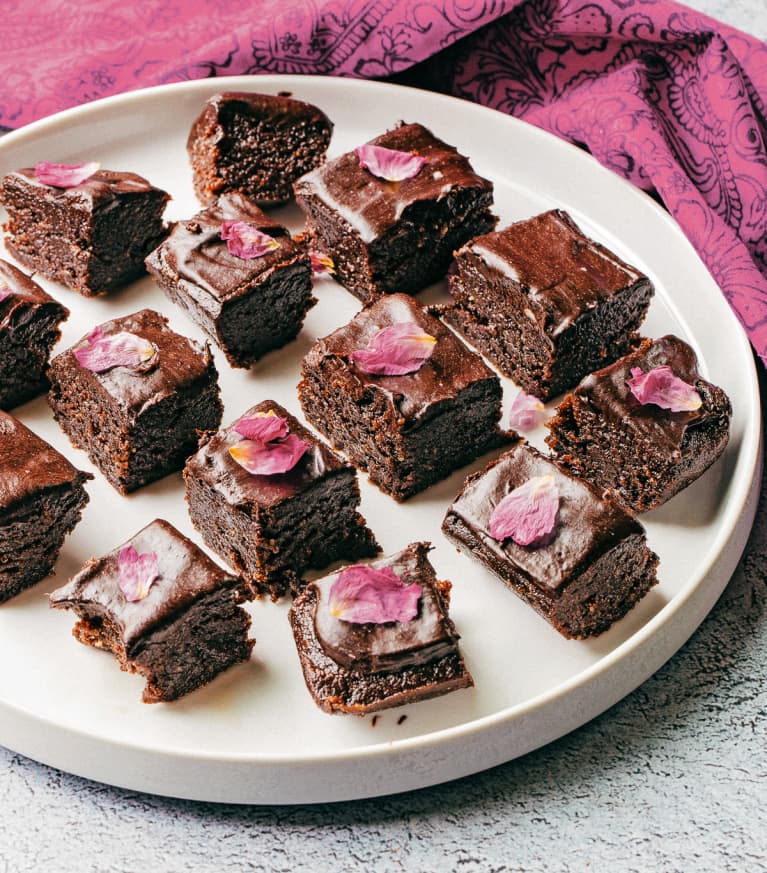 Our editors have independently chosen the products listed on this page. If you purchase something mentioned in this article, we may
earn a small commission
.
What ingredients come to mind when you think of brownies? Chocolate, of course, but probably also eggs and flour and some time in the oven, right?
This recipe takes the ultimate chocolate dessert and flips it into a gluten-free, vegan-keto option that won't have you spending ages in the kitchen. Thanks to a mixture of hazelnuts, walnuts, and macadamia nuts, they also pack in some nutrients you wouldn't typically be able to thank brownies for.
We love no-bake desserts for their ease, and these brownies from the forthcoming The Ultimate Keto Cookbook are a dessert indulgence that can be adapted for paleo or nut-free diets as well.
"This recipe is a really fun and easy way for you to get a brownie fix without having to spend much time in the kitchen," wrote Brittany Angell, the cookbook's author, when introducing the recipe. "The texture is fudgy and absolutely wonderful and will remind you of Nutella, thanks to the addition of delicious toasted hazelnuts." Consider us sold and our weekend baking plans sorted.
No-Bake Hazelnut Fudge Brownies
¾ cup toasted hazelnuts
¾ cup raw unsalted walnuts
1½ cups roasted & salted macadamia nuts
2 teaspoons vanilla extract
¼ cup sugar-free honey or sugar-free maple syrup
¼ cup keto powdered sugar
¼ teaspoon Himalayan salt
¼ cup cocoa powder
For the chocolate ganache
2 tablespoons softened coconut oil
2½ tablespoons cocoa powder
1 teaspoon vanilla extract
Pinch of salt
Preheat the oven to 350°F. Line an 8½-by-5-inch bread pan with parchment paper.
To make the brownies, place the hazelnuts on a baking sheet and toast for 10 to 15 minutes. Remove the sheet from the oven and allow the nuts to cool. Rub the hazelnuts in a kitchen towel to remove all the skins.
Place the cooled, skinless hazelnuts, walnuts, macadamia nuts, vanilla, honey, powdered sugar, cocoa powder, and salt in a food processor.
Process for about 15 seconds, stop and wipe the sides down, then process again just until the mixture is smooth and shiny. Do not overprocess or the oils will begin to separate. (If this happens, just wipe the excess oil off the bars with paper towels. They will be slightly more fragile but still delicious.)
Pour the mixture in the prepared pan and press it down to create an even surface. Cover the pan and place the mixture in the refrigerator for several hours, or overnight.
To make the chocolate ganache, whisk the coconut oil, cocoa powder, vanilla, honey, and salt together until it is smooth and fluffy. The ganache can be spread on the brownies right after they are made or after they have chilled.
For the best results, store the brownies in the refrigerator for up to two weeks.
To make this nut-free, swap the nuts out for raw pumpkin seeds and sunflower seeds.
To make this paleo, use real honey or real maple syrup. Omit the keto powdered sugar, or add 1 to 2 tablespoons of palm sugar for a sweeter brownie.