Take 20 Minutes To Make These Crispy Vegan Cauliflower Nuggets For Dinner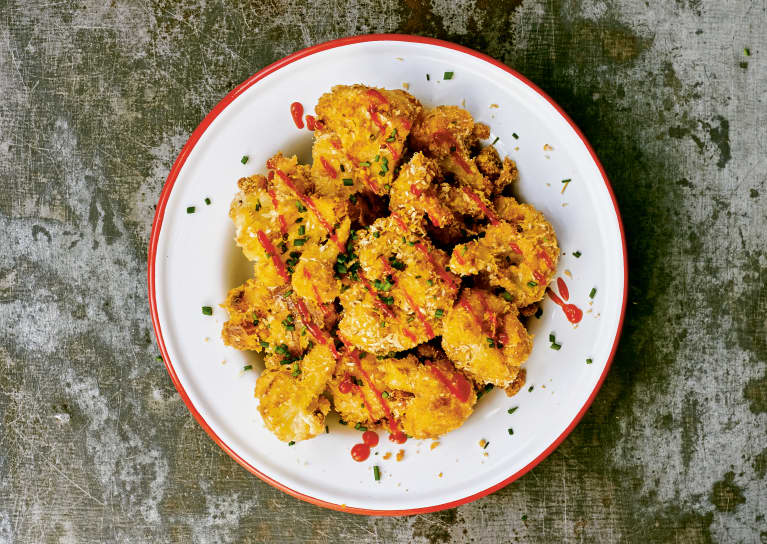 Our editors have independently chosen the products listed on this page. If you purchase something mentioned in this article, we may
earn a small commission
.
Quick and easy vegan dinners are one thing, but a quick, easy vegan dinner that's also kid-friendly? That's something special. And these 20-minute cauliflower "nuggets" are perfect for any weeknight meal, even if you're not cooking for kids.
"Irresistibly crunchy and so simple to make," writes Saskia Sidey of this recipe from her new cookbook Broke Vegan. "There's no time wasted breadcrumbing the individual cauliflower florets." The prep also cuts down on cleanup: You mix the ingredients for the coating right on the baking tray, and anything that doesn't adhere to cauliflower becomes "extra crispy morsels of flavored breadcrumb shards to serve with the nuggets."
And while this version calls for a pairing of paprika and coriander, Sidey recommends experimenting with spice blends for different experiences: "These would be wonderful in a traditional fast-food style with onion and garlic powder," she writes, "or given an Indian twist with garam masala and ground cumin."
1 medium cauliflower, broken into florets
4 tablespoons corn flour (see note)
1 tablespoon smoked paprika
1 teaspoon ground coriander
4 tablespoons dairy-free milk
3½ oz. panko breadcrumbs or regular very dry breadcrumbs
4 tablespoons flavorless oil
salt and pepper
Small handful of finely chopped chives (optional, to serve)
Hot sauce (to serve)
Preheat the oven to 400°F.
Steam or boil the cauliflower in salted water for 5 minutes until almost tender. Drain well and transfer to a large baking tray.
Sprinkle the corn flour and spices over the florets, and toss to coat.
Pour over the dairy-free milk and toss to coat again, followed by the breadcrumbs, tossing a final time to make sure every crevice is covered in breadcrumbs. Season well with salt and pepper.
Drizzle the oil over the breadcrumbed florets and bake for 15 minutes until the breadcrumbs are deeply golden and the cauliflower is cooked through. Serve with chopped chives, if you like, and hot sauce.
Note: To swap out the corn flour (also known as cornstarch) for an alternative, you can use an equal amount of arrowroot powder.