This Garden Poke Is Vegan & Gluten-Free — But Still Packed With Color, Flavor & Texture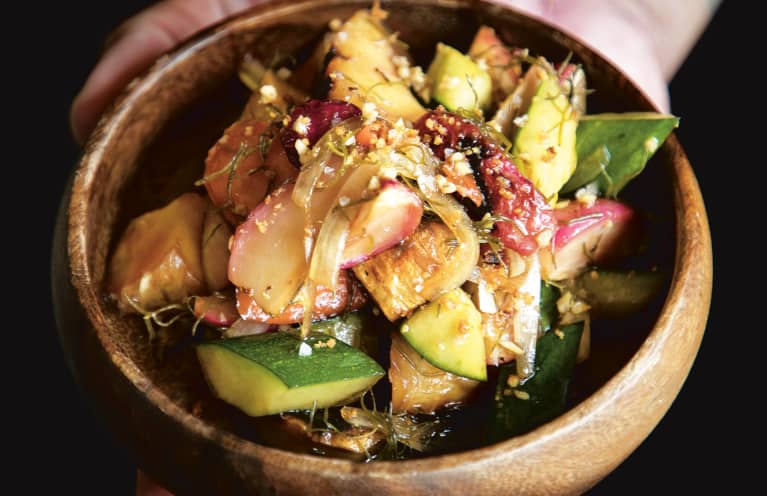 Our editors have independently chosen the products listed on this page. If you purchase something mentioned in this article, we may
earn a small commission
.
Sheldon Simeon is the chef and owner of two restaurants in Maui and a two-time
Top Chef
fan favorite. His debut cookbook, titled
Cook Real Hawai'i
, is a sort of culinary love letter to all the cultures and cuisines that are present in Hawai'i today, including his own Filipino background. This "Garden Poke" is a
vegan
and
gluten-free
twist on the traditional dish, which is made with raw tuna, inspired by his restaurants and local produce.
At Lineage, we had these cool rolling pupu carts that my dad welded together from scrap metal. The inspiration was that, like at our house, as soon as you sat down, you were already eating and drinking. I originally wanted to offer little bowls of poke off the carts, but apparently the health department frowns on raw fish circulating around an outdoor dining room in the tropics.
So, instead, we used all the wonderful produce we'd been getting from farmers on Maui and put it through the lens of traditional poke. The more we played around with the dish, the more we loved the idea of a poke that was completely vegan but also captured the spirit and soul of the original.
Any and all root vegetables work great for this dish. The key thing is to roast them long enough so they soften but don't turn mushy; you're roughly aiming for the texture of raw tuna, after all. Adding uncooked vegetables like shaved radish, onion, and cucumbers provides freshness and crunch. Snap peas would work well, too.
Here, I like to use tamari instead of shoyu. It's made only from roasted soybeans instead of a blend of soy and wheat, and it has a robust earthiness that goes well with roasted vegetables.
2½ cups 1-inch cubes (about 1 pound) root or sturdy vegetables, such as sweet potato, taro, carrots, turnips, beets, parsnips, yuca, radishes
Olive oil
Kosher salt and freshly ground black pepper
¼ cup Tamari Dressing, plus more to taste (recipe follows)
½ cucumber, roughly diced
½ medium sweet onion, thinly sliced
2 or 3 small radishes, trimmed and thinly sliced
½ cup roughly chopped ogo seaweed (optional)
1 tablespoon finely chopped roasted macadamia nuts
Preheat the oven to 350°F.
In a bowl, coat the vegetables with a splash of olive oil, and season to taste with salt and pepper. Lay out the vegetables in one layer on a baking sheet, and bake until tender but slightly firm (think of the texture of raw tuna), 15 to 20 minutes.
Once the vegetables have cooled, transfer to a bowl and toss with the dressing. Let sit for a few minutes, then gently fold in the cucumber, onion, radishes, and seaweed (if using). Season with more dressing if needed. Top with the macadamia nuts, and serve.
½ cup tamari
1 teaspoon grated fresh ginger
1 teaspoon sambal oelek
1 teaspoon toasted sesame oil
2 Hawaiian chili peppers, thinly sliced, or red chili flakes to taste
In a small bowl, whisk together the tamari, ginger, sambal, sesame oil, and chilies. The dressing can be kept refrigerated for weeks.
Want to turn your passion for wellbeing into a fulfilling career? Become a Certified Health Coach! Learn more here.