Looking For A Go-To Healthy Cookie Recipe? Here Are 38 Options
mbg Nutrition & Health Writer
By Eliza Sullivan
mbg Nutrition & Health Writer
Eliza Sullivan is a food writer and SEO editor at mindbodygreen. She writes about food, recipes, and nutrition—among other things. She studied journalism at Boston University.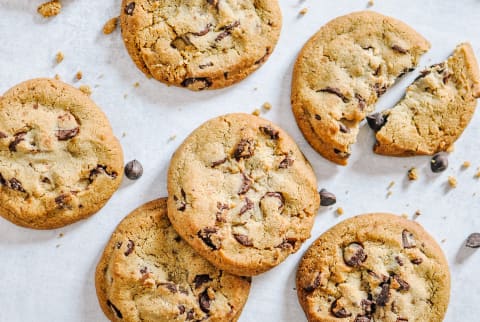 Image by Emily Wilson / Unsplash
June 3, 2020
When you're craving something sweet, there are plenty of options, but there's nothing quite like a cookie. And just because they are tasty treats doesn't mean they can't be healthy—simple swaps can make even the most popular cookies better for us, whether it's making them fit a ketogenic, plant-based, gluten-free, or paleo diet, or simply ensuring there are plenty of nutrients packed into the recipe.
These 38 recipes offer unique recipes, updates on classics, and even some options you can eat for breakfast.
Chocolate Chip Cookies
1.
Nutty Chocolate Chip Cookies
These plant-based chocolate chip cookies were dreamt up by the author of The Jewish Food Hero Cookbook as a way to enjoy the classic cookie during Passover. The recipe is Pesach-friendly, meaning it assumes the broadest definition of "kosher for Passover" ingredients.
2.
Vanilla Bean Chocolate Chip Cookies
If you're looking to make a chocolate chip cookie even better, adding a bit of vanilla bean flavor is always a good option. Here, that strategy is used to great success in this vegan recipe. The recipe is also perfect for the little cookie dough bites in your cookie dough ice cream—use this base and add small balls of this dough for a perfect summery treat.
3.
No-Bake, Gluten-Free Chocolate Chip Cookies
On warmer days, the idea of turning on the oven may not be particularly appealing, but that doesn't mean you won't want some cookies to enjoy. These no-bake cookies are gluten-free and take only five ingredients, plus a few minutes to make.
4.
Peanut Butter-Chocolate Chip Cookies
This vegan gluten-free recipe uses ground flaxseed as its egg substitute and pairs nut butter with chocolate chips for a classic flavor combo. And like so many other healthy options, it's gluten-free. Chocolate chips and peanut butter: What's not to like?
5.
Chocolate Chip and Blueberry Cookies
Here's a pairing you might not expect: blueberry and chocolate chips. This gluten-free, dairy-free, nut-free, egg-free cookie may call on some surprising ingredients, but it's definitely worth trying out.
6.
Petite Chocolate Chip Cookies
This grain-free vegan recipe was created to be a healthier dupe of the childhood favorite Chips Ahoy, and it delivers with a crumbly texture and balanced sweetness that doesn't require the addition of any refined sugars.
As unbelievable as it may sound, one of the best ways to enhance your cookies is with a bit of extra salt. In this recipe, the contrast will actually help the cookie taste sweeter, and in this case, it's recommended that you use a gourmet salt option (like fleur de sel) for the sprinkle on top.
Chocolaty Cookies
8.
Chewy Double-Chocolate Keto Cookies
We really, truly, appreciate any recipe that doubles down on chocolate, but this recipe does one better. Its keto-diet protocol means it's also gluten-free and made without processed sugar—a win for anyone looking for a chocolaty treat that you don't feel bad about.
9.
Double-Chocolate Pistachio Cookies
If you ask us, pistachios aren't used enough in cookies. Their unique flavor and bright color bring something more than just crunch to these gluten-free and vegan chocolate cookies. It's a little something different for when your standard recipe isn't quite what you want.
10.
Gluten-Free Double Chocolate Cookies With Creamy Frosting
Oatmeal Cookies
11.
Chocolate Oatmeal Chunkers
At first glance, oatmeal cookies seem like one of the best options for those who are keeping health in mind—after all, they're as close a relative of a granola bar as they are a cookie, right? This version is optimized for your health even more: It's gluten-free, dairy-free, 100% whole grain, and free of refined sugars.
12.
Chocolate Pecan Cookies
Seeking a new favorite vegan oatmeal cookie recipe? Packed with chocolate chips and pecans, these "cowboy cookies" are sure to become a fast favorite for special occasions, especially since they're designed to keep health in mind without sacrificing indulgence.
Sandwich Cookies
13.
Superfood No-Bake Oreos
It's not always the homemade recipes you crave: Sometimes, it's those prepackaged treats you grew up with that your new health-aware brain simply can't imagine eating. This recipe makes homemade, healthy Oreos a reality.
14.
Chocolate-Dipped, Coconut-Dusted Almond Sandwich Cookies
What's better than chocolate? Chocolate and nut butter, coming together in perfect sandwich cookies. This recipe tosses coconut into the mix, too, for a seriously indulgent, but still gluten-free, treat.
Fruity Cookies
15.
Grain-Free Apricot Pecan Cookies
A unique fruity option, these apricot pecan cookies taste like summer and are grain-free to boot. The recipe can even be adapted to accommodate dairy-free or paleo diet plans, and they can be baked from frozen (just add a few minutes cook time).
16.
Vegan, Gluten-Free Thumbprint Cookies
There's something about thumbprint cookies that just feels even more comforting than others. These are vegan and gluten-free and can be customized to your tastes with your favorite fruit preserve. The dough is made from a can of chickpeas, meaning these sweet treats pack a protein punch too.
17.
Gluten-Free Cranberry Almond Biscotti
The perfect pairing for a cup of coffee or tea biscotti are twice-baked to give them their particular texture and often aren't as sweet as their fellow cookies. This recipe pairs the flavor of tart cranberries with almond for a perfect balance.
Spiced Cookies
Pumpkin spice isn't limited to lattes—these cookies use pumpkin puree and the expected spices (think cinnamon, allspice, and nutmeg) to bring the flavors of fall. Walnut adds a welcome crunch to the gluten-free treats.
Another healthier alternative to a favorite treat, this recipe was inspired by the chewy ginger cookies that you may find when picking up a coffee from Starbucks. They use real ginger and whole ingredients, and while not the healthiest option on this list, they make a great indulgent option.
The flavors of autumn are so wonderfully able to transport us to memories of crisp air and pumpkins, and these gluten-free cookies do just that. So save the recipe for fall, or don't—the memories (and the cookies) are pretty sweet.
21.
Spiced Pumpkin Cookies With Maple Pecan Glaze
Wanting even more fall in your sweet treats? These spiced pumpkin cookies double down on the flavors of autumn with a maple pecan glaze atop cookies spiced with cinnamon and nutmeg.
22.
Get-Happy Ginger Cookies
These ginger cookies are nutritious and will likely put a smile on your face. Fresh and ground ginger ensure that flavor is pure and strong, while complementary cinnamon joins the party.
Coconut Cookies
23.
Chocolate-Dipped Coconut Macaroons
If you love coconut, macaroons are likely one of your favorites. While traditional ones are made with plenty of sugar, these are sweetened with maple syrup and use almond flour, so the recipe is fully gluten-free. The bit of dark chocolate they're coated in doesn't hurt either.
24.
Triple Coconut Chocolate Cookies
You may have heard of a triple chocolate chip cookie, but what about a triple coconut cookie? This recipe pairs cookies made with coconut flour and shredded coconut with a coconut icing and a chocolate sauce.
25.
Twisted Coconut Cookies
If you have a whole cabinet full of gluten-free flours you're not sure what to do with, this recipe calls for three of them—so that's a good start. A blend of coconut, brown rice, and chickpea flour come together with other simple ingredients to make these vegan, gluten-free treats.
Nutty Cookies
Jasmine Hemsley, author of East By West, put these cookies together as an inspired Mother's Day mailed treat, but the recipe stands up for any occasion—including paired with tea, as her mother enjoyed them.
27.
Gluten-Free, Vegan Chocolate Pecan Cookies
Pecans, with chocolate—another good pair. This vegan and gluten-free recipe results in dense, rich cookies that'll leave you glad you made a whole batch. Not a fan of pecans? Other nuts work too!
28.
Flourless Almond Butter Cookie Recipe
Pull out your favorite jar of almond butter again: This cookie recipe is flourless and packed with nut butter instead. The dough may seem sticky and thick compared to what you'd expect from a cookie, but they bake up like a classic cookie.
29.
Peanut Butter Cinnamon Love Cookies
Peanut butter cookies are a classic, but this recipe's final product resembles something between the chewy peanut butter cookie and a crumbly shortbread cookie. Cinnamon offers the perfect slightly spiced accompaniment to the peanut butter flavor.
30.
Gluten-Free Peanut Butter Cookies
There's a reason peanut butter is such a common component in these recipes: It's a favorite flavor for many, and a good nut butter is a great foundation for a healthy cookie option. This classic PB cookie is 100% grain-free and can include chocolate chips if you choose.
31.
Sweet Macadamia Nut Cookies
Macadamia nuts aren't one that come up often on this list, but their distinctive flavor is perfect in cookies (plus, they're nutritious). This recipe can be adapted to include your favorite flavors—chocolate, fruit, nuts, you name it.
No-Bake, Protein & Breakfast Cookies
When it comes to unusual ingredients in cookies, we've gotten used to some things, but hemp protein powder is certainly unique. These vegan and gluten-free cookies use applesauce to bind the dough and maple syrup to sweeten them.
33.
Paleo Breakfast Cookies
Another cookie you can feel good about eating, even for breakfast, these paleo high-fiber cookies are soft and cakey and easy to take with you for on-the-go eating. The core of the recipe is made with sweet potato, which also provides some of the sweetness for the final product.
Vegan, gluten-free, and only five ingredients—why wouldn't you make these cookies this weekend? Packed with nutrients from banana, almond butter, and pumpkin (which also help bind the cookies together), these are sure to become a go-to recipe.
35.
Cocoa Almond Thumbprint Breakfast Cookies
Breakfast on the go is tricky—these cookies make it a lot simpler. They're vegan, gluten-free, and protein-packed, and the flavors of almond and chocolate ensure they'll please just about anyone's taste. They're also a great treat with coffee or tea.
Looking to simplify your cookies? This "no-kitchen cookie," may be more aptly called a no-bake cookie, is the perfect option. Packed with coconut, almonds, flaxseed, banana, and nut butter, they're full of nutrients. You can even skip the measuring cups if you want!
37.
Vegan Buckwheat-Maple Cookies
You may not have baked with puffed buckwheat before, but this recipe is a great place to start. They're so simple and can be made to fit your taste—though the recipe recommends a mix of pumpkin seeds, sunflower seeds, and pine nuts.
38.
Chocolate Chip Breakfast Cookies
Eating cookies for breakfast doesn't have to mean you're not keeping your health in mind—especially when it's these protein-packed cookies you're enjoying. They're gluten-free and made with health-minded ingredient swaps like coconut sugar and chickpea flour.
Eliza Sullivan
mbg Nutrition & Health Writer
Eliza Sullivan is an SEO Editor at mindbodygreen, where she writes about food, recipes, and nutrition—among other things. She received a B.S. in journalism and B.A. in english literature with honors from Boston University, and she has previously written for Boston Magazine, TheTaste.ie, and SUITCASE magazine.