These Crispy Homemade Waffles Are Vegan & Gluten-Free: Here's How To Make Them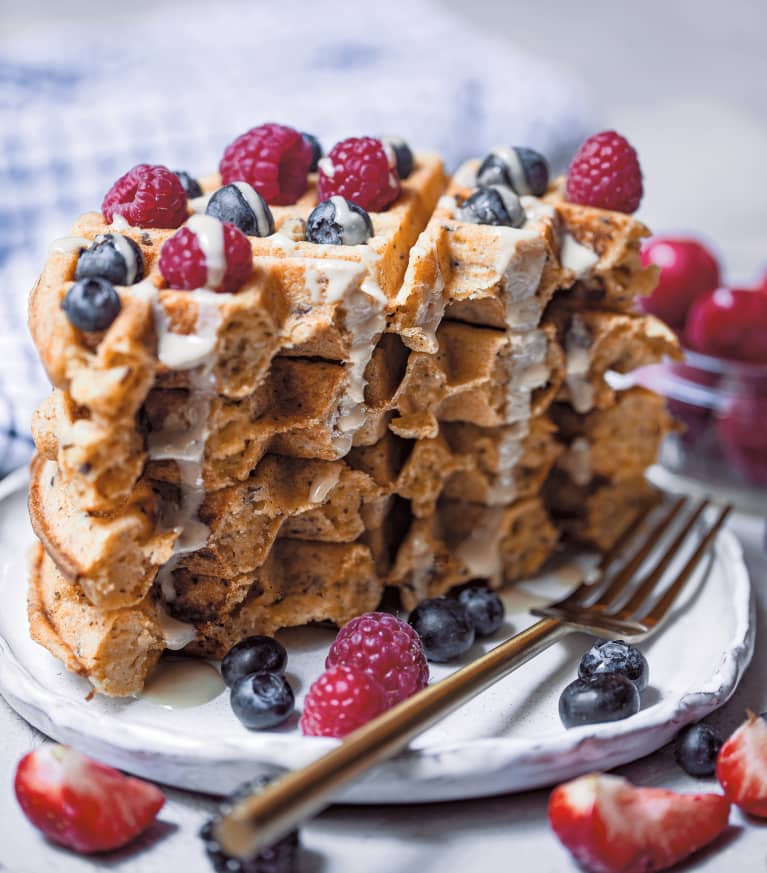 Our editors have independently chosen the products listed on this page. If you purchase something mentioned in this article, we may
earn a small commission
.
Is there anything more weekend-worthy than waffles? However, finding a recipe that fits a vegan and gluten-free diet might be tough—luckily we're here to help. This recipe is from Maria Gureeva's Earthy Vegan Eats, and though it may seem like a lot of ingredients for a "simple" recipe, the payoff is in their perfect texture.
"This is my go-to waffle recipe," she writes. "Expect crunchiness on the outside, a soft fluffy center, and just the right amount of sweetness."
The combination of gluten-free flours and a flax egg helps maintain that perfect, classic waffle texture, even without any of the usual ingredients. The batter gets a touch of sweetness with coconut sugar, which is lower on the glycemic index than white sugar—meaning your body absorbs it a bit slower, thereby reducing the insulin spike.
"What I love about waffles is just how versatile they are," writes Gureeva. "You can serve them with fruit, maple syrup, nut butter, or any other toppings of your choice. If you have some left over, simply freeze them and reheat for breakfast or a quick snack at any point in the day."
¼ cup ground flaxseed
1½ cups rice flour
1 cup tapioca flour
1 cup corn flour
2 tablespoons xanthan gum
⅓ cup coconut sugar
1 teaspoon salt
3 cups plant-based milk
¼ cup apple cider vinegar
½ cup coconut oil, melted
2 teaspoons vanilla extract
Cooking spray
Make the flax egg by combining the ground flaxseed and ½ cup of water. Set aside to soak for around 10 minutes.
In a large mixing bowl, combine the rice flour, tapioca flour, corn flour, xanthan gum, coconut sugar and salt. In a separate mixing bowl, combine the plant-based milk, flax egg, apple cider vinegar, coconut oil, and vanilla. Add the wet ingredients to the dry, and mix until well combined.
Spray your waffle maker with cooking spray, and preheat it according to the manufacturer's instructions. When it is hot, transfer around ⅓ to ½ cup of the batter to the center of the waffle plate. Close the waffle maker, and cook each waffle for 5 to 7 minutes, until crispy and golden brown.