6 Signs Your Relationship Is Codependent
Licensed Clinical Social Worker
By Aimee Noel
Licensed Clinical Social Worker
Aimee Noel is the clinical director of Sober College in Los Angeles. She has a bachelor's in Developmental Psychology from CSU Chico and a master's in Social Work from Smith College.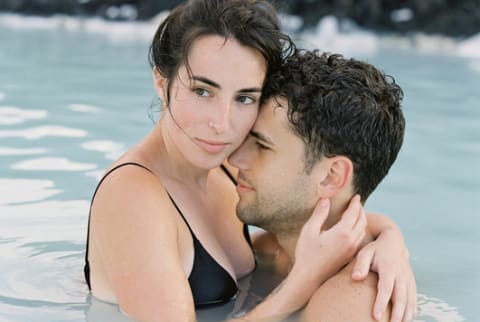 February 1, 2017
Ah, love. It can enrich our lives, provide meaning and support, and reduce stress. Healthy, intimate relationships can even help you live longer. But the pursuit of love and actually maintaining a relationship can sometimes be a source of significant pain in our lives. In other words: Love ain't always all it's cracked up to be.
Developing your own identity and solid sense of self can sound like a tall order. However, it is also the foundation we need if we are to develop a healthy relationship with another person. It would be ideal to have that in place first, but often people jump into relationships while they are still settling into their relationship with themselves. Thus, as you navigate relationships it's important to keep yourself in check and recognize some of the characteristics of a healthy relationship as well as the telltale signs your relationship is codependent.
Characteristics of a healthy relationship:
The main building block of any healthy relationship is respect—respect for yourself and respect for the other. This includes:
1. Accountability
Admit mistakes and accept responsibility.
2. Trust
Be a person of your word and try to give others the benefit of the doubt.
3. Honesty
Communicate openly and truthfully.
4. Cooperation
Ask; don't expect. Make decisions together, and find a mutually agreeable compromise when necessary.
5. Safety
Respect each other's physical space, and allow for absolutely no intimidation or manipulation.
6. Support
Be understanding and encouraging, valuing each other's opinions and choices.
What are some telltale signs your relationship is codependent?
1. You're using the relationship to fill a void.
Similar to a drug addiction, love addiction uses love to release dopamine for pleasure and endorphins to numb pain. While those can be benefits in a healthy, balanced relationship, the need for something outside of yourself to feel OK and cope with life is a sign that it has crossed the threshold to problematic.
2. You're sacrificing parts of yourself to please your partner.
A healthy relationship should enhance the person you are and not take away from it. If you find yourself giving up parts of your identity, you are doing little service to yourself and your relationship. Oftentimes, individuals in codependent relationships will expect reciprocity in this sacrifice, not get it, and end up feeling hurt, abandoned, and resentful.
3. You lack boundaries.
If you start with a set of guidelines that set a standard for a healthy amount of time spent with the other person and engaging in other activities and soon find yourself breaking those guidelines and commitments, you might be laying the foundation for a codependent relationship. It is all about maintaining balance in your life.
4. You find it difficult or intimidating to speak your mind.
If you find it uncomfortable to say what's on your mind because you are fearful of being judged or perhaps are worried what you say will not be what the other person wants to hear, you are actually depriving yourself of the opportunity to have an open, honest relationship. An unwillingness to be honest can backfire and can in turn make you question the other person's level of honesty and openness.
5. You're obsessing in an attempt to control the relationship and the outcome.
A healthy relationship means a working relationship between two partners. Part of that includes being able to accept the fact that you may not know exactly how everything is going to turn out and navigating (and enjoying) that mysterious journey together.
6. You experience intense fear of losing the relationship.
If you have something good, it makes sense that you want to keep it in your life. But sometimes, there is a need to take a step back from the relationship and remind yourself that you are going to be OK no matter what, whether this person is in your life or not. The flight attendant trains us to put our own oxygen mask on before we help others with theirs. It is important to recognize that the other person is not your oxygen mask or your oxygen.
Recognizing the warning signs of a codependent relationship early on is half the battle. At the end of the day, the best relationships allow you to feel comfortable, secure, and free. When you and your partner each allow the other to shine brightly in your individuality and mutual respect for one another, you'll find your relationship will enrich and support the person you are rather than take away from it. And that is what love is truly all about.
Aimee Noel
Licensed Clinical Social Worker
Aimee Noel is the clinical director of Sober College in Los Angeles. She is a native Angeleno who has joined the Sober College team after working in the non-profit family service field since 1996. She earned her bachelor's degree in Developmental Psychology at California State University, Chico in 1995 and went on to study at Smith College School for Social Work in Northampton, MA where she earned her master's degree in 2002.
Noel has experience working in residential treatment, working with adults with co-occurring disorders, conducting therapy with children and families, and has strong ties in the recovery community. She has pursued specialized training in suicide risk assessment, family systems, trauma and mindfulness. She brings a strong clinical background, an entrenched understanding of the complexities of adolescent and young adults, and—most importantly—is entrenched within the professional network that exists in the Southern California community. Noel's leadership and organizational skills are paramount in leading an internal Sober College team that includes Psychiatry, Neuropsychology, Internal Medicine, Individual and Group Psychotherapy, Somatic Mindfulness Experiencing, Urban Experiential Activities, and much more. Additionally, she will coordinate the delivery of specialized therapies and treatments when necessary.