By Allison Daniels
mbg Contributor
Allison Daniels is a freelance writer currently living in New York. She received her bachelor's degree from Belmont University in creative writing and spanish.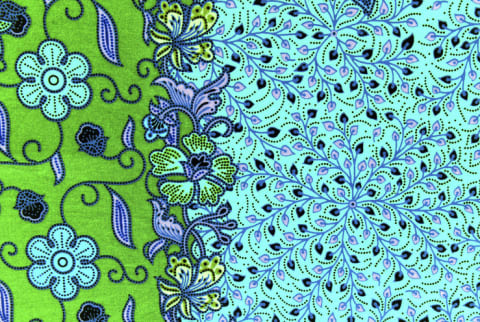 August 19, 2015
You've probably heard about the trend making its way from European countries to our own United States. But, just in case you've been on a technology cleanse or reconnecting with nature on a silent retreat, I'm talking about coloring for grown-ups. The logic behind coloring as a stress reliever is simple: We give kids coloring books to employ their motor skills and imaginations simultaneously. It's one of few activities that can occupy a child both physically and mentally, and is entirely self-contained.
The adult coloring books we're seeing now do the same things for the frazzled grown-up as the overstimulated child. Coloring is a physical activity, so it channels any nervous energy you might have while watching TV or reading into a creative effort. It also creates an opportunity for relaxation that doesn't keep us glued to a screen — and we all know that pre-bed Kindle habit is a surefire way to impede sleep.
Advertisement
This ad is displayed using third party content and we do not control its accessibility features.
On top of that, these coloring books are characterized by beautifully intricate shapes that bring fantasy worlds to mind, and require advanced motor skills and a touch of finesse to describe in living color. Translation: You won't be bored. On the contrary, you'll find these traceries challenging enough to encourage mindfulness, but simple enough to allow you to enter a meditative state. It's even called a type of active meditation. Structured coloring (as opposed to free-form doodling or sketching) has actually been proven to decrease anxiety for those very reasons.
Did I mention there's a subject matter for just about every one? Try filling in a Bill Murray-themed adventure, or coloring a coterie of couture-clad senior citizens. On the off-chance you find out it's not for you, don't consider coloring an hour ill-spent. You remembered what it was like to be a kid again, and those rare moments in an adult's life are to be treasured. Jump into the milieu with one of these coloring books below. (I have three of them already.)
1. Secret Garden: An Inky Treasure Hunt and Coloring Book
Difficulty: High
An Amazon bestseller on back-order for months, Secret Garden's pages are full of natural wonders in pen and ink, that you can color however you like. Certain scenes are incomplete, allowing you the opportunity to create a bit of your own world. There are also tiny woodland creatures hidden throughout the book, so you get an element of "Where's Waldo?" with your zen.
2. Adult Coloring Book: Stress Relieving Patterns
Difficulty: Low-High
What you read is what you get with this book of geometric and kaleidoscopic illustrations. Specifically intended to induce a feeling of calm, the symmetric designs come in varying degrees of detail, so you can start off with something simpler and gradually move onto more intricate designs, or just save the simpler ones for shorter coloring sessions.
3. Adult Coloring Book: Stress Relieving Animal Designs
Difficulty: Low-High
The same artists behind the pattern book produced a coloring adventure that's animal-centric. So, you can indulge your love of lions and tigers (you see where I'm going with this), elephants and butterflies, in all the out-there color combinations you can think of. I've always thought turtles should be neon, personally.
4. Really RELAXING Colouring Book 2: Colour Me Calm
Difficulty Level: Medium
Part of a series of coloring books (or colouring for these erudite English folks) explicitly designed to relieve stress, Colour Me Calm delivers (unless you're left-handed, apparently) with geometric shapes that are intricate, but not overwhelming.
Difficulty: Low-Medium
Less focused on soothing your frazzled mind, more on letting you relive (and reimagine) your favorite Bill Murray moments, this coloring book is an obvious purchase for fans of Groundhog Day, Lost In Translation, or The Life Aquatic. For further convincing of its merits, I direct you to the first review on the book's Amazon page: "For the love of god, buy this. This is the single most amazing item I have ever seen in my entire life."
6. Advanced Style The Coloring Book
Difficulty: Low
If you're into the novelty angle but Bill Murray doesn't tickle your fancy (no judgement), this set of 30 original drawings inspired by the chic seniors of street fashion might do the trick. You can add a pattern to Zelda Kaplan's hat, or snazz up a dapper dan's suit and tie. If you're a fashion fan, or not quite ready to commit to the intricate patterns of a geometric coloring book, this fun and super-easy coloring book is a great way to dip your toe into the proverbial water(colors).
Advertisement
This ad is displayed using third party content and we do not control its accessibility features.