How To Give Yourself The Gift of Real Self-Care, According To Experts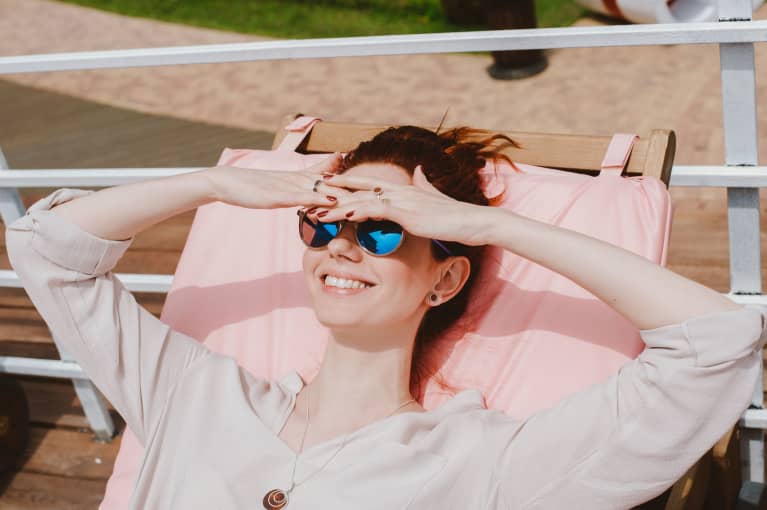 Our editors have independently chosen the products listed on this page. If you purchase something mentioned in this article, we may
earn a small commission
.
Here at mindbodygreen, we believe in trying your best but accepting that life—and parenthood—is a journey, with ups, downs, and potholes along the way. That's why this
Mother's Day week
we're introducing (Mostly) Mindful Mamas week, where we're offering stories to help the mother figures in our lives get back a bit of that time, through wellness that isn't perfect but feels achievable. Instead of advocating for spending one day at the spa, our stories this week focus on small changes moms can make now that will last long past Sunday. We also know this isn't an easy week and time of year for a lot of people, and
our hearts are with anyone feeling tender
. Wishing you all a good week...
When mothers think of "care," the word "self" very rarely precedes it.
In fact, according to a survey by HealthyWomen and Working Mother, 78 percent of women said they often neglect taking care of themselves because they are too busy taking care of their family.
"We need to begin to think about 'mothercare' as an integral and essential part of child care," says author and licensed therapist Dayna M. Kurtz, LMSW, CPT. "The truth is being a mother-martyr serves no one, but choosing mothercare benefits everyone."
So what does self-care actually mean for mothers? It's less about wine nights, face masks, and sneaking in a bath—although, sometimes it is—and more about being meaningful with your intentions and actions.
1. Be aware of your feelings.
"The first thing moms can do is check in about their own needs," says licensed therapist Emma Bennett, LCSW, who started Therapy for New Moms. Amid the chaos of day-to-day life, taking time for introspection may seem out of the question. But being self-aware is the gateway to self-care.
"In order to put lasting practices in place, the key is for moms to understand the direct connection between their self-care and mental and physical health," says Julie Burton, author and founder of ModernWell. If you find yourself feeling stressed or burned out, you need to address those feelings. This also means you need to be real about when it's time to talk to a professional. "It may require more time and planning to visit a therapist or counselor, but it's often critical."
2. Start (or sustain) hobbies.
Chances are you create ample opportunities for your family to foster hobbies, whether it's driving your kid to dance class or picking up art supplies at the craft store. How are your own? If you've noticed you haven't been keeping up as frequently, carve out time to do so. (Don't have one? Take this as permission to find one.)
"It reminds us that we are more than mothers—we are, in fact, multidimensional, complex individuals," says Kurtz. "On a practical level, too, being able to engage in conversation beyond work or child care can make cocktail parties more interesting!"
Remember: Hobbies are not an act of selfishness either. They are a mandatory part of wellness. "Yes, motherhood involves making many sacrifices," says Burton. "But holding on to parts of life that keep happiness alive within you is critical to your overall health."
3. Ask for help, in ways big and small.
"Just like saying 'no,' asking for help is a skill that often requires practice and becomes easier the more we do it," says Kurtz. "Beginning with a very simple request—asking your child to help set the table, or asking your partner to fold the laundry—can be an effective way to build up the 'muscle.'"
Of course, asking for help isn't just about practical matters. Yes, help often comes in the form of a grocery store trip, but it also means getting sound advice, learning a new perspective, and creating a community of caregivers, the latter being an essential component, so you don't feel isolated in your journey as a mother.
"Moms also need to feel comfortable asking for help with parenting issues. In raising my four children, I have reached out to teachers, coaches, and rabbis to help me work through issues that I have faced," says Burton, who notes how challenging it is to admit you need guidance. But know that it is not a sign of weakness—and, ultimately, it will make your life as a parent easier. "I have learned invaluable lessons from people who were able to help me effectively parent. It really does take a village."
4. Advocate for yourself—always.
Someone will always need you: Whether that's work, your partner, a friend, or your child. So it's up to you to find a ritual that makes you feel whole and up to you to implement it consistently.
"Self-care is not a singular act but part of your value system. It is an ongoing set of decisions and actions that put your health and well-being on the front burner," says Burton. "It is declaring to yourself and those who you love and who depend on you that just as you put a stake in the ground to take care of their needs, you are also putting a stake in for you. All the stakes are important—including yours!"
5. Love yourself, mistakes and all.
Sometimes, the most radical act of self-care is the act of forgiveness. There's a lot of pressure to be the ideal, flawless mom, the one who never shows up late and always says the right thing. Allow yourself to shed that standard. It's unrealistic and unnecessary. "What's wonderful to remember is our children don't expect us to be perfect," says Bennett. "They love us for being good enough, and we should too."