Close Banner
Advertisement
This ad is displayed using third party content and we do not control its accessibility features.

By Tyson Popplestone
mbg Contributor
Tyson Popplestone is a freelance writer and podcast host based in Melbourne, Australia.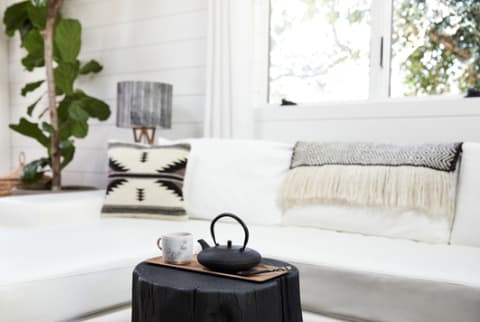 The idea of living with less has made a resurgence in our culture where consumerism is king and most of us have become slaves to an illusion or two. Needless to say, minimalism is hot right now. But what exactly is it?
Contrary to popular belief, becoming a minimalist doesn't require that you throw everything away and start living a nomadic, possessionless existence. Instead, it simply means removing the excess in your life to make room for the essentials. It allows us to create space for the things we really value, not just the things we've been told to cherish.
Adopting a simpler life has opened up so many doors for me, and I'd recommend minimalism to everyone—especially people who fall into the following categories. Some are obvious red flags while others are a bit more subtle, but they all nod to a need to clear clutter.
1. You're in debt.
Getting clear on the possessions that truly bring you happiness will make you less inclined to constantly spend money. Rather, you'll buy more intentionally and question each purchase.
2. Getting dressed in the morning stresses you out.
Most of us have more clothes than we need, but we're still not content. Paring down your closet so it only includes pieces you love will save you so much headache.
3. Your health is suffering.
Maintaining your health requires time and energy, and creating space in your life will give you the bandwidth to focus on it.
4. You can never find your wallet or keys.
Do they always get lost among the chaos of your home? It's difficult to lose things when there's no mess in the first place.
5. You can't organize all your stuff.
Let's be real: The best way to organize your stuff is by getting rid of most of it.
6. You're already craving the iPhone 8.
Advertising makes us crave that sense of joy that we believe products can give to us. Minimalism helps us live practically rather than upgrade simply because it's what we're told to do.
7. You own things you haven't used in a year.
8. You buy it on impulse or because it's on sale.
Don't make purchases based on a sale price. Make them based on your needs.
9. Looking at your desk makes you stressed.
Our physical space influences our headspace. If you're feeling as though your work area in particular is impossible to sort out, clean off the excess and reap the creative benefits.
10. It's hard to keep up with your social media feeds.
Minimalism is not something that solely refers to our physical space. If you're having trouble keeping up with what everyone is doing, maybe it's time to step away from a couple of social platforms and follow fewer people.

Tyson Popplestone
Tyson Popplestone is a freelance writer and podcast host based in Melbourne, Australia. He writes about how to live an intentional life in a world obsessed with more. He hosts the Intention podcast and has his bachelor's in education from Federation University Australia. Popplestone is passionate about doing more of the things he loves with the people he loves, and invites you to do the same.