15 Ways To Stay Connected To Your Long-Distance Tribe
Contributing Wellness & Beauty Editor
By Lindsay Kellner
Contributing Wellness & Beauty Editor
Lindsay is a freelance writer and certified yoga instructor based in Brooklyn, NY. She holds a journalism and psychology degree from New York University. Kellner is the co-author of "The Spirit Almanac: A Modern Guide to Ancient Self Care," with mbg Sustainability Editor Emma Loewe.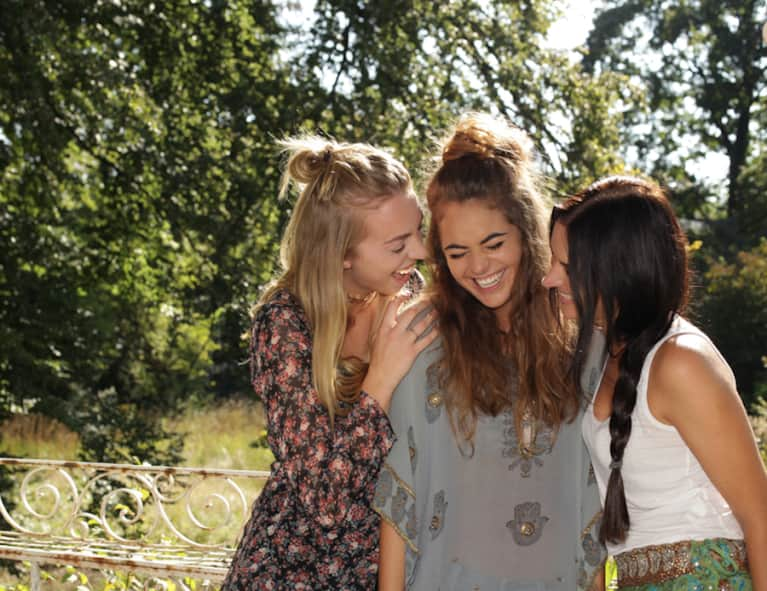 A friend once told me that friendship isn't just measured in time you spend together and that couldn't feel more true. It seems to happen more as we get older: We collect friends who live in different places, or ones who have lived nearby begin to move away. Or maybe you moved somewhere new and are totally homesick for your pals. In either scenario, you're not spending as much time with each other. While having friends in many places isn't inherently bad thing (a perfect excuse to travel), the daily grind can be tough without your tribe. There's nothing more healing than a glass of wine with your closest friends, after all.
Whether you just reunited over the holidays, over the course of a wedding, or haven't reconnected in a while, staying in touch with your tribe can be almost as healing as having them right here. Step 1 is making sure to communicate frequently, and Step 2 is doing so with thoughtfulness. We all know that without purpose, there's nothing more annoying than that group text.
Here are 13 ideas to stay close to your tribe long after you've said goodbye:
We know, we know. So millennial! But judiciously tagging your friend(s) in a meme could be a bright spot in a stressful day, or speak to an inside joke you all have and conjure a common memory. Warm fuzzies and a little levity never hurt anybody.
2. Send them a social media hug.
Interact with what they post! Especially if one of your pals had a bad day, there's nothing like a show of support from a friend or group of friends. Even more important, pat them on the back for their happy updates! It can seem grating if you're having a bad day, but there's enough good energy to go around for everyone.
3. Host a virtual book club.
Decide on a frequency—we find that monthly or even quarterly works best—and read the same book at the same time. Whether you discuss it next time you're in person or share everything on an email thread, there's nothing like going through the same experience together and sharing your reactions.
4. Keep those email threads going.
Don't be the one who drops the ball! But if you are, own it and revive it or start a new one. In the same way it's nice to get snail mail, it's so nice to get emails that aren't trying to sell you something.
5. Get the same daily calendar.
We like this one, mainly because it's hilarious and relatable. Having a daily point of reference that's funny or thought-provoking will give you one more effortless way to feel connected, especially if it prompts a reach-out.
6. Create a hashtag for your tribe and use it often.
People do it for weddings, why not do it for friendships? Use it in tandem with wedding photos, group trips, or even posting photos that remind you of your pals. Pretty soon you'll have a little photo album on Instagram (or social media of your choosing) you can look at when you're missing them.
7. Plan a yearly "retreat"—and make it compelling enough that people will go.
There are certainly a few rules here. First, try to find a spot that's either equally appealing for everyone or a place to meet in the middle. Also, make it work for the people in your tribe. Consider finances, likes and dislikes, and work schedules. If everyone feels accommodated and like they contributed, it's far more likely to be a successful trip. If you already have a trip planned, (ahem, wedding season) consider going off-site for a day or two as a group for some quality time.
8. Get over the fact that you need an hour to catch up.
You don't! Chatting for 10 minutes here and there mirrors the kind of interactions you'd have normally, anyway. A great time to call is in transit, when you're walking from one place to another—in fact, sometimes we'll take the long way just so we can squeeze a call in!
9. Technology is a beautiful thing. Use it!
Whether you have 10 seconds or 10 minutes or a whole hour, using FaceTime, Skype, and even What's App for international friends can be a game-changer.
10. Work on a creative project together.
The internet makes this easier than ever before. Start a blog together, or maybe do a 100-day project. If you all share a similar interest, consider starting an Instagram account together. Just be sure to set clear rules, and don't let it become too laborious or stringent. It's supposed to be fun.
Whether you're having relationship troubles or want to know if those overalls are working for you, lean on your tribe! They are there to support you, and most everyone loves being asked what their point of view is.
12. On birthdays, send videos.
Ask each friend to record a short video sharing one reason they love the birthday girl. Compile the responses and send them to her on her birthday. It doesn't have to be fancy! There's nothing more heartwarming than being on the receiving end, being reminded of why you're loved.
13. Surprise them with a $10 Venmo and "take them out" to coffee and breakfast that day.
This is most effective on a regular Tuesday, because what's more exciting than a surprise free breakfast and fancy latte? Nothing. It'll be a high point without a doubt.
14. Take a page of out Hillary's book and create a secret Facebook group.
It's a great place to share articles and start discussions, especially if your tribe is on the larger side and communicating via text or email is unwieldy. This way, anyone who's invested in keeping the friendship alive will have a designated place to go, share, and interact.
15. Simply tell them you miss them!
If you don't have anything in common or anything else to say, a simple text, note, or call saying you miss them will go further than you think. And leave a voicemail, or a text, or a note if you don't catch them.
When you do finally see your pals, set a rule: pure excitement. No expectations, no guilt about not following up on the group text. Let it go, live in the moment, and enjoy one another's company!