6 Signs It's Time To Have A Serious Conversation About Your Relationship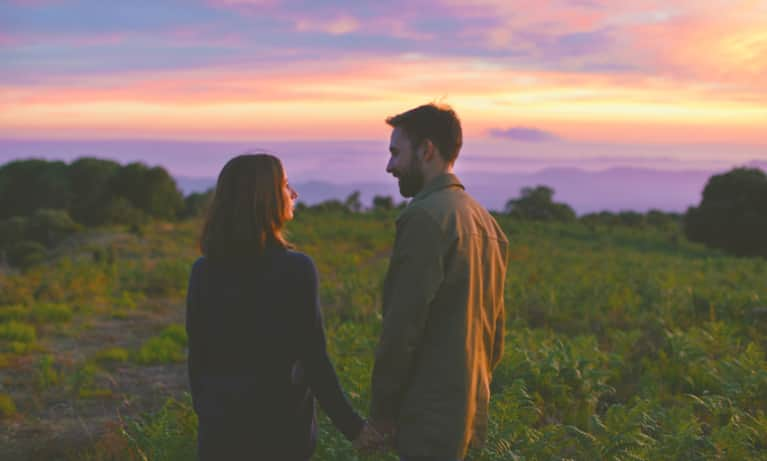 Most people have that one day they will always remember: their first kiss, their wedding day, the birth of their first child. For me, it is the day I asked my husband for a divorce after four years of marriage.
I can still see the agonizing pain in his chest, the look of disbelief in his eyes, and the still silence of the first tear that graced his cheek. As he fell to his knees, all I could say was, "Why are you so surprised?" I had been telling him I was unhappy for the last three years.
After not being heard for long enough, I didn't feel the need to listen to my husband either.
If I could pinpoint the moment that led to most of our problems, it would be the day I found out he had been unfaithful in our marriage. The cheating was not our ultimate demise, though — it was just the action that began our downward spiral and led to a series of red flags. These warning signs may not have always been clear, but they were always there.
The following six relationship red flags should be taken seriously and addressed quickly. You may find that when you put in the work to fix them together, you'll be able to keep your love alive.
1. Your partner's opinion does not matter anymore.
In the beginning of my relationship, my husband and I made decisions together. But somewhere along the way, my voice lost significance and I felt like my opinion no longer held any value. After not being heard for long enough, I didn't feel the need to listen to my husband either.
In a healthy relationship, the opinions of both parties carry equal weight. If you find yourself in a relationship where you no longer value your partner's opinion, or feel you like your opinion isn't valued, you need to voice this concern.
2. Your sex life is on auto pilot.
My husband and I always made our sex life a priority, but after a while, I became emotionally disconnected from it. We were still having sex, but I didn't feel connected to him.
Ebbs and flows of intimacy are natural in relationships, and there are always going to be ups and downs. But it's a huge red flag when your sex life becomes an action between two people instead of a connection between a husband and a wife. Sex is one of the hardest things to discuss in a relationship, but don't hesitate to voice your individual needs and brainstorm ways to keep the spice alive.
3. You are easily irritated by everything your partner does.
After waiting years for my relationship to change, I began to get irritated by the things I would normally brush off. I felt like I was stuck in a constant bubble of annoyance and everything my husband did was another strike against him. Looking back, I know that the issue was me, not him. His behaviors, no matter how well-meaning, triggered the pain and frustration I had been harboring all along.
If you find yourself consistently irritated by your partner's actions, you need to tell them that. Being open and honest about what you're feeling is the only way you'll be able to work through these emotions.
4. You don't argue anymore.
My husband and I would constantly fight about his lack of thoughtfulness. All I wanted was a little extra attention to make me feel appreciated as a woman and a wife, but it got to the point where it was just easier to walk away than rehash the same dead-end conversation.
Leaving issues unresolved or brushed under the rug will only push you and your partner further apart. Try and finish out every conversation. Even if it means stepping away for a while, always make sure to come back together to find a resolution.
It's important to have independence in a relationship, but isolation is not independence.
5. You over-control what you can control.
When you start to feel like you're no longer in control of your relationship, you obsess over the things you can control. For me, these included my home and my body. Though the last years of my marriage, my house was spotless and I was in the best shape of my life, but deep down I was miserable.
If you find yourself filling voids to distract yourself from what is really missing, I suggest that you write down your goals, dreams, and true desires for your relationship and start shifting your energy to work towards those.
6. You fill your calendar.
At the end of my marriage, I worked more than I ever had before. After work, I would always plan to get drinks with co-workers or spend countless hours in the gym. I spent my weekends hanging out with girlfriends. Spending time with my partner no longer excited me, so I started filling my calendar with activities outside the house.
It's important to have independence in a relationship, but isolation is not independence. You cannot work through your issues when you don't spend any time together.
If you are having trouble successfully communicating your concerns about any of the six aforementioned red flags, I would advise you seek the help of a relationship counselor or life coach. Don't allow any more time for these things to tear you and your partner apart.
Keep reading:
3 Relationship Secrets From A Couple That's Been Married 82 Years