FYI, Nonmonogamy Is Not The Answer To All Your Relationship Problems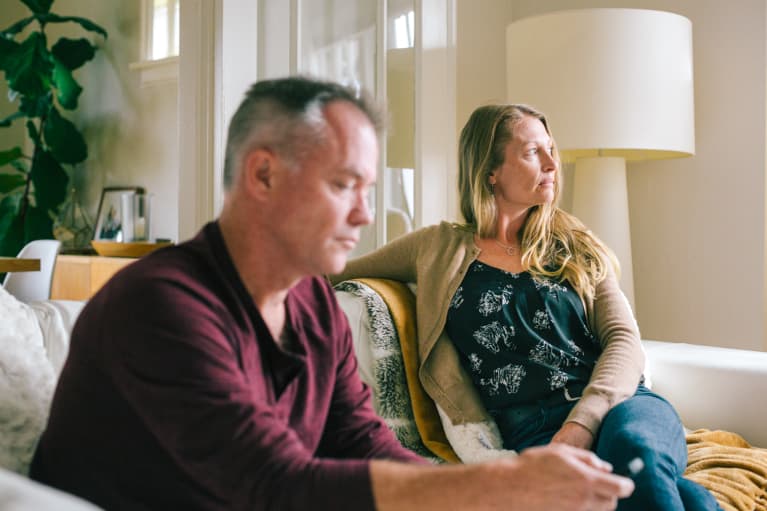 Nonmonogamy is becoming more recognized as a legitimate relationship structure with more people talking openly about their practice. Although it certainly is not for everyone and definitely not the "easier" option, it is piquing the interest of plenty of people for many reasons.
For some people, monogamy or nonmonogamy is an orientation on par with sexual orientation. It's a part of who they are. For others, monogamy or nonmonogamy is a choice. It's in line with what they want to create in their lives and in their relationships. It's a reflection of their value system. Some people may value security, safety, and stability, and those may opt for a monogamous relationship, while others may choose nonmonogamy because they value multiplicity, sharing erotic energy, or exploring broader sexual orientation.
In an ideal world, partners are on the same page: They either decide on a structure at the beginning of their relationship, or they decide to shift into a different structure later on in the relationship with a consensus, through open communication.
Actively and consciously designing your relationships, including deciding on whether you want to be monogamous or not, can be a very powerful force for your relationship and set you up to thrive as a couple in the long run. However, if you're currently in a monogamous relationship and considering opening it up, it's important to note nonmonogamy is not an effective strategy to solve your current relationship problems or alleviate the boredom you associate with it.
When nonmonogamy doesn't work.
Because I am a relationship coach specializing in consensual nonmonogamy, so many people come to me thinking an open relationship will fix their relationships. They come defeated, disconnected, and dissatisfied while still feeling very attached to each other. It soon becomes obvious they are reaching out for a life raft in the shape of nonmonogamy. A desire for nonmonogamy turns out to be a bid for space, a bid for attention, a bid for autonomy, a bid for a solution.
But despite all its potential benefits and excitement, opening up your relationship is not a "solution" or a way to "fix" a relationship that feels negative, stale, or otherwise off.
The best relationships to open are healthy and thriving ones. A healthy relationship of any kind—but especially a nonmonogamous one—requires a foundation of vulnerability, open communication, and trust. Kindness, compassion, mutual respect, and joy for one another along with a desire to address and resolve conflicts create the ideal environment for people to thrive in nonmonogamous relationships. It's essential for partners to feel heard and their needs highly regarded. If I were to be listening in to a relationship with a stethoscope like a physician to gauge the health of it, I'd be listening for thank you's and I'm sorry's. The more genuine gratitude and heartfelt apologies, the healthier and stronger the connection.
Monogamous relationships that lack these fundamental qualities and skills likely wouldn't be able to withstand the transition to nonmonogamy. If you are finding yourself in the same arguments over and over again, exclaiming "I want an open relationship" as you slam doors; or if you have a closet full of desires that you've decided cannot be satisfied by your current partner, and you are not willing to talk about it; or if you feel you are drifting in a haze of sameness and can't figure out how to break out, nonmonogamy is not the answer.
If you are in a sexless relationship and you aren't able to have conversations about it; or if you feel chronically lonely in the relationship and aren't able to restore frayed connections; or if you feel either unheard, unappreciated, uncared for, dissatisfied, smothered, or trapped, and you can't find words to express these feelings to your partner, nonmonogamy is not going to save you.
Similar to any big change, be it moving to a new state or deciding to have kids, opening up a relationship will shine a sports-stadium-sized spotlight on the issues in your current relationship. Unresolved arguments, hidden resentments, ignored boundaries, delayed conversations, shelved desires, and unmet needs will all come to light and will demand attention. Without well-practiced tools and skills for communication, negotiation, and conflict resolution, nonmonogamy will only apply further tension to the relationship.
Further, if you do open up your relationship with current issues unaddressed and unresolved and start dating other people, you'll be dragging unsuspecting new partners into your dysfunction.
Do some soul-searching. Are you saying, "I want an open relationship" because you can't bring yourself to say, "I want to break up"? Are you running away from real or perceived conflict? Have you checked out of the relationship but you feel you can't leave? If the answers are yes, I recommend you either get support to resolve these issues or find the courage to end your relationship in a kind and compassionate way.
The truth is "wherever you go, there you are." If you think the relationship or your partner is the problem and you are trying to get away to have something different, chances are you'll only have more of the same. We are the common denominators of our lives.
Start with yourself. If it's available to you, spend a period of time in personal therapy. Also invest in some personal development in the areas of sex and relationships. There are some excellent books, workshops, and online courses and communities dedicated to pleasure-based sex education for adults and communication skills. I also strongly recommend working with a professional, be it a couples therapist, counselor, or coach to address the relationship struggles. Make sure the people you choose to work with are open-minded to the idea that ultimately you may want to move to a nonmonogamous structure.
And last but not least, spend some time focusing on your relationship rather than running away from it. Find ways to have those unresolved conversations. Schedule time to reconnect in line with the way you show and receive love, be it a sensual massage or a picnic in the park.
Here's the thing: There is no relationship free of conflict or struggle. It doesn't mean you have to address everything before you can even begin to think about opening up your relationship. Research does show people in consensual nonmonogamous relationships are "more satisfied with and committed to their relationships," suggesting nonmonogamy can absolutely breathe new life into a relationship. When practiced consciously and ethically, it can be an agent for new energy and connections, self-expression, adventure, discovery, and community.
Nonmonogamy can be a part of a creative, solutions-based approach to making sure everyone gets what they need in the relationship. It requires a goodwill effort to address the relationship as it is today, to hear and attend to the needs of the people in the relationship.
When will you know you are ready? When you feel you can approach nonmonogamy with curiosity and a spirit of exploration—not as a cure-all or an escape.