"Wellness Communities" Are Filling Up Fast. Here's What The Hype Is All About

mbg Sustainability + Health Director
By Emma Loewe
mbg Sustainability + Health Director
Emma Loewe is the Senior Sustainability Editor at mindbodygreen and the author of "Return to Nature: The New Science of How Natural Landscapes Restore Us."
February 1, 2018
Over the years, being "well" has become less about making it to your morning spin class or nailing your juice cleanse and more about chasing an authentic communion with your spirit, your body, and the world around you. An abstract goal at first glance, mbg's You. We. All mantra adds some structure: We need to take care of ourselves so we have more energy, authenticity, and passion to pay forward to our communities and the planet.
As healthy living continues to become more outward-facing, the spaces we inhabit are falling behind. Most homes—from high-rise buildings to suburban family estates—are tailored to the individual instead of the collective. Attached garages mean we don't need to walk outside to get to our cars, and apartment floor plans make it totally normal to never see your neighbors, let alone socialize with them. But that's about to change.
The case for wellness communities.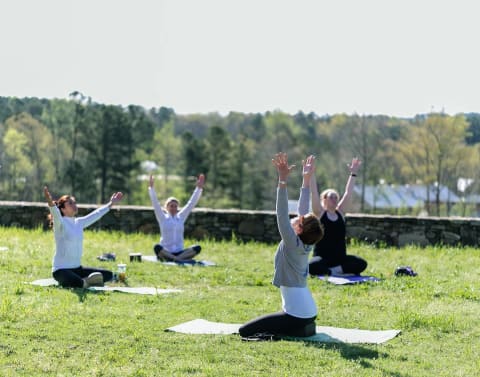 Photo: J. Ashley Photography
The next gen of wellness homes goes beyond built-in gyms and air purifiers and seeks to take us off our couches, away from our phones, and out into the real world. As wellness real estate climbs to a $134 billion industry, people around the world—particularly in the United States, Asia, and Australia—are signing on to this ideal. The Global Wellness Institute, a nonprofit that analyzes and distributes wellness research, predicts that the wellness clientele will continue to seek out immersive communities over stand-alone homes.
"The most important ingredient is moving from a 'me' to a 'we' perspective," Ophelia Yeung, a senior researcher at the Institute told an engaged audience in Manhattan last week. "The 'me' part is what we already know a lot about: eating healthy food, exercising, getting healthy sleep, etc. But when we talk about community, it means understanding that we are not just ourselves—we are the people and the things around us. Let's talk about how to design and build so that our daily activities is not just net zero but net positive from a social and environmental perspective."
Here's a peek at how wellness communities around the world are setting the stage for deeper connections—and improving our health in the process:
Lonely no more.
Earlier this year, the United Kingdom appointed a Minister of Loneliness to combat widespread feelings of isolation, seeing as half a million Brits over age 60 report that in the average week they talk to nobody or only one person. This kind of social isolation isn't just bad for our moods—it's damaging to our health. Research finds that loneliness is an even more accurate predictor of early death than obesity, and it's now commonly referred to as an "epidemic."
In the age of smartphones, there is more need for personal connections than ever before, and our built environments can help spark them. Take BedZED—a housing development in the United Kingdom that seeks to create zero carbon emissions while promoting a strong sense of community. By making shared outdoor spaces like green roofs, gardens, and playing fields cornerstones of the community's design, BedZED crafted a place where residents know an average of 20 neighbors by name, compared to the regional average of eight.
Photo: J. Ashley Photography
Serenbe, a holistic wellness community outside of Atlanta, is also demonstrating the power of shared space. The nearly utopian town of 600 residents features an organic community farm and farmers market, an art institute that puts on regular shows and galleries for residents, and plenty of green public space to gather. According to COO Garnie Nygren, one of the things that sets Serenbe apart is that it was built for people—not cars.
"All of our houses are closer to the street and closer to each other. That way, when neighbors are walking out at the same time, they'll see each other," she says on a phone call with mbg. "The front of our houses are required to be 70 percent covered with a front porch, and none of them can have front garages. If a garage is on the front of the house, you need a driveway off the street and it cuts off the sidewalk. It tells you that a car is more important than a person."
While homes in many of these neighborhoods come at a high price tag, residential wellness is also starting to spread to lower income communities. Via Verde, an apartment complex in the South Bronx, has over 200 mixed-income units centered around 40,000 square feet of green roofs. BedZED in the United Kingdom also subsidizes half of its units. Given that lower-income communities are often at higher risk for developing health conditions, every one of these projects can help create a new paradigm.
If you build it, they will come.
Beyond fostering more interpersonal relationships, the communities of tomorrow also evoke a love for outdoor play. Wellness communities like Shearwater and Prairie Crossing in the United States are exposing residents to the soothing yet galvanizing properties of nature at every turn. Shearwater in Florida sits on 600 acres of preserved habitat and has a dozen nature trails weaving throughout. Prairie Crossing, on the other hand, is built around a functioning organic farm. Edible plants are strewn throughout the entire neighborhood to encourage people to linger outside.
These are more than just quaint touches to put on a brochure. Time and time again, research finds that living near green spaces improves mental health and decreases stress. Plus, access to a park has been shown to make us more physically active1.
"So often the stress and anxiety levels we're all feeling can be reduced by a 20- to 45-minute walk in nature," echoes Nygren. At Serenbe, expansive hiking trails are no more than a 60-second walk away from every front door, and 70 percent of the land is reserved as protected green space. "We wanted to come up with a development model that saves green space. We wanted to prove that development can be the best, strongest, and most viable preservation tool." So when can we move in?