3 Ways To Improve Your Relationship That Have Nothing to Do With Your Partner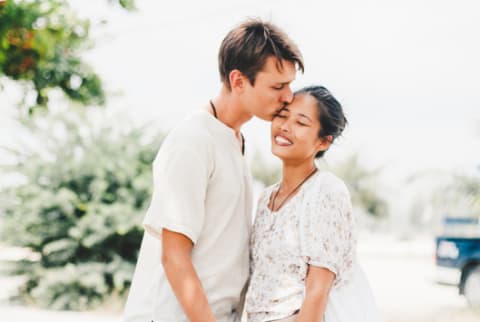 March 16, 2017
We all want to feel understood, respected, and appreciated in our relationships. But life can often get in the way and undermine the connection we used to have with our significant other, leaving our love feeling lackluster. It doesn't take much to feel like you're moving in opposite directions.
Then there are the couples that appear to have perfect relationships. They light up when they see each other, speak highly of their significant other, and rarely seem to bicker. It's easy to assume that there is a magical connection between them that only a few get blessed with.
But what if they were doing a few simple things that were responsible for keeping their relationship healthy?
There are some basic things you can do to foster that sense of deep love and connection, even when you feel like your relationship is already starting on the back foot. These tips have the ability to significantly improve how happy and satisfied you both feel in your relationship. It's these behaviors that keep those happy relationships flourishing.
Here are 3 ways you can start fostering positivity in your relationship:
1. Start with your personal happiness.
Happy people create positive relationships. If you are waiting for someone else to make you happy, you will always feel let down. When you're happy within yourself, you reflect that back into your relationship. Start with recognizing how you would rate your level of happiness currently. If you're not as happy as you'd like to be, ask yourself, "What can I do to support myself to feel happier?" The answer could include restarting a hobby, beginning a new health routine, connecting more with friends, or taking steps to follow a passion that is deep within your heart. The crucial element is that you need to step up and take responsibility for your own well-being. By taking action, you will feel more empowered and recognize that happiness ultimately has to be an inside job. This change in energy will move into your relationship.
2. Look for the good.
We're all happier when we feel appreciated. It's therefore hardly a surprise that relationships need more positive interactions than negative ones if they are going to thrive. Dr. Gottman's famous research found that you need to have five positive interactions for every negative interaction if your relationship is going to stay happy. Begin with consciously watching for what your partner is doing right, rather than consistently focusing on what they are doing wrong. Look for opportunities to voice your appreciation and aim to add as many positive interactions into your shared experience as you can. Feeling positive emotions is a precursor to a happy relationship. You have the ability to focus your attention so that you look for and appreciate the good in your partner. This simple action ultimately helps to remedy the balance of positive-to-negative interactions and set a relationship back on a healthy track.
3. Make space to nurture your connection.
Positive relationships are sustained by a foundation of strong connection. Just like a small child needs attention to feel truly happy, a relationship needs nurturing if it is going to continue to stay healthy. It is important to put time aside exclusively to connect with your significant other. Rather than assuming it will just happen, create it. It may be a monthly date night (where, thankfully, there is no TV to distract you), taking a walk together, scheduling a vacation, or choosing to fall asleep while cuddling on the couch rather than going to bed alone. Remember that time and energy dedicated to fostering your union is essential. Where your energy goes your attention flows. Attention is the fuel that will help your partner feel important and valued in your life, which will likely lead to the reciprocating of care and kindness.
Even when your relationship isn't as happy as you'd like it to be, there are things you can do to improve it. When you take care of yourself and resolve to show up positively for your partner, things begin to flourish. The result—you'll feel both happier in yourselves and in your coupling.
Kate Snowise
Life & Executive Coach
Kate Snowise is a Life & Executive Coach who helps dedicated individuals feel aligned at a soul level so they can create the lives they crave. Her online coaching mixes psychology with old-school wisdom. She received her MS in Psychology in 2008 and worked for a number of years as a Corporate Psychologist before setting up her own coaching practice. She is an Associate Member of the American Psychological Association & a Member of the International Association of Positive Psychologists. Kate hosts a weekly podcast, Here to Thrive.