Close Banner
Advertisement
This ad is displayed using third party content and we do not control its accessibility features.
7 Signs You're Dating The Right Person

By Sandy Weiner
mbg Contributor
Sandy Weiner is the chief love officer at Last First Date, devoted to helping women over 40 achieve healthy, off-the-charts love.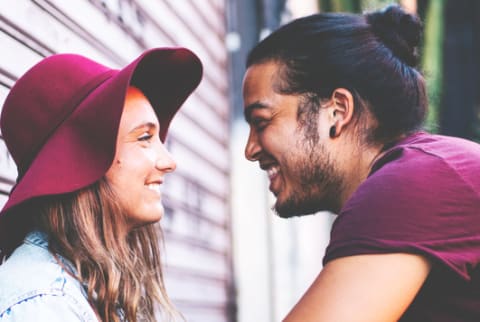 Opposites attract, so date someone who's nothing like you. But, wait a minute—isn't it important to find someone who has a similar background, values, and goals? There's so much conflicting dating advice out there, how can you possibly figure out how to find love?
While it's true that finding a partner with qualities that differ from yours can add balance and excitement to a relationship, problems can arise when there are too many differences. The more compatible you are with your partner, the more successful your relationship will likely be.
Here are seven areas of compatibility to examine when choosing a partner. They don't all have to line up perfectly, but the more aligned you two are, the better the relationship will be.
1. Temperament
Do you get along well most of the time or find that he/she irritates you on a regular basis? Do you find yourself saying, "If only she'd think before she spoke" or "I wish he'd be less lazy"? Is he overly anxious? Does her alphabetized music collection make your skin crawl? What you see is what you get; so if you don't like your partner's temperament, don't try to fix it. Find someone whose personality is more compatible with yours.
2. Communication style
Are you direct or indirect in communicating what's important to you? Are you passive while she's assertive? Do you hold things in until you explode or speak your mind clearly and directly? If you can both communicate clearly and in a similar fashion, you'll have a much higher chance for a successful relationship.
3. Friends and family
Do you like and get along with each other's friends and family? Do you agree about how much time to devote to both? And if you're both single parents thinking about tying the knot, are you clear about how you'll parent? If friends and family issues become too stressful, they will have a very negative effect on your relationship.
4. Nutrition and fitness
Are you a gluten-free vegan while he is a Big Mac addict? Do you surf the waves on the weekend, while she's home surfing the web? This may seem like a minor point, but think about how many meals you will share with each other. How do your partner's food choices and attention to fitness align with your lifestyle and values? If you're not a good match in this area, you will probably have big challenges in your relationship.
5. Financial
Many people say that they are seeking a partner who is financially secure. In today's volatile financial market, financial security is not something you can count on. A few more appropriate questions are, "Are you responsible with finances? Are you generous? Do you contribute to charities?" Money is one of the things couples fight about most often. It is helpful if you share similar financial goals and habits.
6. Education
I don't believe you have to be with someone who has the exact same level of education. In fact, there are many brilliant people who never graduated college (Steve Jobs, Rachael Ray). However, couples who share similar backgrounds in education (and that includes self-study), life, and professional experience are usually better suited for each other. They have more in common and can relate to each other in a deeper way. They are on the same wavelength and truly "get" each other.
7. Intimacy
There are many things that come under the category of intimacy, including romance and public display of affection. Some couples have different sexual needs, which can lead to anger and resentment. An essential component of a lasting loving relationship includes having similar ideas about frequency and style of intimacy. So if you're more Mr. Fifty Shades and she's Ms. Low Libido, you will have issues in your relationship.
What can you do if you are not compatible?
It doesn't have to mean things can never work, but these are your options:
Accept things as they are.
Work on yourself and the relationship.
Leave the relationship.
Remember that the only person you can change is yourself. You partner will only change if he/she wants to.
If you are dating to find a lasting, loving relationship, it is far more effective to choose a compatible partner from the start than to try to fix a relationship with a weak foundation. Don't be afraid to walk away if your basic needs are not met. There are millions of singles in the world. Move on and find a better fit. And make sure to use the most powerful four-letter word in dating—"Next!"

Sandy Weiner
Sandy Weiner is the chief love officer at Last First Date, devoted to helping women over 40 achieve healthy, off-the-charts love. A TEDx speaker, dating coach, retreat leader, and online course creator, she is passionate about helping women communicate effectively, set clear boundaries in relationships, and value themselves.

She's also the host of Last First Date Radio, an acclaimed show about attracting and sustaining healthy relationships in midlife. Grab her free guide to learn the top ten reasons men disappear, and how to attract and keep the love you deserve.