Close Banner
Advertisement
This ad is displayed using third party content and we do not control its accessibility features.
This Female Entrepreneur Wants To Heal LA's Homeless: Mind, Body, and Soul
Former mbg Deputy Editor
By Elizabeth Inglese
Former mbg Deputy Editor
Elizabeth Inglese is a writer living in San Fransisco, California. She earned her bachelor's in english literature and cultures from Brown University and her master's in writing from The University of Southern California. She's the former Deputy Editor of mbg, and has also worked for Vogue, Architectural Digest, Bon Appetit, and Good Magazine covering food, health, and culture.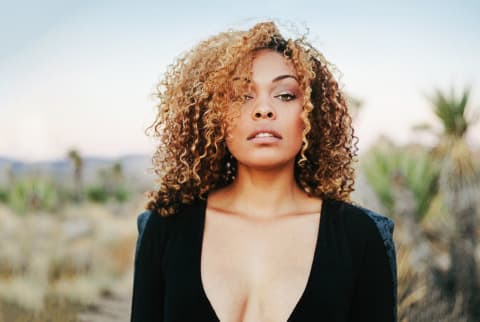 Most days of the week, you can find LaRayia Gaston on Skid Row. The New York City native with pale-green eyes and Instagram-perfect hair might appear better suited for LA's trendy Melrose Boulevard than for these blighted downtown avenues, but Gaston is at home with the homeless. She has been since the age of 14. It's on the streets that Gaston gets energized. "I feel drained in places I don't belong. I don't feel drained in service," she told mindbodygreen.
The best way to fix this problem is through mind, body, spirit wellness.
Energy—a startling, inexhaustible well of it—might be one of Gaston's defining properties. She started her nonprofit organization Lunch on Me two years ago with the goal of feeding 500 people. They now serve 10,000 a month. She says, "Nearly 100 percent of the proceeds go to what we're doing. That's how things get done!" as if the equation for their success were simple. It's anything but. Solving LA's homelessness crisis has stymied lawmakers and NGOs alike.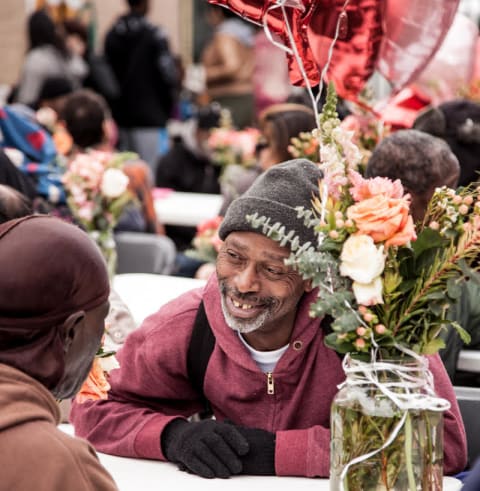 Gaston's success comes down to a blend of soul and strategy. Contact with the population she serves is key. "I don't just feed. I sit; we talk. I build relationships with these people," she explains, contrasting her approach to that of the larger nonprofits operating in the region. "The CEOs of these million-dollar nonprofits never even met the people they were servicing. Donors were farther removed; they'd have a hundred-dollar sushi dinner, then bring in one can of tomato soup. There was no connection." It's her ability to identify with the homeless population that has enabled her to help them in profound ways.
I serve organic food because that's what I eat at home. I didn't think to give someone less.
Last year Gaston met Tracey, who had been living on the streets for seven years. Gaston asked Tracey what she wanted most, and the answer surprised her, "'I'd wish for someone to remember my birthday. It's been five years since someone's said Happy birthday to me.'" she told Gaston. "It hit me." Months later, when June 20 came, Gaston surprised Tricia with cupcakes. The impact was huge. Now Lunch on Me records recipients' birthdays, so they can wish everyone a happy birthday. "The biggest thing that's lacking is the sense of community." Gaston says simply learning the names and narratives of the people she serves aids their healing.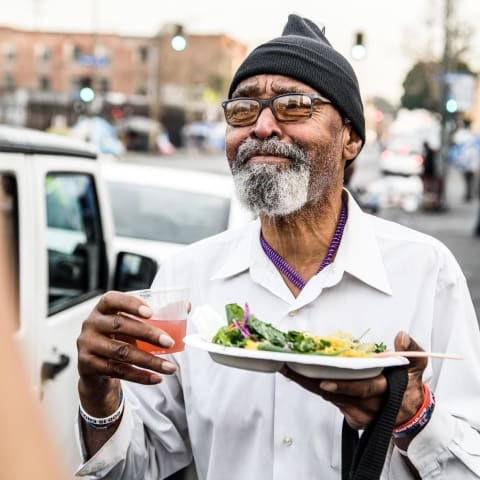 And it's real healing that Gaston is after. "I feel like the best way to fix this problem is mind, body, spirit wellness." The food she serves is fresh and wholesome. "I serve organic food because that's what I eat at home. I didn't think to give someone less. Why is organic a privilege and not a right?" Her approach to healing is holistic. To support the many women she's met who have been victims of sex trafficking or domestic violence, Gaston set aside space just for them. "Women's unity is important; we know that from the ancient teachings. Women have always come together in these ways to heal." In monthly "Goddess Parties," Gaston invites superfood chefs, Reiki masters, crystal healers, card readers, henna artists, and essential oil experts to work with the women to help them nurture themselves back to a place of wholeness. Yoga classes help them reconnect with their bodies and cultivate physical strength. "We do beginners yoga classes because no one's a yogi on Skid Row. I've never met a homeless yogi."
The spirit needs healing. People will save themselves, but you have to give them the space to do it.
Through partnerships with BuzzFeed, who donate leftovers from weekly corporate lunches, and the ACE Hotel, where she starts holding yoga classes next week to fundraise for Lunch on Me. ("We're doing Trap yoga at the ACE—yoga to trap music—which is a juxtaposition I love.") Gaston has a gift for recirculating resources. She's hoping these partnerships will enable Lunch on Me to make healing services available to homeless people consistently. "If we're going to have permanent healing, it's a lifestyle thing. It's having access to it more than once a month."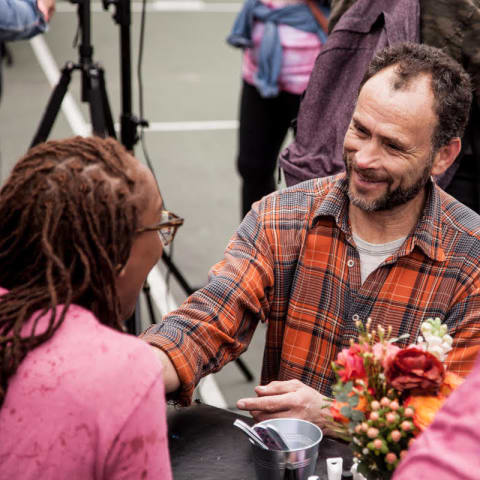 The connection between homelessness and emotional, mental, and physical illness is one Gaston understands. Those who find access to health care are put on meds, says Gaston, "Then when they can't get their prescription, they turn to street drugs. There's no big difference." She's hoping that nutritious food, holistic healing, and personal connection will be enough to break the cycle of illness and help her community find wellness. "The spirit needs healing. People will save themselves, but you have to give them the space to do it."