Close Banner
Advertisement
This ad is displayed using third party content and we do not control its accessibility features.
By Shannon Kaiser
mbg Contributor
Shannon Kaiser is the best-selling author of 5 books on the psychology of happiness and fulfillment including The Self-Love Experiment, Adventures for Your Soul, and Joy Seeker. She has a B.A. in Journalism and Communications from the University of Oregon.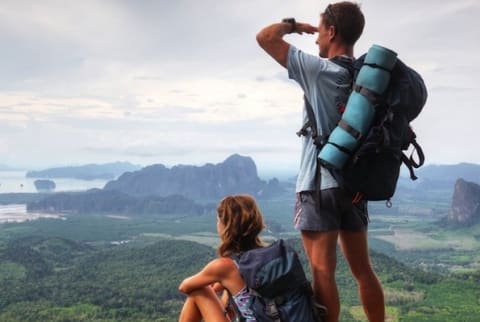 Photo by Shutterstock.com
Most bucket lists include things like, "Go on an adventure in a far-off land," "Learn a new language," or "Buy a dream car." Although all these experiences can make our lives more exciting, the reason we crave these activities goes a little deeper.
What drives each of these desires is one common connector, an innate yearning to belong and to feel love. When we do what we love, we become an expression of love and our happiness is infectious.
As I check off my own adventure list — skydiving, going swimming with wild dolphins, climbing Mayan Ruins in Belize — I find that with each activity I complete, I feel a sense of accomplishment, purpose and self-worth.
Which led me to think about our human desire to make a difference and live life more fully. All of us want the same thing: to be happy and live a wonderful life. But how we meet this need often differs from person to person.
In the spirit of loving life to the fullest, I've revised my list of things to do before I die. These seemingly simple acts have transformed my life. What it comes down to is not how long your life is, but how wide you live it and these 30 ideas can help.
30 things to do before you die:
1. Stop worrying about debt.
2. Forgive your ex-lovers.
3. Stop trying to control your outcome.
4. Look in the mirror and love yourself unconditionally.
5. Leave the job you hate.
6. Find your purpose and live it full heartedly.
8. Don't feel guilty for holiday weight gain.
9. Trust that everything is in right order.
10. Travel to the place you keep thinking about.
11. Try something that scares you daily.
14. Stop trying to change people.
15. Stop looking for answer outside of yourself.
16. Stop thinking you did something wrong.
17. Be your weird, crazy, beautiful self.
19. Risk everything for love.
21. See the world as a beautiful, safe, and loving place.
22. See everyone as equals.
23. Give up all attachments to stuff.
24. Recognize the journey is the reward.
25. Stay hopeful and optimistic in difficult situations.
26. Welcome all life lessons.
27. See the opportunities in every challenge rather than give up.
29. Inspire others by your own bigness.
Shannon Kaiser
Shannon Kaiser is the best-selling author of 5 books on the psychology of happiness and fulfillment including The Self-Love Experiment and Adventures for Your Soul, Joy Seeker, and Unshakable Inner Peace Oracle card deck, and the forthcoming book Return to You. She has a B.A. in journalism and communications from the University of Oregon. As an international life coach, speaker, and retreat leader, she helps people awaken and align with their true selves so they can live their highest potential.
She's been named top 100 Women to Watch in wellness by mindbodygreen, alongside Cameron Diaz, Gwyneth Paltrow, Kris Carr and Gabriel Bernstein, and was listed as of the freshest voices in mental health and wellness by Chicken Soup for The Women's Soul. She's been named one of Entrepreneurs Must-Follow Instagram Accounts for Inspiration and Top Facebook Accounts for Daily Motivation by Mind Body Green.
Her website Playwiththeworld.com has been names top 75 Personal development websites and top 100 self-help websites by the institute for the Psychology of Eating. She's an international life coach and author mentor, and a full time world traveler with a home base in Portland, Oregon with her best friend, her Golden Retriever Chance, who she flew to China to Rescue.