Not Enjoying Sex? Here's How To Take Control Of Your Pleasure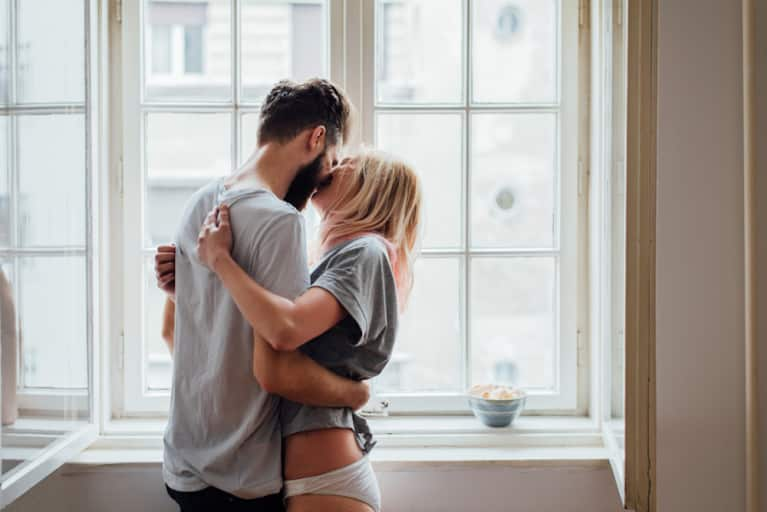 Psalm Isadora was one of the top tantra experts in the world. She passed away in March of 2017 and during her life was a highly sought-after sexuality, relationship, and trauma expert specializing in women's health and empowerment as well as modern sexual education. For more of Psalm's insights on the tantric approach to sex and relationships, explore her class,
Tantra 101: Awaken Your Sexuality & Deepen Your Mind-Body-Soul Connection
.
Question: What should a woman do when her partner or husband wants sex almost all the time, and her drive and desire are way less powerful? It's a desire mismatch. Added to this is sexual pain for the woman, which occurs most of the time. She does it anyway to please her partner, hurts for it, and then resents it later. It becomes an unpleasant cycle, unfair to both parties who've been together for a long time and who truly love each other. Can love or tantra fix this issue?
It's interesting that you lead with the low sex drive, when the painful sex part of your question is the more serious issue here. This is not a desire mismatch. It's about her own body. Anyone's sex drive would be low if it hurt to have sex, so let's look at the root of the pain first.
After 10 years of working with thousands of people, I've learned that most pain women experience during sex is very rarely a physical condition. It is usually a psychological condition. Your biggest sex organ is your brain—not your vagina.
I know it may seem discouraging, but I want to give you hope. One of the women in my Tantra Coaching Certification Program had her first orgasm at 54 years old after learning these techniques. She is now experiencing more pleasure, happiness, and joy than she was ever allowed to feel in her life. She was shamed as a teenager for her sexuality.
Here's what I suggest:
Anytime there is pain, you should get examined by your gynecologist first to make sure there isn't a medical issue. Go to a doctor, get tested, and rule out anything serious. And be honest with your doctor about your sex life. Sometimes the cause of pain can be as simple as not being lubricated enough before having sex.
On the psychological side, in my practice I help people regress to their childhood sexuality. We look at the family's attitudes around sexuality and how it affected the client. Perhaps they were taught as a teenager that enjoying sex made them a whore or made them the kind of woman a man wouldn't marry.
If so, then it's very likely that they created an idea that they should not enjoy sex, and maybe that person has evolved to shut their body down so they feel pain instead of pleasure.
If you were taught to associate shame with sex at a young age, that idea has likely carried through your adult life. You need to give yourself permission to enjoy sex, let go of shame, and understand that feeling pleasure is a part of life we are all allowed to enjoy.
If your body became trained to associate pain with pleasure, there might be some neurological patterning that you need to break free of here.
Pain and pleasure are very closely associated. Sometimes when people experience a lot of pain, their body will naturally release adrenaline and endorphins. It's like when you're about to cross the finish line at a marathon and you hit that wall. Your body is throwing out signals of pain right before you're about to break through to the point where pain turns into pleasure.
Try to relax and breathe deeply when you feel that pain and think of it as hitting a wall right before all the adrenaline and endorphins release in your body.
5. Learn other orgasm types.
If penetration is still too painful, there are other ways to have an orgasm. There are six types of orgasms that I teach, in fact, and they don't all include vaginal intercourse. The non-penetrative orgasms include the clitoral orgasm, the nipple orgasm, and the energy orgasm.
For the nipple orgasm, begin by stroking around the belly, rib cage, and in between the breasts to tease yourself. Take your time stirring up sexual energy before getting to the breasts and nipples.
The big secret for this massage is edging, which is finding the edge of pleasure and teasing until the body responds by begging for more. Go slowly. Don't pressure yourself to get the end result.
Once you just can't wait anymore, start by tracing the areolae with a feather-light touch until the nipples become erect. Then, start gently pinching.
When your body starts responding, continue to massage yourself while doing Kegels. (There are specific tantric massage practices you can learn.) Just keep drawing that energy up to the breasts. This makes a full circle of orgasmic energy in your whole body.
Click for all the details on performing tantric nipple massage, tantric yoni massage, and tantric lingam massage (for men).